Three in a row: MTM Kawasaki secured their third consecutive WorldSSP300 Teams' Championship
Thursday, 29 September 2022 09:13 GMT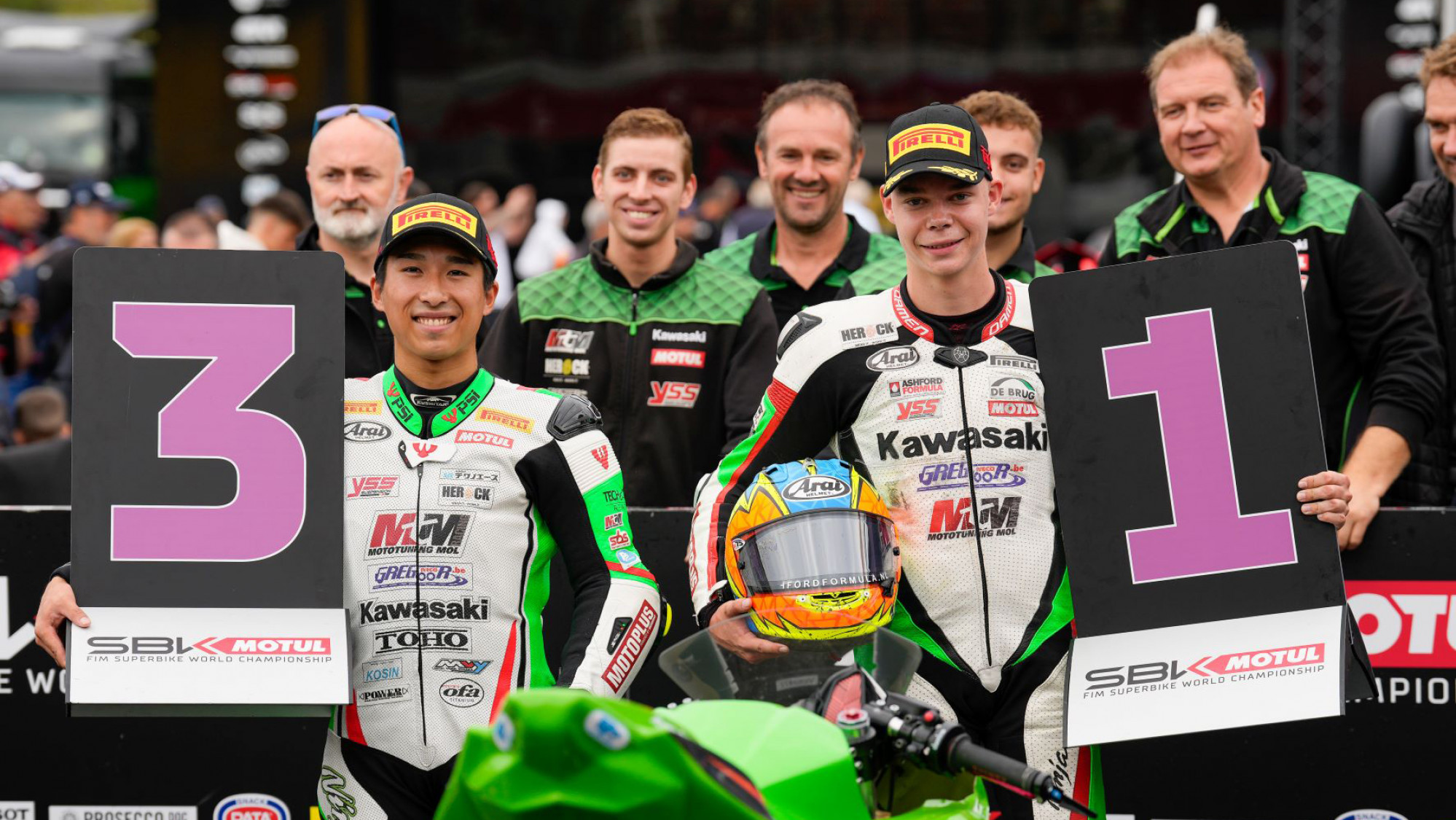 The Belgian squad took their third Teams' Championship in WorldSSP300 during the Catalunya Round after victories from Yuta Okaya and Victor Steeman
The Catalunya Round was a very successful round for the MTM Kawasaki outfit when the FIM Supersport 300 World Championship visited the Circuit de Barcelona-Catalunya. Not only did riders Yuta Okaya and Victor Steeman give the team two wins out of two in Spain, results on were enough to give MTM Kawasaki their third consecutive Teams' Championship success as they added to their 2020 and 2021 success.
With a maximum of two riders' points from each race counting towards the Teams' Championship standings, Steeman and Okaya are the two riders who contributed the most to MTM Kawasaki's 2022 success as they added 180 points and 126 points respectively, while Ruben Bijman added four and stand-in rider Mate Szamado contributed two points in his one round for the team at Magny-Cours after the summer break.
Between the four riders who raced for MTM Kawasaki, they have taken five wins out of a possible 14 so far this season and, heading into the final round in Portimao, have Steeman in contention for the Riders' Championship – although he needs two wins and for his rival to not score any points in Portugal. Victories for Steeman in Race 1 at Assen, Race 2 at Most, Race 2 at Magny-Cours and Race 2 at Catalunya helped propel MTM Kawasaki to the top of the standings while Okaya's last-corner Race 1 in Catalunya added a fifth win for the team in 2022.
The team claimed the Teams' title in 2021 when they had Adrian Huertas, Jeffrey Buis, Yuta Okaya and Koen Meuffels race for the team, with Huertas and Buis fighting for the Riders' Championship that season. The year before, it was Buis again helping the team to their title success as he won the Riders' title with teammates Scott Deroue, Okaya and Meuffels. 2022 marks the third consecutive Teams' Championship as they look to have a prolonged success in WorldSSP300, while also helping Huertas to a stellar rookie season in WorldSSP.
Discussing MTM Kawasaki's third title, Team Manager Ludo Van Der Deken said: "As Team manager of the MTM Kawasaki team, I am very proud to win the Teams' title three times in a row. This proves that my team always does a good job. Therefore, I would like to thank my riders, engineers and the complete crew who helped to make this happen. Also the input of Kawasaki, sponsors and all the people around the team are very important. Congratulations everyone."
Steeman, who contributed the most points to the Teams' Championship for MTM Kawasaki, added: "I'm really happy to get the Teams' Championship with MTM. It's nice for Kawasaki and for me of course. I think I did a good job to get a lot of points for the team. Now we will try to go also for the Manufacturers' Championship with Kawasaki. It's also really important for me and the team, I will do my best this weekend to score a lot of points. We are ready!"
Watch the 2022 WorldSSP300 season conclude from Portugal in style using the WorldSBK VideoPass!