Successful surgery for Vierge on fractured bones in his right hand after Misano crash
Thursday, 16 June 2022 13:59 GMT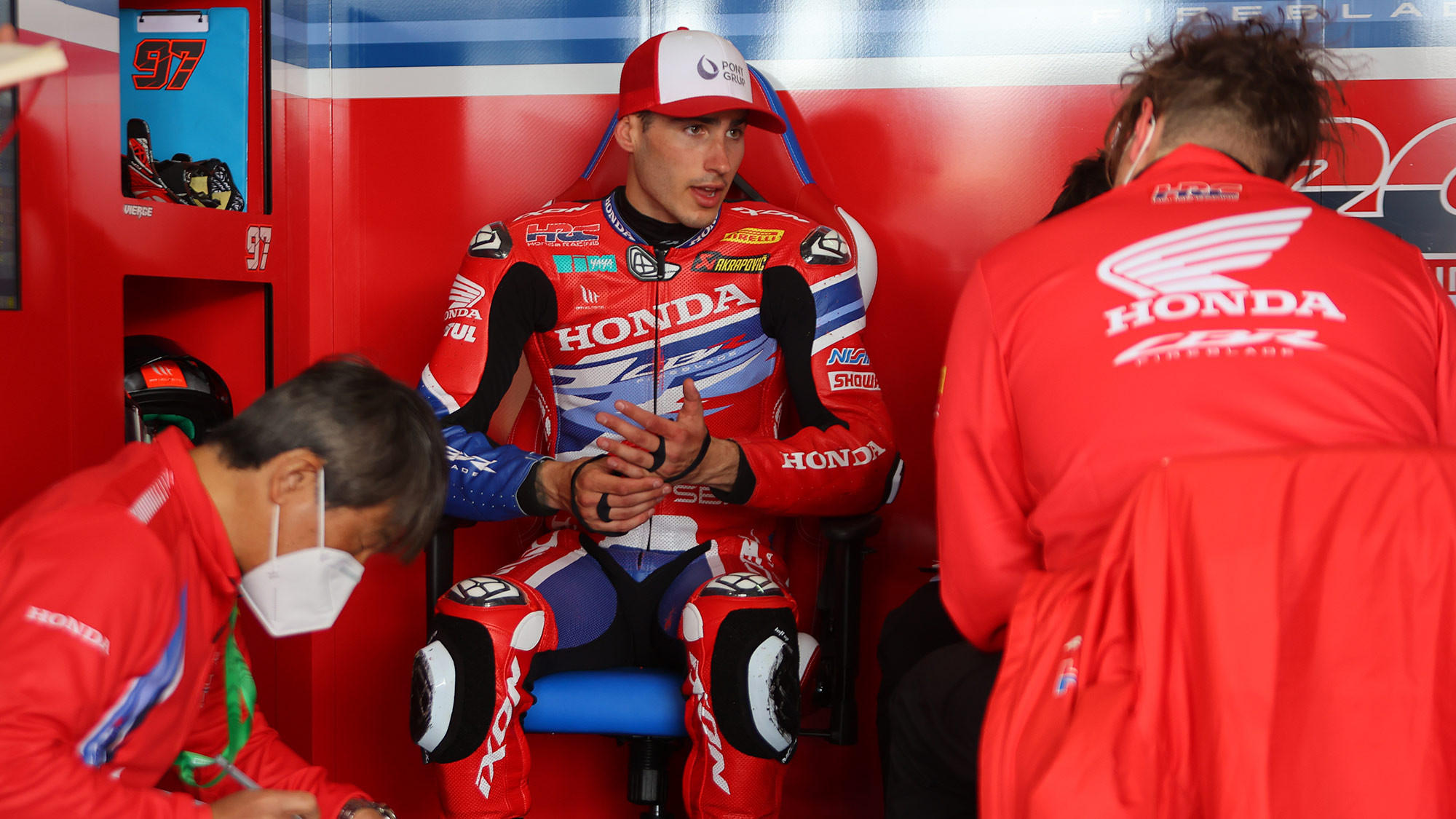 The Spanish rider was having a strong race at Misano in Race 2 before a crash left him with injuries to his right hand
Less than a week after suffering fractures to his right hand and wrist at the Misano World Circuit "Marco Simoncelli", Xavi Vierge (Team HRC) underwent successful surgery on his injuries at hospital in Barcelona. Vierge, in his rookie MOTUL FIM Superbike World Championship campaign, crashed in Race 2 during the Pirelli Emilia-Romagna Round as he looked for a second top-five finish of the weekend.
Vierge started Race 2 from fourth place after using Pirelli's SCQ tyre to move up the order in the Tissot Superpole Race and he maintained his position inside the top five in the early stages of Race 2. On Lap 12 of 21, a high-speed crash at Turn 11 put him out of the race and ended his hopes of another top-five finish. He was taken to the medical centre for a check-up following the crash where he was diagnosed with a fracture to the base of his third metacarpal bone on his right hand, and a fracture to his capitate and hamate bones on his right wrist.
On Monday, 13th June, Team HRC released a statement stating that Vierge would undergo surgery on his injuries the following Thursday, with that operation taking place as scheduled. Team HRC released a further update following the completion of the surgery, with "the fractures successfully set without complications". He will have a follow-up visit before starting physiotherapy, while WorldSBK action does not resume until the UK Round from the 15th-17th July.
A statement from Team HRC on Thursday said: "Earlier today, Xavi Vierge was in the operating theatre at the Hospital Universitario Quiron Dexeus in Barcelona (Spain) for scheduled surgery to his right hand. Vierge sustained his injuries last Sunday, following a racing incident during Race 2 at the Misano World Circuit (Italy). The fractures to the third metacarpal and hamate bones have now been successfully set without complications by Doctor Mir and his medical team. Already next week, after a follow-up visit, Xavi should be able to start with physiotherapy as part of his recovery plan."
After the race and his visit to the medical centre, Vierge said: "The crash was a real pity because we've had an incredible weekend and were running a really good second race. I think the other rider overtook me, touching my front wheel, so I found myself in direct line with the wall and had to jump off the bike. I was lucky because I touched the ground at very high speed. After an initial check, it looks like I might have broken something in my right hand but nothing important. So, first thing tomorrow I will undergo more comprehensive examinations to understand our next steps in order to be ready to ride as soon as possible. I want to say thank you so much to my team and technicians because they are doing an amazing job."
Follow more WorldSBK action throughout 2022 in style using the WorldSBK VideoPass!