STATS GUIDE: will we see a new top speed record in Barcelona?
Monday, 19 September 2022 05:42 GMT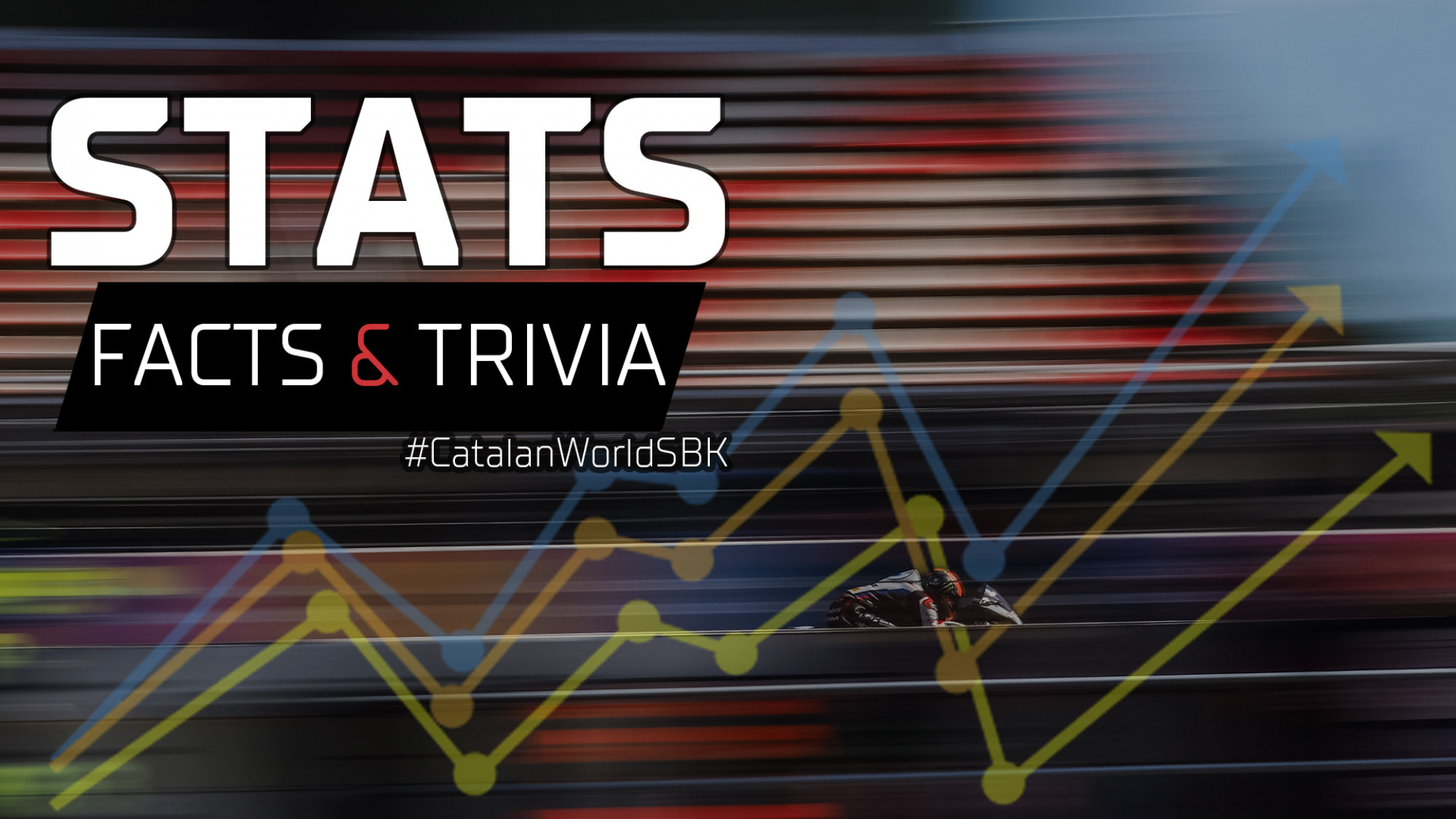 A vast straight and with times getting quicker all the time, there's a talking point prior to Round 8
The 2022 MOTUL FIM Superbike World Championship has touched down in Barcelona for round eight, coming from the Circuit de Barcelona-Catalunya in Spain. The legendary venue, new to WorldSBK's calendar in 2020, readies for a third year of drama and excitement and with a battle for the title the hottest it has ever been, fireworks are guaranteed. However, in two years, we've seen incredible unpredictability and more lies ahead – and perhaps a new top speed record too… the stats guide to this weekend's action is here.
331.3 – Prior to a red flag in the Superpole Race last year, Alvaro Bautista put Team HRC on top of the top speed record for the track. The outright top speed record is 331.9, by Chaz Davies on an Aprilia in 2012 at MotorLand Aragon, on the old layout.
190 – The next podium for Jonathan Rea (Kawasaki Racing Team WorldSBK) will be his 190th for Kawasaki. That is a value 60 more than the entire number of podiums scored by Troy Corser with six different manufacturers and none of them were with Kawasaki (Ducati, Aprilia, Petronas, Suzuki, Yamaha, BMW).
51 – Last year's Barcelona pole was 51st and last by Tom Sykes in WorldSBK, an all-time record. It'll stand until at least 2023; the active rider with the highest number of poles is Jonathan Rea at 39.
27 – Toprak Razgatlioglu (Pata Yamaha with Brixx WorldSBK) is one win shy of the ninth all-time place, held by double World Champion Doug Polen (27 wins). His 26th win put him tenth overall, two wins clear of Carlos Checa and Alvaro Bautista.
19 – Alvaro Bautista (Aruba.it Racing – Ducati), Razgatlioglu and Rea have shared a podium 19 times, the second all-time value: the absolute record is 31 podiums shared: Davies-Rea-Sykes (2014-2019).
17 – Razgatlioglu led at least for one lap in the last 17 races: data is available since 1998 and it's the best streak since then: 12 by Colin Edwards from Misano Race 1 to Imola Race 2 in 2002 is the next-longest streak.
13 – Yamaha are on their best streak of Superpole front rows: 13 after Magny-Cours. The same for Razgatlioglu, the first Yamaha rider with 13 straight front rows. The record is 17, set by Kawasaki's Scott Russell from Brands Hatch 1993 to Albacete 1994.
12 – Rea is on a winning drought of 12 races, his longest since 2012-2013, when he was off the top step for 33 races from Miller Motorsports Park Race 1 in 2012 to Moscow Raceway Race 1, 2013.
10 – No less than ten riders made it to the podium in Barcelona in just six races run: the record belongs to Rea and Redding, both on three.
6 – In 2020, the Circuit de Barcelona-Catalunya made its first appearance in the WorldSBK Championship, becoming the sixth Spanish track in history.
5x6 – Five different winners came out of six races run here so far: the only one to record a second win was Rea (2020 Race 1 and 2021's Tissot Superpole Race). The other winners are Michael van der Mark, Chaz Davies, Scott Redding and Michael Ruben Rinaldi. The wins have always come from the top five on the grid: only Rea won from pole (2020 Race 1), whilst the win from the lowest grid spot was Rinaldi winning from fifth last year.
3x3 – In 2020, the three wins went to three different riders from three different manufacturers: Jonathan Rea (Kawasaki), Michael van der Mark (Yamaha), Chaz Davies (Ducati). In 2021, the wins were split by Ducati (Race 1 Redding, Race 2 Rinaldi) and Kawasaki (Superpole Race: Rea).
3x3x2 – The first three places on the grid in 2020 were occupied by three riders with three different bikes: Rea (Kawasaki), Razgatlioglu (Yamaha), Bautista (Honda). It happened again in 2021: Sykes (BMW), Razgatlioglu (Yamaha), Rea (Kawasaki).
2 - So far, Ducati's best Superpole result is a 4th by Redding last year: this means this is one of the two tracks in which they raced but not started from the front row after Superpole, along with Istanbul Park. Ducati started from the front row at 50 different tracks so far.
1 – The top ten in WorldSBK Superpole have always been covered by under a second in Barcelona.
SHORTHAND NOTEBOOK
2021 race winners:
Scott Redding (Ducati, Race 1)
Jonathan Rea (Kawasaki, Tissot Superpole Race)
Michael Ruben Rinaldi (Ducati, Race 2)
Pole-sitters at Barcelona-Catalunya:
2021: Tom Sykes (BMW) 1'40.408
2020: Jonathan Rea (Kawasaki) 1'41.619 (old layout)
Manufacturer podium places (and wins) from all WorldSBK races at Barcelona-Catalunya:
Yamaha: 6 (1)
Ducati: 8 (3)
Kawasaki: 3 (2)
Key gaps Catalunya in 2021:
Front row covered by: 0.513s
1 second in Superpole covered… the top 10: 0.997s
Closest race gap between 1st and 2nd: 0.211s (Rea 1st, Razgatlioglu 2nd, Superpole Race)
Closest race podium: 2.326s (Redding 1st, Bassani 2nd, Rinaldi 3rd, Race 2) – closest WorldSBK race podium in Barcelona
Manufacturer top speeds at Catalunya 2021):
Honda: Alvaro Bautista – 331.3km/h, Race 2
Ducati: Scott Redding – 325.3 km/h, Race 2
Yamaha: Toprak Razgatlioglu – 323.3 km/h, FP3
Kawasaki: Jonathan Rea – 321.4 km/h, FP3
BMW: Michael van der Mark – 321.4 km/h, Superpole
Watch all the 2022 season unfold chapter-by-chapter with the comprehensive WorldSBK VideoPass!