SO CLOSE BUT SO FAR: the closest finishes from inside the WorldSBK paddock
Thursday, 28 April 2022 06:54 GMT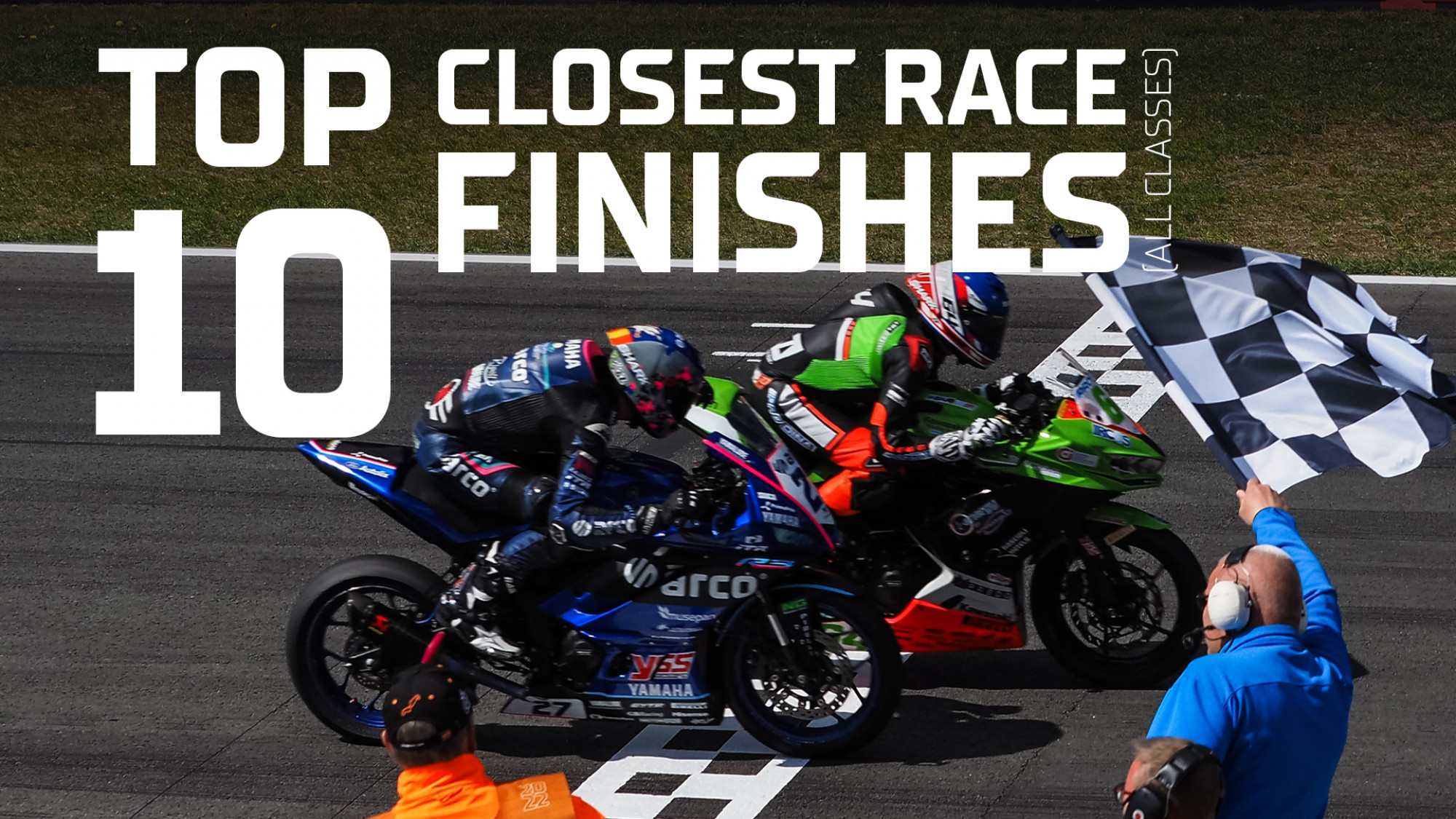 History was made during the 2022 season with the closest-ever finish inside the WorldSBK paddock
There have been some incredibly close finishes from all the Championships inside the MOTUL FIM Superbike World Championship and history was made during the 2022 campaign with the closest-ever finish inside the paddock. This came in WorldSSP300 and now is your chance to take a look at some of the smallest winning margins recorded in WorldSBK, WorldSSP and WorldSSP300.
11. RAZGATLIOGLU'S FIRST YAMAHA WIN: WorldSBK, Race 1, Phillip Island – 0.007s
The Australian Round started the 2020 season in style with incredible racing throughout, but Race 1 belonged to Toprak Razgatlioglu (Pata Yamaha with Brixx WorldSBK) as he claimed his first WorldSBK victory for Yamaha on his first race for the Japanese manufacturer. In a typically thrilling Phillip Island encounter, Razgatlioglu held off former Yamaha rider Alex Lowes (Kawasaki Racing Team WorldSBK) by just 0.007s at the end of the race.
10. MELANDRI PIPS GUINTOLI: WorldSBK, Race 1, Portimao, 2013 – 0.007s
Portimao features for the first and only time on this list from 2013 when Italian rider Marco Melandri beat 2014 Champion Sylvain Guintoli on a run to the line at the rollercoaster circuit. It was a rollercoaster of a race for Melandri too, having been forced wide at Turn 1 on Lap 17 before fighting back to take victory despite the surge from Guintoli on the run to the line; just 0.007s separating the pair at the end of the race.
9. AN ITALIAN CLASSIC: WorldSBK, Race 2, Monza, 1996 – 0.007s
Monza's first outing on this list comes from back in 1996 when Pierfrancesco Chili claimed victory on home soil, edging out Slight by just 0.007s. It was Chili's second win at Monza, having won Race 2 in 1995 by less than a second. After a trip through the gravel at the second chicane, Chili fought back to win on the run to the line by just 0.007s.
8. SMITH STUNS SOFUOGLU: WorldSSP, Lusail, 2016 – 0.006s
The first, and only, look at WorldSSP on this list takes us back to Qatar and the 2016 race for WorldSSP. Kyle Smith, riding a Honda, was battling with Champion Kenan Sofuoglu and his Kawasaki throughout the final lap, with Smith leading out of the final corner. Despite the best efforts of Sofuoglu and the benefits of the slipstream, he fell just short of victory in Qatar, missing out by just 0.006s.
7. ITALIAN SUCCESS FOR FOGARTY ON DUCATI: WorldSBK, Race 2, Monza, 1999 – 0.005s
Despite the finish line being moved closer to the exit of the famous Parabolica corner in 1999, thus reducing the possibilities of slipstreaming past rivals on the run to the line, it still happened when Carl Fogarty claimed victory by just 0.005s ahead of Colin Edwards. American star Edwards was initially credited with victory, but a timing discrepancy reversed the decision, giving Ducati and Fogarty success in Italy.
6. HOME HERO CORSER TAKES THE WIN: WorldSBK, Race 2, Phillip Island, 1999 – 0.005s
Two-time Champion Troy Corser fended off Carl Fogarty on home soil to claim an incredible victory, his fourth at Phillip Island at the time, by just 0.005s. Corser initially made his move into Turn 1 on the final lap but Fogarty fought back to take the lead with two corners to go. Using the slipstream on the long run to the line, Corser was able to just edge out reigning Champion Fogarty; the British rider would go on to claim his fourth and final title later that year.
5. KOCINSKI TAKES ON SLIGHT: WorldSBK, Race 1, Monza, 1997 – 0.005s
With its long straights and fast sections into slow corners, the iconic Monza circuit provided numerous close finishes. In 1997, there was another race decided by just 0.005s, when John Kocinski beat New Zealander Aaron Slight with a Honda 1-2 in Italy. With Carl Fogarty third, this race is the WorldSBK race with the closest podium gap of just 0.008s. American star Kocinski would go on to win the 1997 title with 17 podiums in 24 races.
4. TITLE CONTENDERS INSEPERABLE: WorldSSP300, Race 1, Aragon, 2021 – 0.004s
In WorldSSP300, title contenders Adrian Huertas (MTM Kawasaki) and Tom Booth-Amos (Prodina Racing WorldSSP), could only be separated by 0.004s in 2021. MotorLand Aragon has been a circuit in WorldSSP300 where riders are able to break away, with four of the top ten biggest winning margins coming at the venue. However, Race 1 in 2021 was a completely different story as Huertas started his title-winning campaign with victory by just 0.004s ahead of Booth-Amos.
3. HASLAM VS FABRIZIO: WorldSBK, Race 1, Phillip Island, 2010 – 0.004s
The closest finish in WorldSBK was won by Leon Haslam back in 2010 when he battled with Michel Fabrizio in Australia. Haslam led out of the final corner and onto the pit straight but Fabrizio used the slipstream as much as he could after a race-long battle, missing out by just 0.004s. Haslam claimed the first of his five WorldSBK victories in Race 1 in Australia as he denied Fabrizio a win. Initially, timing screens credited Fabrizio with victory, but it changed halfway round the cool down lap.
2. SOFUOGLU HOLDS ON: WorldSSP300, Race 2, Catalunya, 2021 – 0.003s
Entering WorldSSP300 as a wildcard for the 2021 Catalunya Round, Alvaro Diaz (Arco Motor University Team) almost stunned the field in Race 2 in Barcelona as he looked for his maiden victory. He was ultimately beaten by Bahattin Sofuoglu, now competing with MV Agusta Reparto Corse in WorldSSP, by just 0.003s. Unfortunately for Diaz, it's not the only time he appears on the list as a runner-up.
1. DIAZ MISSES OUT… AGAIN: WorldSSP300, Race 2, Assen, 2022 – 0.002s
Diaz will be hoping he doesn't make too much of a habit of being pipped to victory on the line, given he has been involved in the two closest finishes in the WorldSBK paddock. After missing out by 0.003s in Barcelona in 2021, he would be forgiven if he thought he couldn't be beaten by less, but Hugo De Cancellis (Prodina Racing WorldSSP300) had other ideas at the TT Circuit Assen. The Frenchman got good drive out of the Geert Timmer chicane and slipstreamed his way to victory by just 0.002s; his first victory and the closest finish in the WorldSBK paddock.
Watch more incredible racing from WorldSBK in style with the WorldSBK VideoPass!