Perez Gonzalez and Saiz Marquez complete 2022 Smrz Racing line-up for WorldSSP300 campaign
Wednesday, 15 December 2021 15:00 GMT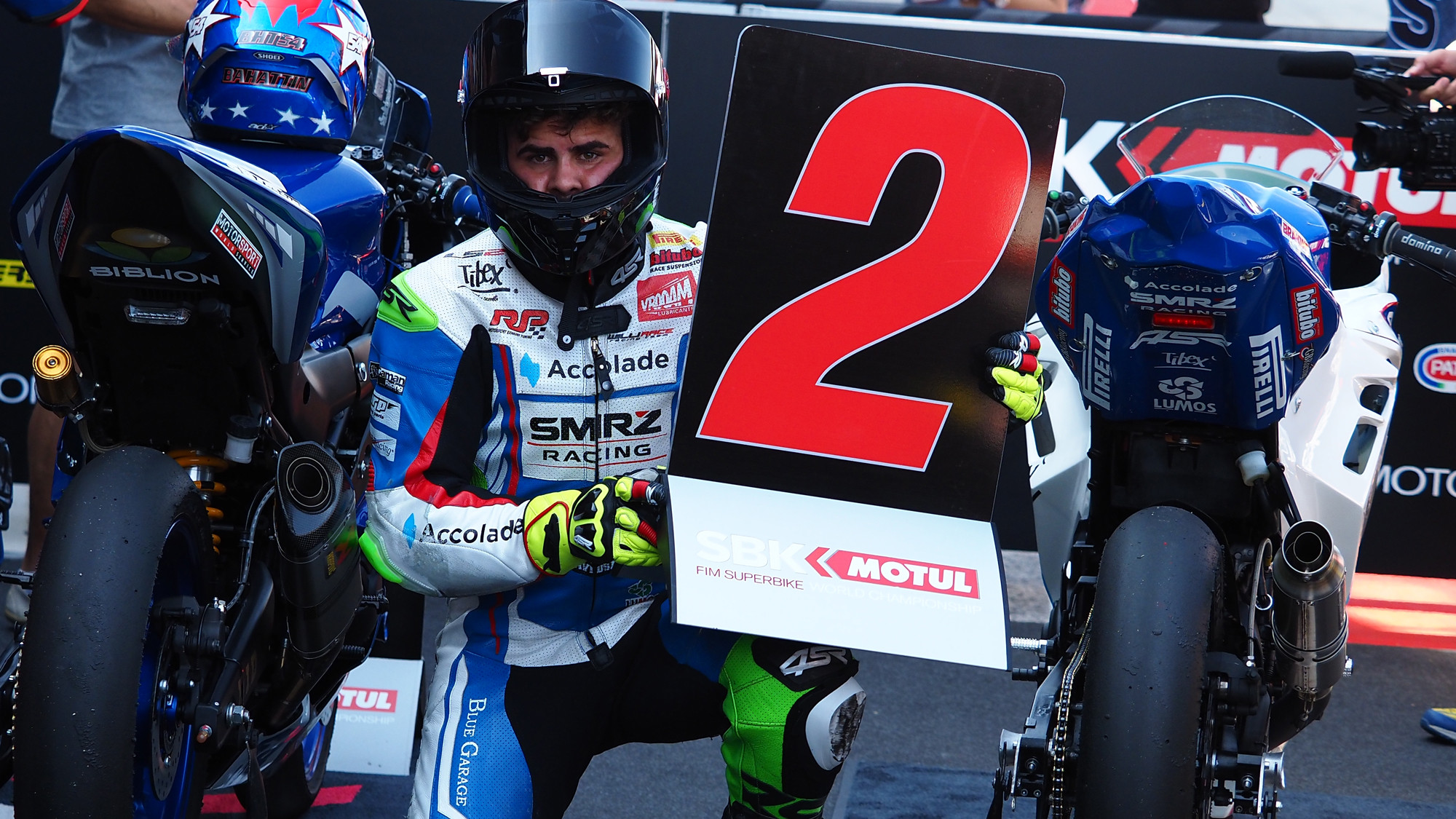 Jose Luis Perez Gonzalez will remain with Smrz Racing for a second season while the team have recruited fellow Spanish rider Yeray Saiz Marquez
Two more riders have been announced for the 2022 FIM Supersport World Championship with Spanish duo Jose Luis Perez Gonzalez and Yeray Saiz Marquez linking up with the Accolade Smrz Racing outfit for next season. The team, run by five-time WorldSBK podium finisher Jakub Smrz, will field two riders in 2022 as they look to move up the order after finishing 17th in the Teams' Championship last season.
Perez Gonzalez provides some continuity for the team as he sticks with Smrz Racing for a second campaign, for what will be his second full season in WorldSSP300 and his third overall. The Majorca-born rider claimed a best finish of ninth in 2021, coming at the final WorldSSP300 round of the season at Portimao, and found himself consistently able to fight for points but also picking up eight retirements in 15 races.
The 20-year-old made his debut in the class in 2019 and competed in four races, claiming a best finish of 12th at Donington Park. He returned full-time for the 2020 season but often found himself going through the Last Chance Race or not qualifying, taking part in four races with a best result of 15th last season.
Looking ahead to the 2022 campaign, Perez Gonzalez said: "My expectations for 2022 are really high because my preparation is more intense than ever. With the help of Angel Viñales we are working a lot on the bike and my physical preparation. I am really grateful for this opportunity from the team and also Angel, who is really helping me to be as strong as possible in 2022."
Perez Gonzalez will be joined by 15-year-old Saiz Marquez after the Santander-born rider made his WorldSSP300 debut in 2021 with the Viñales Racing Team. Saiz Marquez joined the team from the French Round onwards, taking part in seven races for the team, registering a best result of 22nd.
Outlining his goals for 2022, Saiz Marquez said: "My dream is to become a World Champion. I started my sporting career in 2017 on a minimotard 65 and then 85 in 2018 in the Spanish Championship. In 2019, I started road racing in the Spanish championship in the Supersport 300 category, where I have raced until now. I also got the opportunity to do the last four rounds of the World Championship last season with Viñales Racing. I am really grateful that I can race with Accolade Smrz Racing next season. My goal is to improve race by race and be more and more competitive. I am sure that we have a successful season ahead of us with the team and I am working hard to be ready for it."
Team Manager Jakub Smrz added: "I am glad that we get to keep Jose Luis, he showed us his potential and if he keeps working hard, we can see him right at the front. Yeray is a young rider, he does not have much experience but I am sure he won't get lost. We
have a few months to get ready and we are going to work on the technical side, development, new bikes and improvement of our facilities. We are looking forward to the first test!"
Watch all the action from WorldSSP300 in 2022 using the comprehensive WorldSBK VideoPass!