Paolo Ciabatti on "very positive" start to 2022, "unfinished job" with Bautista
Wednesday, 15 June 2022 11:54 GMT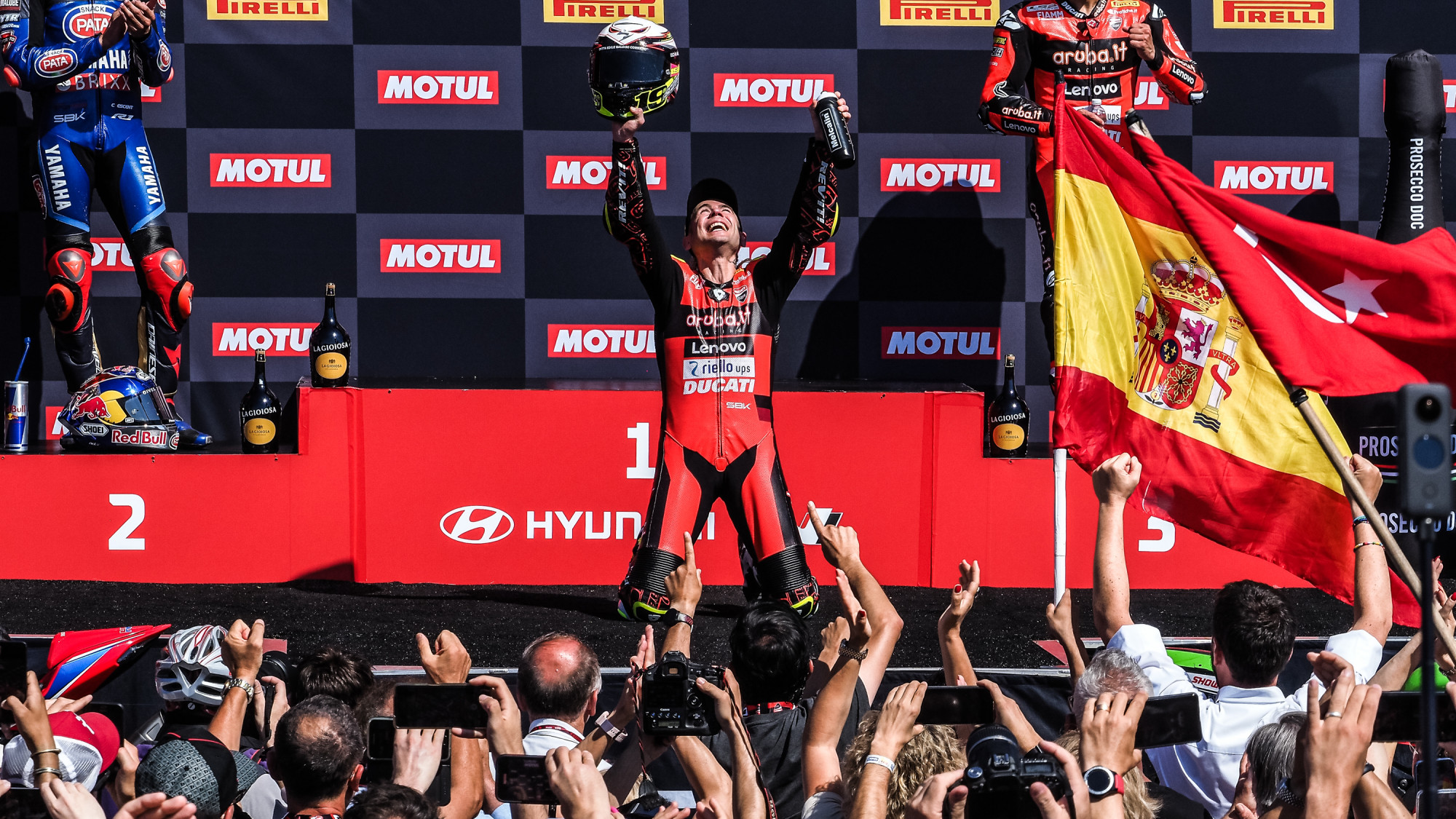 Ducati Corse's Sporting Director reviews the start to the WorldSBK season whilst saying that Bautista's return after experience elsewhere is a "perfect match"
The 2022 MOTUL FIM Superbike World Championship has seen one of the fiercest starts in the Championship's history, with a catalogue of dynamics to keep an eye on. In attendance throughout the Pirelli Emilia-Romagna Round at the Misano World Circuit "Marco Simoncelli", Ducati Corse's Sporting Director Paolo Ciabatti. With Alvaro Bautista (Aruba.it Racing – Ducati) leading the Championship, we caught up with Ciabatti, who discussed a variety of things from Bautista's "unfinished job" and "perfect match" to Michael Ruben Rinaldi's (Aruba.it Racing – Ducati) performances and the high level of the Championship right now.
A GREAT START: "It's been a very positive start to the season"
A 36-point lead in the Riders' Championship and aiming to keep the momentum going Ciabatti started by reviewing 2022 so far: "The 2022 season started very positively for us; as everyone knows, we took Alvaro Bautista back to the team. He was with us in 2019 for just one year, where he did a fantastic first part of the season but then unfortunately, he could not repeat the same results in the second part with some crashes and negative results.
"In the end, he decided to take another direction, but I think for him and for us, it was an unfinished job. We knew that if we worked more together – for us, on the bike – and then him coming back with more experience in WorldSBK after many years in MotoGP™, it would be the perfect match. We decided to try again: the bike has been improved, he has more WorldSBK experience and understand the bike and the team better and everything seems to be under control. It's been a very positive start to the season so hopefully we can continue with this trend."
ON RINALDI'S FORM: "Expect to see him consistently fast in the coming rounds"
Michael Ruben Rinaldi has had an up-and-down season so far but a turnaround in form may well see one of Ducati's brightest stars back on the top step in the coming races: "Michael is a young rider that Ducati and Aruba.it have been trying to help his career through Superstock into Superbike with the Junior team, then a year with Barni team and then Goeleven, and then the factory team.
"Obviously, the task of a rider in a factory team is never easy as you expect him to fight to win races and be on the podium in every race. The beginning of 2022 wasn't so easy, but he did well at Misano; he won here last year so it's a circuit that suits the bike and his riding style, and we expect to see him consistently fast in the coming rounds. It looks like that Alvaro, Jonny and Toprak are always fighting for the lead, they have a little bit more compared to the other riders at the moment. We saw something from Michael today that was interesting, and we expect to see more of this in the future."

FIRST TITLE SINCE 2011: Alvaro is candidate number one… the perfect match with the V4 R"
It's been 11 years since the WorldSBK title was back in Bologna, is that wait going to end this year? "There's been no title because eventually there's been someone better and more consistent. Jonathan Rea and Kawasaki are a very competitive package, and we could see at Misano in Race 1 how strong they were. Last year, Toprak and the Yamaha were doing something fantastic. We just have to do better than them, something we haven't been able to do in recent years. Actually, our last world title for Ducati dates back to 2011 with Carlos Checa, and we definitely want the Ducati Panigale V4 R to be a World Champion.
"Let's see what we can do this year, I think we've been working hard on the bike and improving it a lot. I think the results, especially in the hands of Alvaro but also Independents like Axel Bassani can do fantastic races. Hopefully, this season, we have a better chance for Ducati to get their world title back; Alvaro is candidate number one and he's leading, which seems to be the perfect match with the Ducati Panigale V4R.
PERFORMANCE COUNTS: "There are three extremely good riders on three extremely good bikes"
Talking about whether or not the Ducati Panigale V4 R was the best bike on the grid, Ciabatti didn't reveal too much, citing the level of Kawasaki and Yamaha as competitive too: "It's always difficult to say which is the best bike because if you look at the races, then there are three extremely good riders on three extremely good bikes. I think the rider can make the distance but without a competitive bike, it's impossible to fight for wins and podiums. Alvaro on the Ducati, Jonny on the Kawasaki and Toprak on the Yamaha can get 100% out of those bikes which have similar performances. Obviously, we're proud of the development we've made on our bikes and some other riders are competitive on the same bike, which is a credit to our engineers that kept working in the last few years to make the bike better."
WorldSBK'S JOURNEY: "The perfect show for the spectators!"
Having first joined Ducati in 1997 and following the Championship since the start, Ciabatti commented on the journey that WorldSBK has taken to arrive to the point it's at today: "At the beginning, Superbikes were more based on real production bikes. Then they moved too far away in 1993 and 1994 with carbon brakes and perhaps they were too much on the non-production side. Then, I think the Championship has been finding its own balance and now, there are at least three manufacturers with bikes at exactly the same level.
"I think it's a good achievement, for the promoters, manufacturers and federation, to find a good balance which is guaranteeing the perfect show for the spectators. For us, as a brand, it's a technical development but we're part of a big show and we have to make it as good as possible for spectators to keep growing in the future."
Watch the highlights from Misano here, whilst enjoying the season LIVE with the WorldSBK VideoPass!