"It's incredible… a great milestone" – Ducati legends react after their 1000th WorldSBK podium
Monday, 1 August 2022 05:02 GMT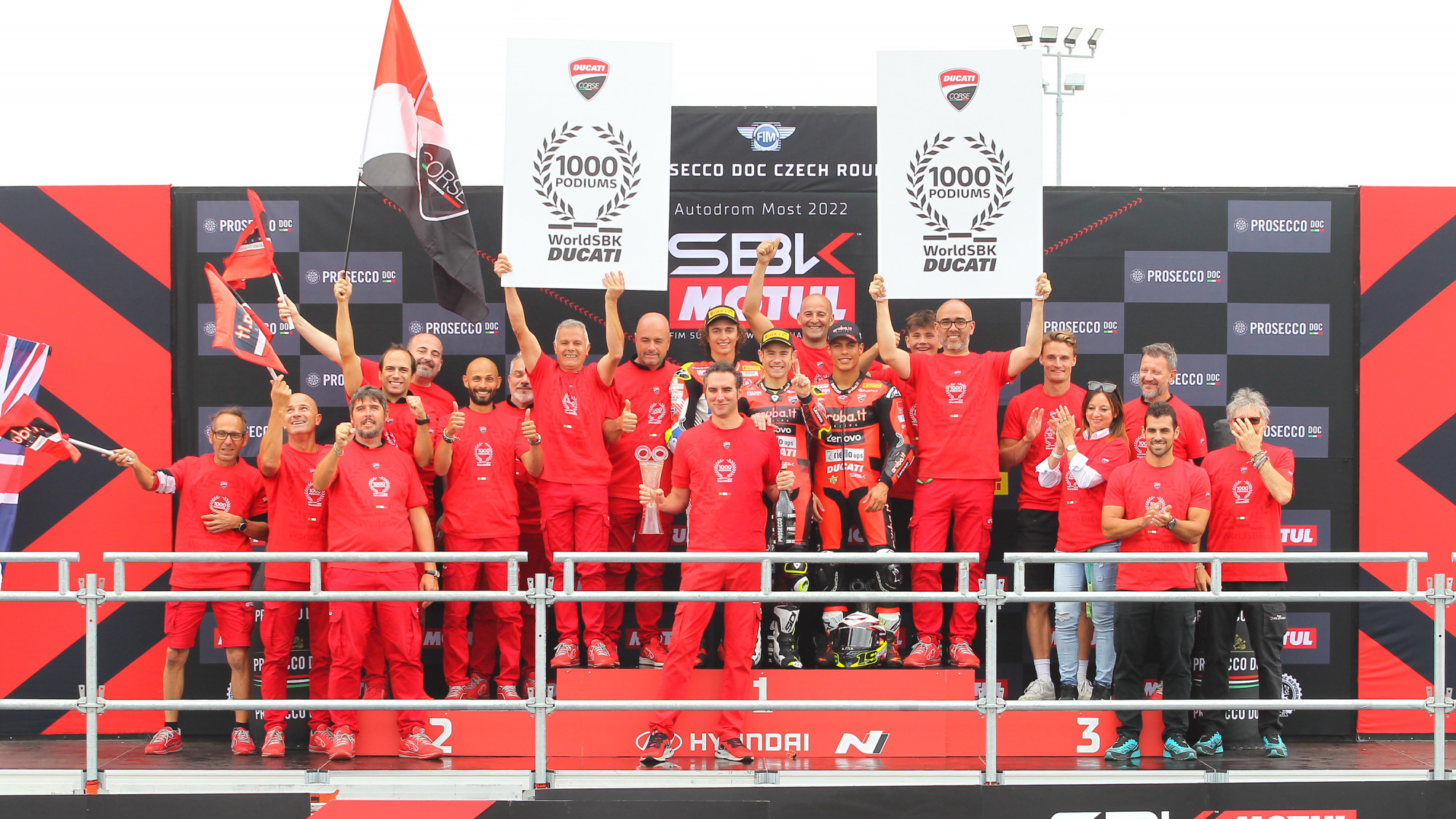 Ducati reached an incredible milestone of 1000 podiums by adding two more to their record at the Autodrom Most
Ducati hit an incredible milestone at the Prosecco DOC Czech Round as they became the first manufacturer in MOTUL FIM Superbike World Championship history to claim 1000 podium placements in the Championship, after Alvaro Bautista (Aruba.it Racing – Ducati) claimed Race 1 victory at the Autodrom Most in difficult conditions. Following the incredible milestone, Ducati "royalty" and legends spoke about the Bologna-based manufacturer hitting 1000 podiums and what it meant to them and Ducati.
Ducati Corse Sporting Director, Paolo Ciabatti, explained his thoughts on Ducati's 1000th podium: "We have reached this incredible result and incredible achievement. For us, to give them some results to cheer for, be happy with, be proud of, it's very important for us as a brand. We had so many and my memory actually goes back to when I started working for Ducati since 1997, with Carl Fogarty winning some spectacular races and Troy Bayliss winning his first race in 2000 at Hockenheim, which came out of the drama of Carl Fogarty's accident, to find someone who was able to win with Ducati. We hadn't prepared a second rider of that scale; we had Ben Bostrom at the time who was having a difficult period at the beginning, so the win in Hockenheim was a special one. Another one, when I actually wasn't working for Ducati anymore, I was working for WorldSBK as a general manager, but when Troy Bayliss won two races before retiring and becoming World Champion for a third time. This is something to remember."
Luigi Dall'Igna, General Manager at Ducati Corse, said: "This means that Ducati did a really good job, even before me! Most of those podiums are without me! Ducati is an incredible brand and they have some incredible technicians in their racing department; it makes me proud to be of the head of this department. For me, there are two riders who come straight to mind when I think of Ducati: Carl Fogarty and Troy Bayliss, they will always have the heart of the Ducatisti. The first memory is for sure Chaz, because it was the most important riders in WorldSBK when I was there in the racing."
Bautista, who will go down in Ducati folklore as he claimed Ducati's 1000th podium, said: "It's very emotional because they're the first manufacturer to do it. I'm the rider who got it. Congratulations to all the riders who made the podium with Ducati. I think it's the best way to celebrate 1000 podiums, with a victory, and we did. I'm happy. Congratulations to Ducati and all the Ducati guys."
Serafino Foti raced 52 times for Ducati in WorldSBK in two spells, between 1994-95 and 2001-2003. He is now Team Manager at Aruba.it Racing – Ducati, the factory Ducati team. He said: "I'm so proud and honoured to be part of this page of the story. To reach 1000 podiums is massive, it's fantastic, it's unbelievable. I remember really the first victory at Donington with Marco Lucchinelli, in 1988. I was there. It was incredible, it was fantastic. There were many Japanese factories and I remember the Ducati was a really small manufacturer. It was fantastic to win that race in the debut of WorldSBK. It's an incredible result, an incredible record. We will enjoy this moment."
James Toseland, who claimed the first of his two titles on Ducati machinery in 2004, said: "Since World Superbike started in 1988, you look back with Raymond Roche, Doug Holden, Foggy, Troy Corser, Troy Bayliss, me in 2004, Bayliss again and then Checa... I think Checa was the last one in the Superbike Championship. They have been part of this Championship from the very start and they are the most successful manufacturer in WorldSBK history. 1000 podiums would be a massive, massive milestone for Ducati."
Pierfrancesco Chili, who raced for Ducati teams between 1995 and 1998, and also between 2002 and 2004, discussed the milestone. He said: "Ducati every year are competitive, and they have a good bike! Unfortunately, I never got to win the Championship with them. They gave me one chance but not more! The memory was very good at the beginning because I came from the 250cc class and after one year out, I was 31, I started my career again and step-by-step with private teams, I got good results year-by-year and finally in 1998, Claudio Castiglioni wanted me in the factory team and that for me was an honour. Unfortunately, I didn't win the Championship that year due to some mistakes by me, but I was one of the best riders on that bike and in that year."
Davide Tardozzi, Ducati's MotoGP™ Team Manager and a former rider who claimed 11 podiums for Ducati in WorldSBK, said: "It's something that Ducati deserve because I think that Ducati is a big part of World Superbike history. Ducati deserve this number and all of the people in the team deserve it. The one podium in Germany with Carl Fogarty in 1999 in Race 1; there were Colin Edwards and Aaron Slight who were very fast and lapping at least one second faster than Carl on Friday and Saturday. Saturday night Carl asked us "have we done everything on the bike?" and we replied, "yes, we don't know what else we can do". He said, "don't worry, tomorrow it is up to me to win" and he won. I never saw Carl so sure, so decisive and so focused on what he wanted after having two bad days before. This win in Germany was incredible."
The history doesn't stop there either, as more iconic names will have their own dedicated articles as they look back on their memorable moments from their time with the iconic Italian manufacturer. Four-time World Champion Carl Fogarty, triple World Champion Troy Bayliss, 28-time Ducati winner and ex-Championship runner-up Chaz Davies and the most recent Ducati WorldSBK Champion Carlos Checa all rekindle their periods, with some of WorldSBK's greatest moments also being shared.
Congratulate Ducati on their historic milestone using the #1000DucatiPodiums hashtag and enjoy the 2022 season with the WorldSBK VideoPass!