"I'm proud to be in green…we're still living the dream" – Kawasaki's big names on 500 podiums
Wednesday, 20 July 2022 09:45 GMT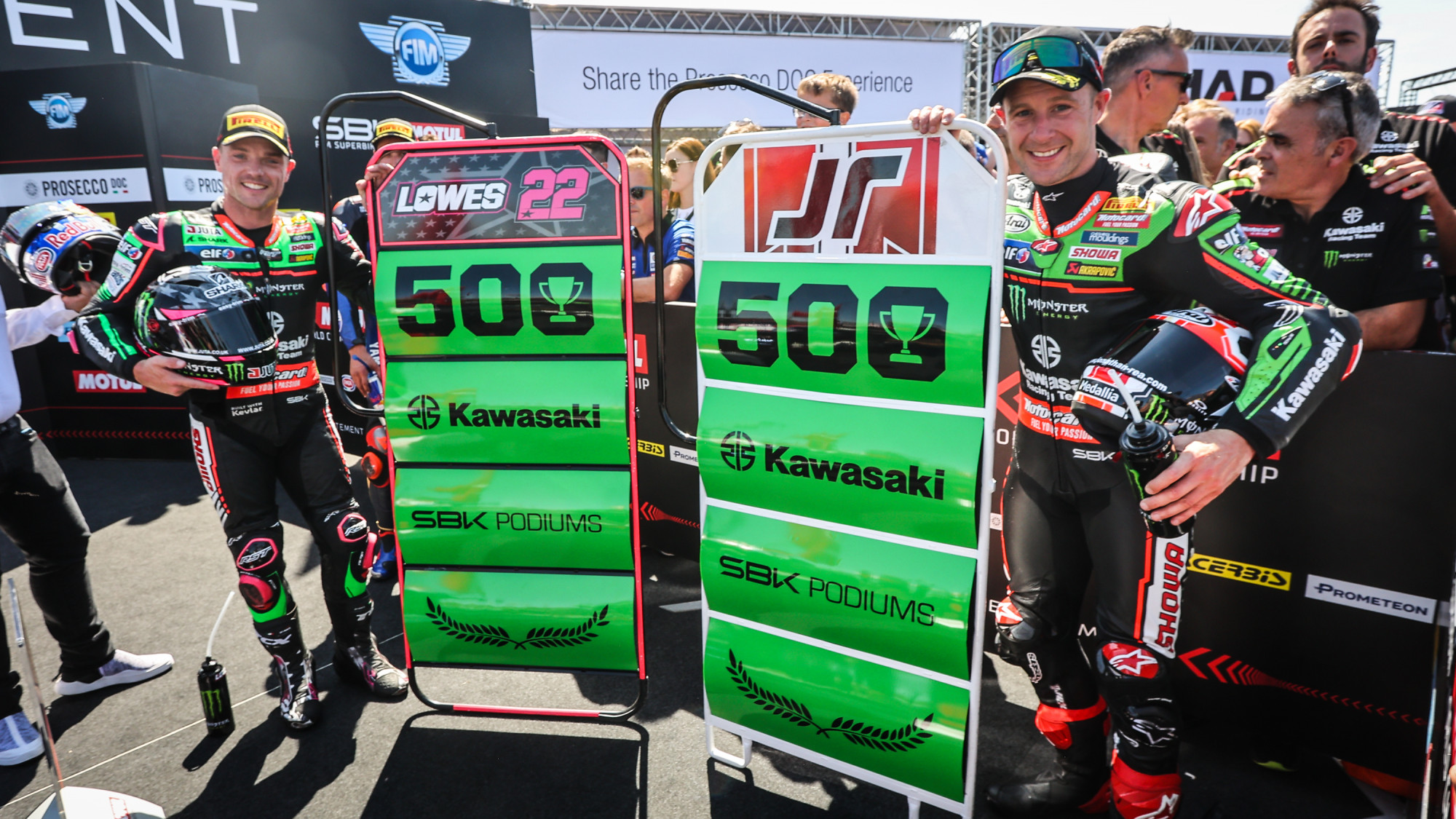 From the most successful rider for a single manufacturer to team personnel and ex-riders, Kawasaki's big names react to achieving their 500th podium
The 2022 MOTUL FIM Superbike World Championship is in full flow and the title race erupted in the UK for the Prosecco DOC UK Round at Donington Park. Race 1 was huge, as Toprak Razgatlioglu (Pata Yamaha with Brixx WorldSBK) won, Alvaro Bautista (Aruba.it Racing – Ducati) crashed and Jonathan Rea (Kawasaki Racing Team WorldSBK) and teammate Alex Lowes were both on the podium. For Kawasaki, this was a landmark podium as they achieved their 500th and 501st podium places respectively, only the second manufacturer to reach this. We caught up with the big names in the paddock that helped make it happen.
With 186 podium places in green, Jonathan Rea has more than anyone else: "It's nice to be part of this nice story for Kawasaki; I've contributed quite a lot, but I think it shows their commitment to the Championship, especially right now with how many manufacturers there are. Also, congratulations to my teammate Alex; to be on the podium together is nice in our home race and it's good for the team. It's a nice landmark for myself but also for the team, whilst the manufacturer's achievement is for everyone back in Japan as well that doesn't travel to the round but works on the race project. This one is for them and all the Kawasaki fans around the world that support us every weekend."
Teammate Alex Lowes has ten podiums with KRT, with his starting their next journey to 600: "It's great to be part of this milestone! Since I joined Kawasaki, it's been a bit strange with the pandemic and we haven't had all the fans like today. So, it's nice that we're both on the podium after being first and second on the grid with all the people watching. I'm proud to be a part of Kawasaki. Last year was tough for me but this year, I feel better and I'm really enjoying it. I'm proud to be in green, so congratulations to them."
2013 World Champion Tom Sykes also shared a moment and was proud to be a part of Kawasaki's illustrious recent history: "Now that you mention it, I just had a sense of feeling very, very proud in my achievement. If I'm correct, I had triple figures in podiums for Kawasaki, so more than 100 podiums in WorldSBK. When I say it like that, it makes me very proud. I'm not this kind of guy to look at statistics for myself but Kawasaki are a great manufacturer and they're doing an amazing job in the World Championship. It's thoroughly deserved and what better place than here at Donington, a sunny Donington Park, to get 500 podiums; 501 now and counting so congratulations."
WorldSBK career at Kawasaki and won races for them, and he gave comment on the manufacturer's achievement: "In 2018 and 2019, I rode for Kawasaki and I am very happy for them. They have had many podiums and I hope one day here at Yamaha we will see that many! In 2019, I had many podiums for Kawasaki and I was happy for this and I am happy to be a part of these 500 podiums."
Having spent three years at Kawasaki and achieving 14 podiums, Loris Baz has been part of Kawasaki's golden decade at the top: "It's special to be in that standing and that statistic, to be in the top ten… I didn't know that! I started my career in WorldSBK with Kawasaki and I will be forever thankful for the opportunity. Massive thanks to them because I'm the rider I am now because of the opportunity Kawasaki and Provec gave me. Proud to be in this one and proud to have 14 of those 500 podiums. The best memories are all three seasons. I started as a really young kid there and I grew up as a rider. I became a complete rider really young; all three seasons were good memories. If I had to choose a podium, I think it would be the first one at Brno in 2012, in my first season. Nobody expected that and it was a crazy one. My first win also, I think it was the following race at Silverstone. All of them, all 14 podiums, I remember like it was yesterday."
Jonathan Rea's crew chief Pere Riba claimed that the achievements Kawasaki are hitting and the history they're making is still the stuff of dreams: "It's always good to hear and to know that Kawasaki is increasing this kind of record and still winning races. This means everybody is working hard and working well. I said 1000 times we are still living a dream and we all have to be realising what we are doing, because it's not real. It's a dream; a complete dream. Jonny has been with us for eight years and six titles, fighting last year to win and finishing second and now he's still fighting again this year. This is mad; it's not easy."
KRT team manager Guim Roda was also in good spirits, as he reviewed the team's success: "It's a number built with history. It's a curious number so that's why we had a small celebration, to recognise the efforts of everybody contributing to this success. It's not only been the 500th, but the 501st. A curious day for people who like the numbers and the history. I hope we continue having more podiums. It's nice. It's a big pride to continue on this success."
Watch the 2022 WorldSBK season unfold in style with the WorldSBK VideoPass!