HOT HEADLINES FROM DONINGTON PARK: resurgence, bouncing back and 2023 gossip
Tuesday, 19 July 2022 07:54 GMT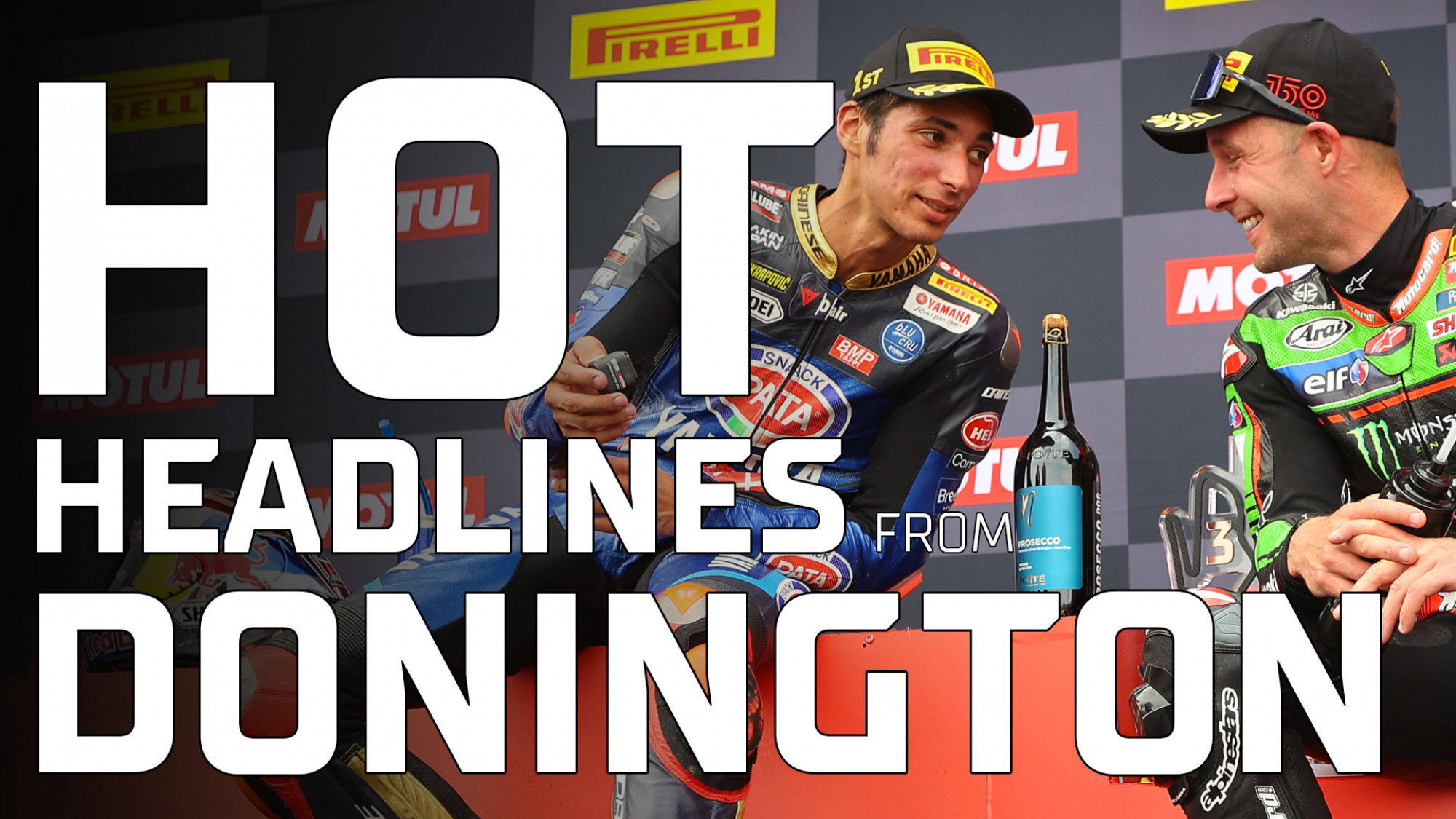 No punches were pulled in the media debriefs throughout Round 5, as Donington Park brought a turning of the tide…
The dust has settled after the 2022 MOTUL FIM Superbike World Championship's fifth round of the season at Donington Park. The Prosecco DOC UK Round was titanic from the start and welcomed a round of firsts with a first-time hat-trick hero, debut podiums with new teams and first rostrums of the season, plus some intense conversations to the media about the action, the changing in the title race and the rumours of 2023. This week's hot headlines have dropped…
Toprak Razgatlioglu (Pata Yamaha with Brixx WorldSBK): "Toprak-style is coming again… I'm thinking of the next dream now!"
It was a career-first triple for Toprak Razgatlioglu, as the reigning World Champion achieved his dream of a hat-trick: "Now, I feel good with the bike and I'm feeling like last year! Toprak-style is coming again! It's very easy to pass the riders, to be hard on the brakes and to finally have three wins to come at Donington Park – my favourite track. For Race 2, I was waiting a little bit as Jonny followed me, but I didn't want to kill the tyre. When I saw my board at 0.3s, I started pushing and I did a 1'27. Another victory is very good because it's the home race for the team; it's an incredible day. I'm very happy with the bike, as it feels like my bike. I feel relaxed, easy riding in my style, and it was easy to pass Jonny in the race. He passed me but it was easy to pass him back again. Now, I'm fighting in every race, and I hope at Most, it's the same. I'm thinking of the next dream now!"
Jonathan Rea (Kawasaki Racing Team WorldSBK): "It doesn't help when Alvaro's messing around into the chicane… my throat was getting dry with the exhaust fumes"
Talking about Race 1 on Saturday, Jonathan Rea stated he was focused solely on Toprak at the front: "I was just thinking about Toprak, but I rode into some mistakes. It doesn't help when Alvaro's messing around into the chicane and alongside, you can't do your rhythm. In practice, when I'm on my own, I'm good. That's how it is. The strategy for him worked; I was in trouble in the early laps, and he had a good pace and got the gap. Ultimately, that decided the race."
He then discussed his bike's performance in the hot conditions, saying: "We're learning a lot about our bike in the hotter temperatures; it really was a weak area for us, but I think now, we can be happy, especially after Misano as I felt a lot closer here. It's encouraging before Most to see what we could do there. Donington Park's one of the hardest tracks on the brakes, especially the last sector. Here and Aragon are hard on the brakes, so I don't think we'll face the problem at Most. It doesn't help that I was in the slipstream and in fact, my throat was starting to get dry with the exhaust fumes. I don't expect to see this problem again. With me being in the slipstream all the time, I wasn't cooling my disks, so the temperature was high. All the power from the braking was fading fast."
Alvaro Bautista (Aruba.it Racing – Ducati): "I'm happy that it happened… I can show that I feel stronger than three years ago"
After crashing out of a race for the first time in 2022, Alvaro Bautista bounced back to the podium in Race 2, although he took positives from his Saturday spill: "It's a clear picture but at the same time, I'm happy that it happened, because it means that I can show that I feel stronger than three years ago, physically but also mentally, and that I can reset from the mistake from yesterday. I think everything happens for a reason and yesterday, if I had to crash, it's to show my stronger mind that I have now. This track is difficult for us so to be competitive and get more points than second in the Championship in Race 2 is nice."
Scott Redding (BMW Motorrad WorldSBK Team): "We're coming closer; we can't let off the gas!"
A home podium for Scott Redding has motivated the British rider, who promises to keep pushing BMW's project on: "I like to get a podium when everyone is on their form and in the Superpole Race, everyone was on their form. I got tested at the end. So happy it was just one lap to go when I had to fight a little bit. It was a bit of a relief but also a motivation. I got hungry for me and that's why, in Race 2, I was there for the first half of the race because I thought I'd have a go. We are coming closer. We can't let off the gas. We've got to keep working. Now we're more or less there, I'm going to drive harder because we are almost there.
Redding also looked back at his first round at the difficulties of Round 1: "To be honest, after Aragon it was hard. I was questioning my decision a lot. It was sink or swim; either you come together and fight to make it work or you close the book, and you go home for two years. My feeling inside is that I will fight for it. Now we're making the progress and everyone's getting together and understanding. I don't know the guys they worked with before but the way I work, I want to win. If I'm not winning, I'm going to put a lot of pressure on because I didn't come here for anything else but to win."
Alex Lowes (Kawasaki Racing Team WorldSBK): "I had a good battle with Scott, he was smoking the tyre!"
After a first podium of 2022 in Race 1, Alex Lowes shed light on his battle for a top three at home: "It feels good, especially here at Donington! When the temperature comes up, we seem to struggle with our bike, especially compared to when it's cooler. When it gets hot, the other guys don't seem to suffer as much as us, so I didn't have the pace I expected in the race. However, I had a good battle with Scott, he was smoking the rear tyre, especially through Schwantz. All I could see was the side of the swingarm! I thought, 'I'm probably going to have more grip with him in a couple of laps!' so I stayed calm. I was able to save some tyre for the last few laps. I'm really happy with the podium!"
Axel Bassani (Motocorsa Racing): "It's very important for me to beat Michael"
Also talking on Saturday evening, Axel Bassani was top Ducati in Race 1 and is eager to push for a factory Ducati seat: "No podium but we are the first Ducati, so this for my team, this is like a podium! Especially this year, it's not easy to finish as top Ducati as Bautista is so fast but the result arrived! We made a good step with the bike and the team, and I feel good on the bike now; I had the possibility to push when I wanted which is good for me! It's very important for me to beat Michael; he's an Italian rider and we have the same bike. I want to beat him every race, sometimes it's difficult but when we're OK with the setup and I'm feeling good, we can do it."
Michael Ruben Rinaldi (Aruba.it Racing – Ducati): "I will not complain about what he says"
Responding to Bassani's comments, Michael Ruben Rinaldi had his say: "It's normal that his target is to be in front of me, because I'm on the factory bike. I will not complain about what he says. We know he is a fast, young rider. I think that when I'm in good shape with the bike, my goal is to stay with Jonny, Alvaro and Toprak, and not with an Independent rider. When I'm in that position it's because I'm really struggling and he's in the best shape."
Watch the 2022 season LIVE and OnDemand with the WorldSBK VideoPass!