HOT HEADLINES FROM MOST: old foes at odds again in the Czech Republic
Tuesday, 2 August 2022 05:41 GMT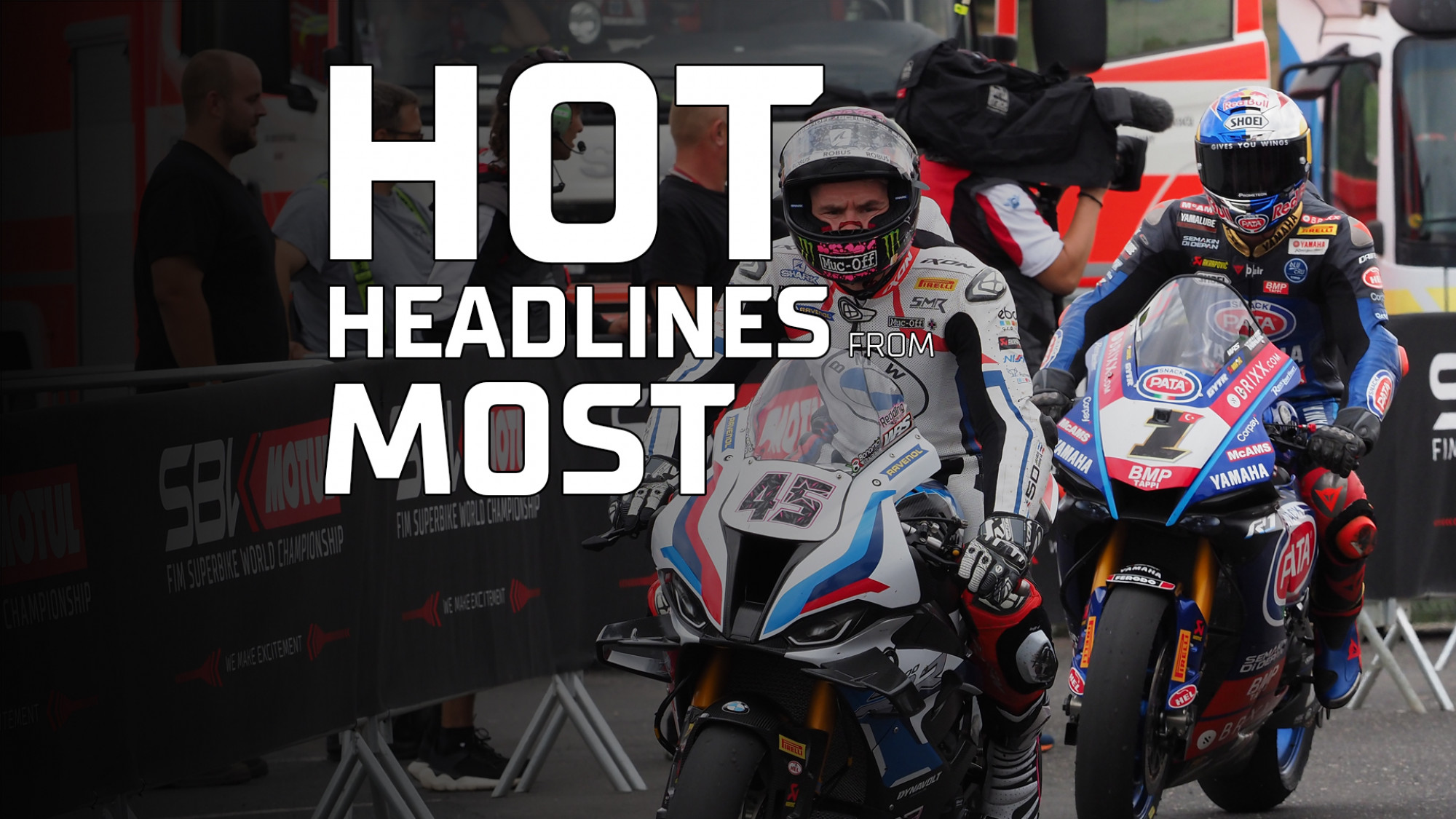 From final lap fights and fallout to best results of the year and landmark celebrations, Most had it all
The 2022 MOTUL FIM Superbike World Championship is halfway through a titanic season so far and has reached the summer break following the Prosecco DOC Czech Round at the Autodrom Most. Whilst some riders will head off to Japan for the Suzuka 8 Hours, others take a well-deserved break. However, as usual during a round weekend, there were plenty of headlines from media debriefs, with fallout, celebration and much more; we've put it all in one place in this week's hot headlines.
Toprak Razgatlioglu (Pata Yamaha with Brixx WorldSBK): "I'm not talking like Redding… this is racing"
Talking about a fierce final lap fight with Jonathan Rea in the Superpole Race, Toprak Razgatlioglu stated that they have respect and there were no complaints, just 24 hours after he and Scott Redding had a showdown at Most in Race 1 again: "I had a big drop in the rear tyre and I knew Jonny was coming, so I said, 'OK, I'm ready to fight!' and I saw Jonny had much better rear grip than me. On the last lap, at Turn 15, he was stronger than me and I tried to go in the middle of the track, but he also tried to pass me anyway, because I'm not strong there and that's his chance. I also tried to open my leg, but he touched me! It wasn't good but after he went wide; anyway, I'm not talking like Scott Redding because this is racing. Sometimes, we crash together, sometimes not; Jonny went wide but after the race, we have the same respect. It's the last lap, everyone is fighting for a good position and it's part of racing. Two wins, one second place and good motivation before the break."
Scott Redding (BMW Motorrad WorldSBK Team): "I said 'come on, where's the limit?', I had the same thing with him last year"
Reacting to Race 1's battle with Razgatlioglu, Redding, whilst enjoying the fight and a podium, wasn't happy with the reigning World Champion's move: "I said 'come on, where's the limit? The wall was ten metres from there and I had this much of the green left'. If I was in the gravel at that speed, it wasn't a good ending. This is what I'm thinking at the moment, but he isn't. I had the same with him last year when he passed me into the last two corners so late. He said 'sorry, the rear was sliding'. I said, 'yeah but f*****g hell, me and my life are on the outside'; it's more conservative than your tyre. We know he's aggressive with overtaking; I don't mind aggressive overtaking but, in some places, I wish he'd just think. Try and overtake me in the next corner like he did last year. I prefer it if you hit me, I have space, instead of somewhere where the margin for error is really small. I took it on the chin because I'll start to ride in that way; I'm riding in that way, but it'll have to be more, until somebody says this is the line for overtaking; I don't have anything to lose. In the end, he finished second and made it stick. It was nice, I enjoyed it."
Alvaro Bautista (Aruba.it Racing – Ducati): "Both are very difficult to beat!"
Speaking about the differences in combat between his two main title rivals, Alvaro Bautista said: "The difference between both is that maybe battling with Toprak, if he can go faster than you, he will try to pass you. At least with me; I can't speak about the situation for Jonathan because they try every corner to pass each other. When he tries to pass me, it's because he has something left and he thinks he can go faster. Also, he tries to pass you without mistakes. Jonathan is more, 'I want to pass you to stay in front of you, not because I have more' because he might not have more but if he's in front of me then he's thinking 'at least you're not in front of me'. Both are very difficult to beat."
Bautista also gave an update regarding his hand injury: "There's nothing broken but the ligaments and tendons are inflamed, so the way to recover is to do nothing. I stressed the hand at Donington, then last week with World Ducati Week and again this weekend, so I haven't had time to recover. At least when I ride the bike, I don't feel big problems. The treatment will be to relax and rest. Sorry for my wife, but she'll have to care about everything at home; not just two babies, now three!"
Jonathan Rea (Kawasaki Racing Team WorldSBK): "He did a completely different line than the other laps, on the defensive… I enjoyed the fight!"
Commenting on his battle with Razgatlioglu in the Superpole Race, Jonathan Rea enjoyed it, even if it didn't go his way: "The Superpole Race was good and I had a good rhythm; I felt better than Toprak in the middle part of the race. I'd felt stronger in Turn 15 in the race compared to him but on the last lap, he did a completely different line than the other laps, on the defensive. With his leg, I tried to miss but I released the brake but compromised my own line and fortunately, there was enough gravel to slow me down, re-join and keep my position. I enjoyed the fight and I felt good with the bike! We improved the braking compared to yesterday."
Xavi Vierge (Team HRC): "I'm really happy with Honda… after the summer we'll have more news"
Talking about his 2023 options, Xavi Vierge said that they're happy with each other and to expect news after summer: "I'm really happy with Honda, with all the staff and team, and I think everyone is happy with me. I think after the summer break we will have some more news. We don't speak so much about that. We are happy with each other. I'm really happy and feeling like I'm in a really competitive team. We are making big progress. We are not fighting for the positions we want, and we deserve, but we're always working really hard. I think if we continue like that, we will arrive."
Axel Bassani (Motocorsa Racing): "Honda is Honda; they have really good potential"
With the second Honda seat up for grabs, top Independent rider in the class Axel Bassani responded to rumours linking him to the seat for 2023: "I don't know! I'm focussed on track. Out of the track, it's the job of my manager. After, I will speak to my manager and ask him. Honda is Honda; they have really good potential. It's not great at the moment but on the right way. I think we are doing a good job. All the riders want a factory bike, so we will see."
Enjoy all of 2022's battles LIVE and OnDemand wherever you are with the WorldSBK VideoPass!