HOT HEADLINES FROM BARCELONA: emotions, elation and bold declarations
Tuesday, 27 September 2022 10:18 GMT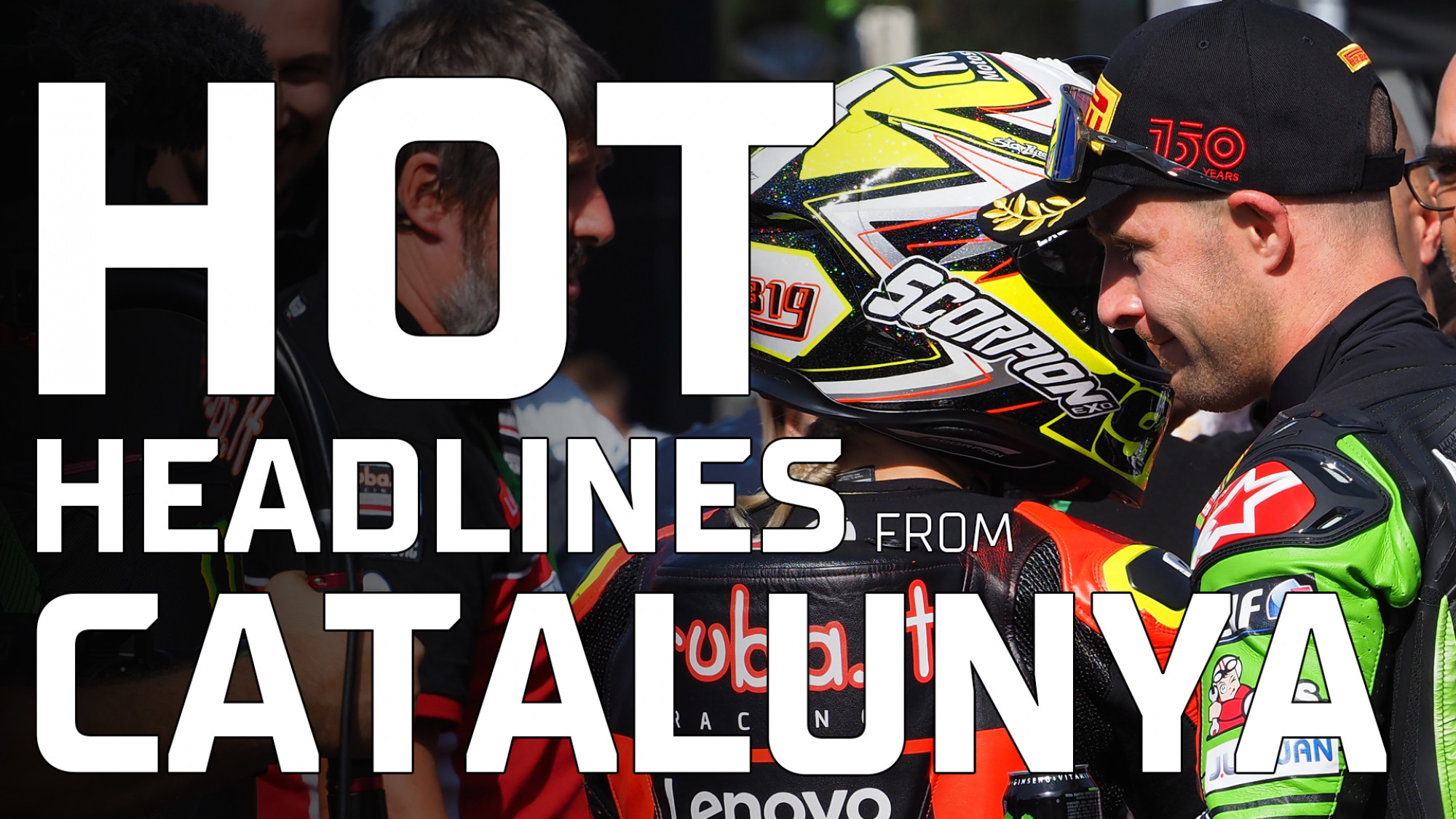 Whether it was the highs of winning or the relief of returning to the podium, this week's hot headlines reveal all
The epic 2022 MOTUL FIM Superbike World Championship continues to deliver crucial storylines in what is becoming one of the most thrilling seasons of action ever seen. This weekend, it was all about the emotions and the achievements, rather than the heated rivalries of past rounds. The Circuit de Barcelona-Catalunya gave plenty of hot headlines, ranging from the emotions of victory, rostrum returns and of course, some 2023 talk.
Alvaro Bautista (Aruba.it Racing – Ducati): "I'm not preparing to win; I'm preparing to enjoy!"
Reviewing a magical weekend, Alvaro Bautista was thrilled to win at home: "To have three wins from three races is amazing. On paper, this track was in our favour and we got our maximum. To win is special but to do it at home with family, friends and all the fans, it's really nice. It's the first time that fans can be at a 'normal' WorldSBK event at this circuit, which is even more special. I think more than take points from my direct rivals, it's more important for Michael to get these results; it gives him more confidence and they're very important for the team; he's doing a great job and in the next races, he can fight for victory.
"Three years ago, apart from my mentality where I now approach the races differently, I didn't have the experience so when I was winning races, I went fast but I didn't know why. Then, when I started to crash, I didn't know why. Now, I know the tyres, limits, how to not exceed the limits and all my mentality, nothing matters. The Championship is not the target in my mind, especially after the last two years. Believe me, I went through two years of suffering a lot and thinking that in every corner, I could crash, so it was like a warning every time. The important thing is to get the maximum every time, arrive to the limit and this is the important thing. Now, I'm not preparing to win; I am preparing to enjoy the bike. It's strange to explain; maybe it's because I'm older and have another mentality. I want to keep this feeling with my work and the bike."
Jonathan Rea (Kawasaki Racing Team WorldSBK): "I'm going to fight with all my weapons"
Determined to not give up, Jonathan Rea remains focussed on the ultimate prize: "I will do my best and if that's enough, then we will fight back. If it's not, then it's not. The combination right now of Alvaro and Ducati is strong. Historically, Portimao is a good track for us and race by race, we have to give my best. 62 points in a weekend and a lot can be won and a lot can be lost. Of course, we keep fighting. Right now, Alvaro has a huge advantage and he's riding very well. I always try my best. I'm going to fight with all my weapons, all my heart and see what happens."
Toprak Razgatlioglu (Pata Yamaha with Brixx WorldSBK): "The feeling with the bike was much better last year"
In what was a tough weekend, Toprak Razgatlioglu was back on the rostrum on Sunday afternoon: "In Race 2, I didn't follow Bautista because I'm trying to keep the rear tyre. I followed Jonny and Axel. I just watched because it was a good battle with Bassani and Rinaldi; sometimes, I smiled! Anyway, we're on the podium. For second position, I pushed, but the problem is that in the last eight laps, the front tyre dropped. On right-handers, especially the last corner, maybe six times the front was sliding. Again, I tried, but not Toprak style. Third position is not bad because, after fifth and fourth, we are coming step by step. I checked the lap times, and this year was faster. Especially Alvaro, who was very fast. The feeling with the bike was much better last year. This year, every race weekend, we try to have a good setup for the track. Last year, we didn't have this problem."
Axel Bassani (Motocorsa Racing): "I wanted the factory bike; only results are not enough"
Speaking in his media debrief, Axel Bassani reviewed his weekend and analysed his future: "It's been one of the toughest weekends so far, we've been very unlucky. But we had potential and in Race 2 it went well. We made a mistake with front tyre choice, but we were there, fighting with the others although it was a track in which we struggle. I'm positive, it gives motivation for next races. In Race 2, I wanted to push hard to come back and then for getting my pace, tyre choice didn't help but, OK. Now we aim to keep in the top five, we're doing a good job, but we want the podium. About next season? I wanted the factory bike; only results are not enough. We hope to continue like this in 2023, maybe for 2024 there will be more available seats. Maybe the PR for 2023 will come in next days... I want to show that we have the potential and that results are not random."
Philipp Oettl (Team Goeleven): "We believe in our potential"
After a first top six in his WorldSBK career, Philipp Oettl (Team Goeleven) was in good spirits on Sunday: "Solid Friday, solid Superpole. Race 1 was very short for me, only nine corners. We were unlucky. The team did a good job. The starts now have become better, the team have supported me well. We could see our potential from the beginning of the season, but we were unlucky, with the broken collarbone. During the summer break, we were saying this is what we have, a good potential. We believe in our potential; it was a good day."
Garrett Gerloff (GYTR GRT Yamaha WorldSBK Team): "It means a lot… there's been some self-doubt"
Speaking about his podium on Saturday, Garrett Gerloff was elated to return to form: "I thought at the start of the race, 'OK, here we go again, another eighth or ninth place'; I lost out at the beginning of the race, but I saw that through the right-handers, Lecuona and Locatelli were just smoking the tyres. Literally, smoke was pouring off the tyre! I tried to ease off a bit and save the tyre, thinking that it would come back to me later in the race. I tried to be easy with the gas and then in the last half of the race, how easily everyone came to me was unexpected. I'm surprised to be here to be honest; it's not been bad but nothing special. I did that for my team, they really deserve it. They and all the sponsors deserve to be on the box.
"Since the last podium at Donington Park last year, I never expected for what happened to happen and to be so long off the podium. I cherish everyone and it means a lot to be fighting with the best guys in the world. It's been really difficult in the last 12 months for a lot of reasons, but sometimes you just want to stop fighting. I want to be here, I know I can be here so to sign with a team that was excited to sign me meant a lot. There's been some self-doubt, of course. You can't go through difficult times and not have self-doubt for some things. I doubted myself, the team and the bike. It's just the process when something's not right. We've all been fighting as hard as we could to figure out what's been going on. I'm not saying that now, it's 100% but I'm happy that we've been able to get a podium."
Watch the 2022 season continue to unfold in dramatic fashion with the WorldSBK VideoPass!