GERLOFF OPENS UP: "A crazy story… a rollercoaster with GRT… I'm happy that I didn't give up!"
Friday, 7 October 2022 08:10 GMT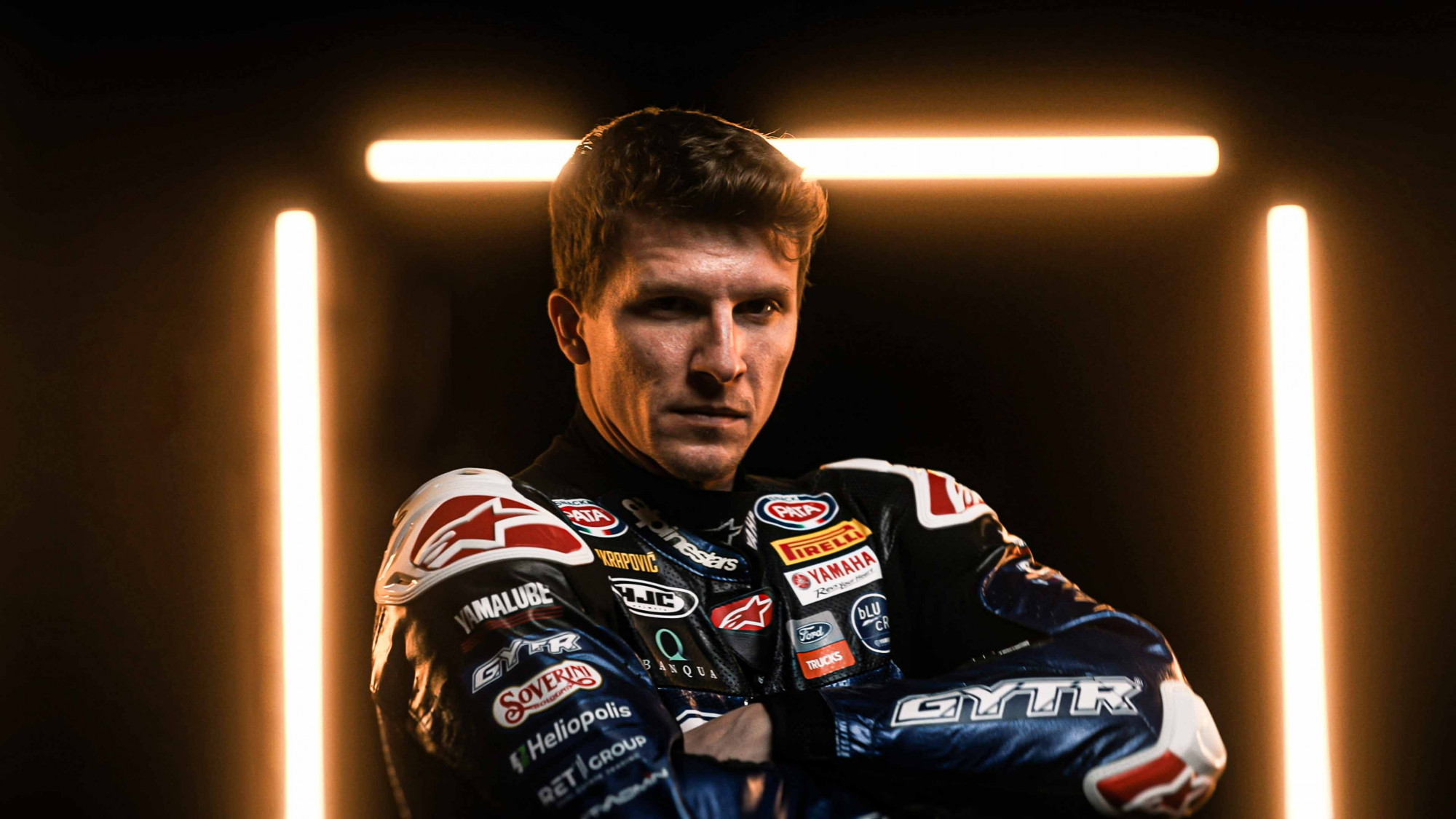 American star Garrett Gerloff reveals all about his 2022 campaign, battling back through tough periods and more ahead of the Portuguese Round
As the MOTUL FIM Superbike World Championship paddock gets set for the 2022 Pirelli Portuguese Round at the Autodromo Internacional do Algarve, American star Garrett Gerloff (GYTR GRT Yamaha WorldSBK Team) sat down to discuss several topics at length ahead of the final European round of the season. Gerloff talked about his 2022 season, the "rollercoaster" he has had with the GRT Yamaha team, battling through negativity as well as his future, when he makes the switch to BMW machinery for 2023 after three years with GRT Yamaha in WorldSBK.
"NOT HOW I IMAGINED…": Gerloff reflects on 2022
27-year-old Gerloff took the WorldSBK paddock by storm in his rookie season in 2020 with three podiums, before backing that up with two more in 2021. His last podium in 2021 came at the UK Round at Donington Park in July with Gerloff able to end his 14-month podium drought at the 2022 Catalunya Round. Although he has, more often than not, been fighting for the top ten positions, Gerloff had only recorded two top-five finishes in 2022 prior to the Portuguese Round.
Reflecting on his 2022 campaign as a whole, plus his best and worst moments, Gerloff said: "My 2022 season has been not how I imagined it, to be honest. It's one of those things. I feel like I have everything that I need to have good races and a good season, but for whatever reason, things just haven't been coming together how I would've imagined, and how myself and the team hoped. Sometimes there are other variables that you can't control. I would've hoped to have been closer to the podium more often and at least finishing in the top five pretty consistently. It's not always as easy as you want it to be. This year's been difficult. The first podium last round was definitely a podium. The best moment of the season was the podium last time out in Catalunya. It was a long time coming and it felt nice. I'd say probably the worst moment was Estoril. I had a crash in FP3, got a hole in my knee which is mainly fixed now, but it wasn't super fun to go through."
FIGHTING THROUGH: "14 months is a long time to have things not go the way that I want"
Despite a strong start to his WorldSBK career, Gerloff only recently ended a podium drought that lasted more than a year and had some tough races in that period following a clash with fellow Yamaha rider Toprak Razgatlioglu (Pata Yamaha with Brixx WorldSBK) in Race 2 at Assen. Gerloff was able to start to change his fortunes when he claimed fifth place in Race 1 at Magny-Cours before backing that up with third in Race 2 at the Circuit de Barcelona-Catalunya.
Talking about how he had to fight through the bad times, Gerloff said: "It's difficult to go through moments in life with things not going the way you want them to. You just got to stay on the grind, keep your head down and keep moving forward. If you quit fighting, it's definitely not good. I know what my goals are, I know what I want and so I kept fighting through it. It can be difficult but that's what makes life more interesting. I'm happy that I didn't give up and I'm more motivated than ever and I'm going to keep fighting. 14 months is a long time to have things not go the way that I want, for sure. I doubted myself. I doubted a lot of things, not just myself. Life isn't easy sometimes and you have to through bad moments to really go through the good, let's say. I'm ready for what's to come. If it's negative, I'll keep fighting through it. If it's not, if it's positive, then that's even better."
PAYING TRIBUTE: looking back on three seasons with GRT Yamaha
Gerloff's WorldSBK debut came with the GRT Yamaha squad in 2020 and he remained there for 2021 and 2022, before opting for a new opportunity in next season. At the season-opening round at Phillip Island in 2020, Gerloff qualified in 17th place out of 18 riders, before adapting to WorldSBK as the season progressed when it re-started later on in the year. He ended 2020 with three podiums and added two more in 2021 as he took seventh in the Championship standings last season.
Gerloff said: "These last three years have been a rollercoaster with GRT, for sure. It's been a story. It's been quite a story. From starting at Phillip Island, the first round, and qualifying last basically to finishing my first year on the podium… that was quite a story arc. Then everything that happened last year, on the podium a couple of times and then some dramatic moments and going through all that stuff, then being back on the podium this year. It's been a rollercoaster ride! I'm sorry to the team for all the bad moments. I wish there were more good moments with it. I can't thank them enough for all their support and all they've done for me. I can't thank Yamaha enough for these past 11 years that I've been with them. It's been such a journey and I've experienced so much, back in America with a couple of championships I won, racing on a Superbike with Beaubier and everyone and then having the chance to come here. They definitely helped me fulfil a lot of my goals. Doing the MotoGP™ riders… it's something that's stull unreal to me that it happened. A crazy story. I'm so happy to have had that in my past. Excited to see what's next."
MOVING TO PASTURES NEW: a new team, a new manufacturer for Gerloff in 2023
The American star's journey with Yamaha will come to an end when the 2022 season concludes as he makes the switch to the Bonovo Action BMW team for next season, where he will partner Loris Baz. It marks a change of scenery for Gerloff but also a change of manufacturer and bike, moving to the BMW M 1000 RR machine, after 11 years working with Yamaha in various championships both in his native USA and in WorldSBK.
Looking ahead to next year, Gerloff said: "For 2023, it's going to be quite a change in a lot of areas so it's hard to have definitive goals as far as position and stuff like that is concerned. My goal is to really gel with the team, to have a better relationship with the team before everything starts, and also to adapt my riding style, if I need to, to the way the bike needs to be ridden. Really just learn as fast as I can. If we really dial in all the small details and if we figure out problems, I know myself along with a good group of guys like them we can have some good results. I need to ride the bike a couple of times before I have some real definitive goals. I've raced with Loris a lot in the last three years. We always seem to find each other on track! He seems like a super good guy, he's somebody I get along with and, obviously, we both want to have the best results possible. We know that working together is going to help make that happen. Looking forward to it."
Opening up on his long-term goals, Gerloff added: "The future goals… it's probably something that's been changing a little bit over the past couple of years. I really wanted to go to MotoGP™ for a long time. Not saying that it won't happen, but maybe it's not as clear of a path as it might have been a few years ago. I really want to be on a factory team here in WorldSBK. I really want to be in a factory team and I really want to be fighting consistently for podiums. If that leads to, at the end of the year, fighting for a Championship, it'll be amazing. I know everything has to come together. I'm going to fight until my last breath to make something happen. We'll see how it goes."
Watch the 2022 Portuguese Round in style and don't miss a moment of action using the WorldSBK VideoPass!