Fogarty on "fantastic" Bautista, advice to Rea's Kawasaki future and 2022's title battle
Wednesday, 6 July 2022 08:21 GMT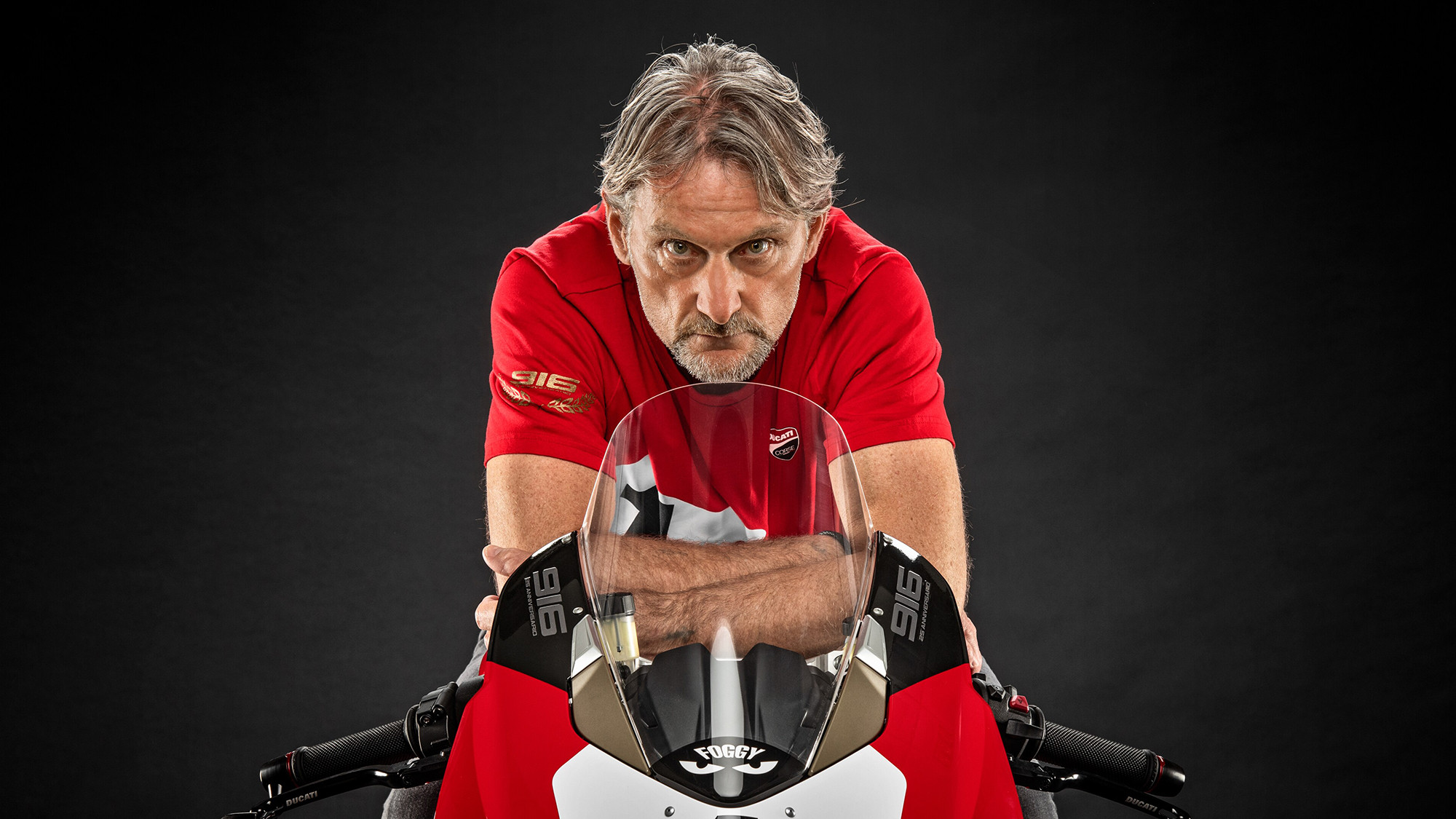 Four-time WorldSBK Champion Carl Fogarty covers an array of topics as we catch up with him
The 2022 MOTUL FIM Superbike World Championship is heading for Round 5 of the season and the Prosecco DOC UK Round at the Donington Park circuit. Just a stone's throw from Nottingham in the heart of the United Kingdom, Donington Park is the place where WorldSBK was born, as well playing host to the birth of some of WorldSBK's biggest stars too. One of those is Carl Fogarty, the four-time WorldSBK Champion took his first career win at the circuit in 1992 and we caught up with him to talk about a variety of topics ahead of the round. The Ducati ambassador spoke about Alvaro Bautista's (Aruba.it Racing – Ducati) start to 2022, Jonathan Rea's (Kawasaki Racing Team WorldSBK) future and his rivalry with Toprak Razgatlioglu (Pata Yamaha with Brixx WorldSBK) as well as whether or not a certain wildcard could spring a surprise at home.
BAUTISTA'S START TO 2022: "I must admit, when they re-signed him for 2022, I thought it was a bit of a mistake… I'm obviously wrong on this one!"
Talking about Alvaro Bautista's season so far and how he's bounced back to Ducati in style, Fogarty stated he was surprised at the partnership, but that the success is great to witness: "It's obviously very good for him and for Ducati. It's a little bit like it was three years ago I guess, but then it all went wrong, so we shall see. I must admit, when they re-signed him for 2022, I thought it was a little bit of a mistake to be honest. Normally, I get decisions like that right, where a rider goes to a team and think, 'hmm, not sure about that'. Nine times out of ten, I'm right, but I'm obviously wrong on this one – so far, anyway! It did all go wrong for him from about halfway three years ago, but hopefully he's learnt from that and that he's focused. Fair play to him and Ducati, it really is fantastic to see."
On whether or not Bautista had changed personally, 'Foggy' couldn't comment on it personally but from what he's seen, he hopes that it continues: "I don't know – I don't know him, but he's an experienced guy. He was doing all of this three years ago but then I don't know what happened. You're hoping that his experience that he's got will have worked from what happened three years ago. I don't see it happening again, I think he'll stay the course now and battle with Toprak and Jonny. I still think Jonny will win it to be honest; I said that at the beginning of the year and I'm not changing my mind. I said that three years ago when Alvaro won the first 11 races, I still thought Jonny would win; his consistency is relentless. He very rarely makes mistakes."
RAZGATLIOGLU VS REA: "It's great, I love it! if it was me and somebody else in my day, we'd hate each other!"
Talking about the rivalry between Jonathan Rea (Kawasaki Racing Team WorldSBK) and Toprak Razgatlioglu (Pata Yamaha with Brixx WorldSBK): "It's great, I love it! Alvaro's just sitting back and watching these two because they'll probably take each other out again like they did at Assen. They are both very hungry, they really want to win and they're also very, very fast. Obviously, they're different ages and I do like Toprak a lot. I think he's an incredibly, naturally talented rider and what he can do on a motorcycle; if this doesn't work out for him somehow, he could be a stunt rider!
"Jonathan's hunger to still be #1 is incredibly relentless. They swap paint quite a lot and it's great to watch! They seem to get on quite well though; if this was me and somebody else doing it in my day, we'd hate each other! Me and John Kocinski, Scott Russell or anyone, it'd be terrible! But these two actually seem alright. On the track, they're ruthless and it doesn't boil over into the paddock like it did back in my day a few times. I just hated everyone and that I had to if I wanted to win races. Jonny's a bit different; he's a much nicer person!"
FOGGY ON REA'S FUTURE: "I should never have broken up a winning package; I've said that to Jonathan over the years"
Remaining on topic with Rea, Fogarty gave words of wisdom to the Ulsterman about his future, with Rea's Kawasaki contract up for renewal: "I think the Kawasaki is still good enough for Jonathan to fight for the title; I can't remember a bike being so dominant for so long. Since 2012 until now, ten years of everyone wanting to be on it. It's an incredible bike to be on, it just seems to lack a little bit of top speed on the Ducati and the Yamaha, but it did last year too."
"I should never have broken up a winning package, and I've said that to Jonathan over the years. I had the best bike ever in 1995 and I went and broke all that up for a couple of hundred thousand pounds more; I was just stupid really. It cost me the title in 1996 and 1997; it took me two years to get the title back. It's something I regret to be honest, but Ducati took me back. I would stay; I think he could be a great ambassador for Kawasaki once his career is over, they'll think the world of him even more. To walk away, there's no guarantee he's going to win anything, just for another couple of years… I wouldn't do it, I'd stay there, especially after the mistake I made."
TITLE FIGHT IN 2022: "WorldSBK is doing really good!"
The four-time WorldSBK Champion then went on to say about World Superbike's position right now, with the battle for supremacy intensifying: "WorldSBK is doing really good; you have the superstar of Jonathan Rea and before him it was Troy Bayliss or myself where everyone wants to beat 'that guy' and last year, he got beaten by the up-and-coming superstar, Toprak. Now, Alvaro's there again as well. You know with WorldSBK who is going to win, but you're not sure which of those three it can be, or maybe another rider on their day."
He then spoke of Donington Park, a track he took a first win at in 1992 before his last win in the UK came there in 1999: "I loved Donington Park! It was a bit of a love-hate relationship really, I'd win one year and then have a nightmare the year after and it went like that right through the 90s. This year, you're hoping from a British point of view that Scott Redding can get a bit nearer to the front."
BRITISH STARS TO SHINE AT HOME: "Usual suspects… wildcard Mackenzie could be interesting!"
Fogarty then assessed the chances of the home contingency doing well at home, including Tarran Mackenzie, who will debut on a WorldSBK-spec bike with the McAMS Yamaha: "It's going to be the usual suspects at the front with Alvaro, Jonny and Toprak, but Tarran Mackenzie as the wildcard could be interesting. He needs to start doing something on the world scene with one-off rides to get out of Britain, as he could quite easily end up being stuck there. I briefly spoke to his dad, Niall, at the start of the year and he doesn't want to be stuck. On the one-off rides he gets, he will be under pressure to do something to make teams in WorldSBK sit up and give him a shot on their bike. He'll handle it well either way."
Finally, Fogarty concluded with talking about fellow Englishman Scott Redding (BMW Motorrad WorldSBK Team), who has struggled so far in 2022: "You're going to be looking at where he is at the end of the season, but I am not sure why he's struggling so much. The bike obviously isn't how he wants it and whether they'll get it right or not, I don't know. I never understood what happened with Ducati; I bet he wishes he was on it now."
Watch some of Fogarty's greatest wins and enjoy the 2022 season with the WorldSBK VideoPass!