FULL SCHEDULE: check out the important session and race times for the Catalunya Round!
Monday, 19 September 2022 05:41 GMT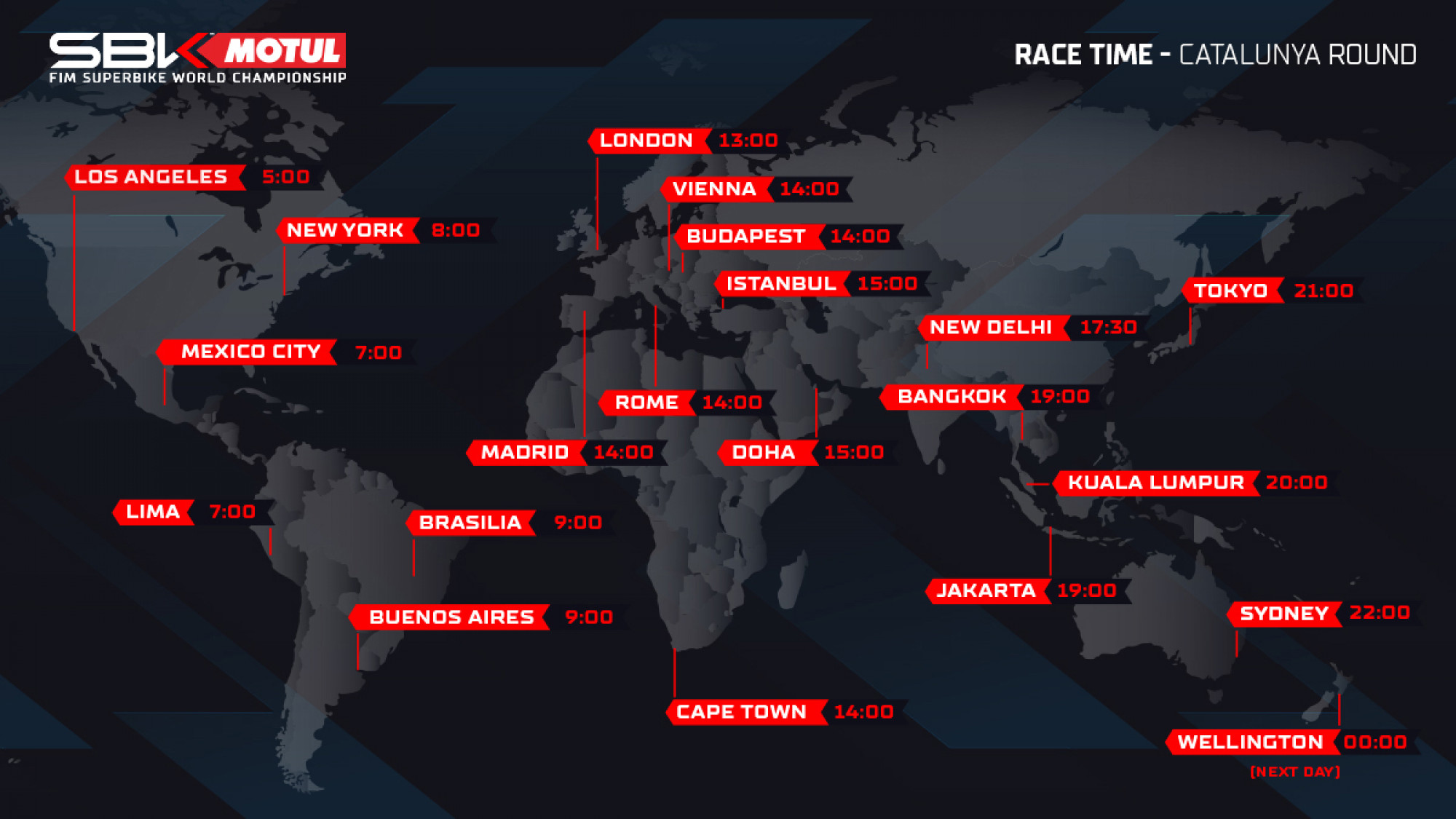 WorldSBK heads to Spain for round eight of the 2022 season with the three-way title battle still in full flow
After rivalries were reignited last time out in the MOTUL FIM Superbike World Championship, the grid heads from France to the Circuit de Barcelona-Catalunya for the third Catalunya Round to see what the next twist in this incredible season will be. All three classes will be on track during the weekend, as well as the Yamaha R7 Superfinale, with action starting from 09:00 Local Time (GMT+2) on Friday. WorldSSP300 FP1 starts at 09:45, followed by WorldSBK and WorldSSP. The afternoon follows a similar pattern, with WorldSSP300 FP2 starting at 14:15, WorldSBK at 15:00 and WorldSSP at 16:00. Saturday starts at the same time with WorldSBK FP3 before diving straight into the all-important Tissot Superpole sessions: WorldSSP300 at 09:45, WorldSSP at 10:25 and WorldSBK at 11:10. Saturday afternoon brings the start of racing with WorldSSP300 Race 1 at 12:40, WorldSBK Race 1 at 14:00 and WorldSSP Race 1 at 15:15. On Sunday, a Warm Up session for each class starts the day from 09:00, before jumping into racing. The 10-lap Tissot Superpole Race is at 11:00 before WorldSSP Race 2 at 12:30, WorldSBK Race 2 at 14:00 and WorldSSP300 Race 2, including the potential crowning of a new Champion, at 15:15.
Don't miss any action from the 2022 Catalunya Round using the comprehensive WorldSBK VideoPass!
Friday, 23rd September (all times Local Time, GMT+2)
09:00-09:30 – Yamaha R7 Superfinale Free Practice
09:45-10:15 – WorldSSP300 Free Practice 1
10:30-11:15 – WorldSBK Free Practice 1
11:25-12:10 – WorldSSP Free Practice 1
13:30-14:00 – Yamaha R7 Superfinale Superpole
14:15-14:45 – WorldSSP300 Free Practice 2
15:00-15:45 – WorldSBK Free Practice 2
16:00-16:45 – WorldSSP Free Practice 2
Saturday, 24th September
09:00-09:30 – WorldSBK Free Practice 3
09:45-10:05 – WorldSSP300 Tissot Superpole
10:25-10:45 – WorldSSP Tissot Superpole
11:10-11:25 – WorldSBK Tissot Superpole
11:45 – Yamaha R7 Superfinale Race 1 (12 laps)
12:40 – WorldSSP300 Race 1 (dry race of 12 laps, wet race of 10 laps)
14.00 – WorldSBK Race 1 (20 laps)
15:15 – WorldSSP Race 1 (18 laps)
16:15 – Yamaha R7 Superfinale Race 2 (12 laps)
Sunday, 25th September
09:00-09:15 – WorldSBK Warm Up
09:25-09:40 – WorldSSP Warm Up
09:50-10:05 – WorldSSP300 Warm Up
11:00 – WorldSBK Tissot Superpole Race (10 laps)
12:30 – WorldSSP Race 2 (18 laps)
14:00 – WorldSBK Race 2 (20 laps)
15:15 – WorldSSP300 Race 2 (dry race of 12 laps, wet race of 10 laps)