A WorldSSP300 title decider: Diaz and Steeman go head-to-head in Portimao showdown
Wednesday, 5 October 2022 06:08 GMT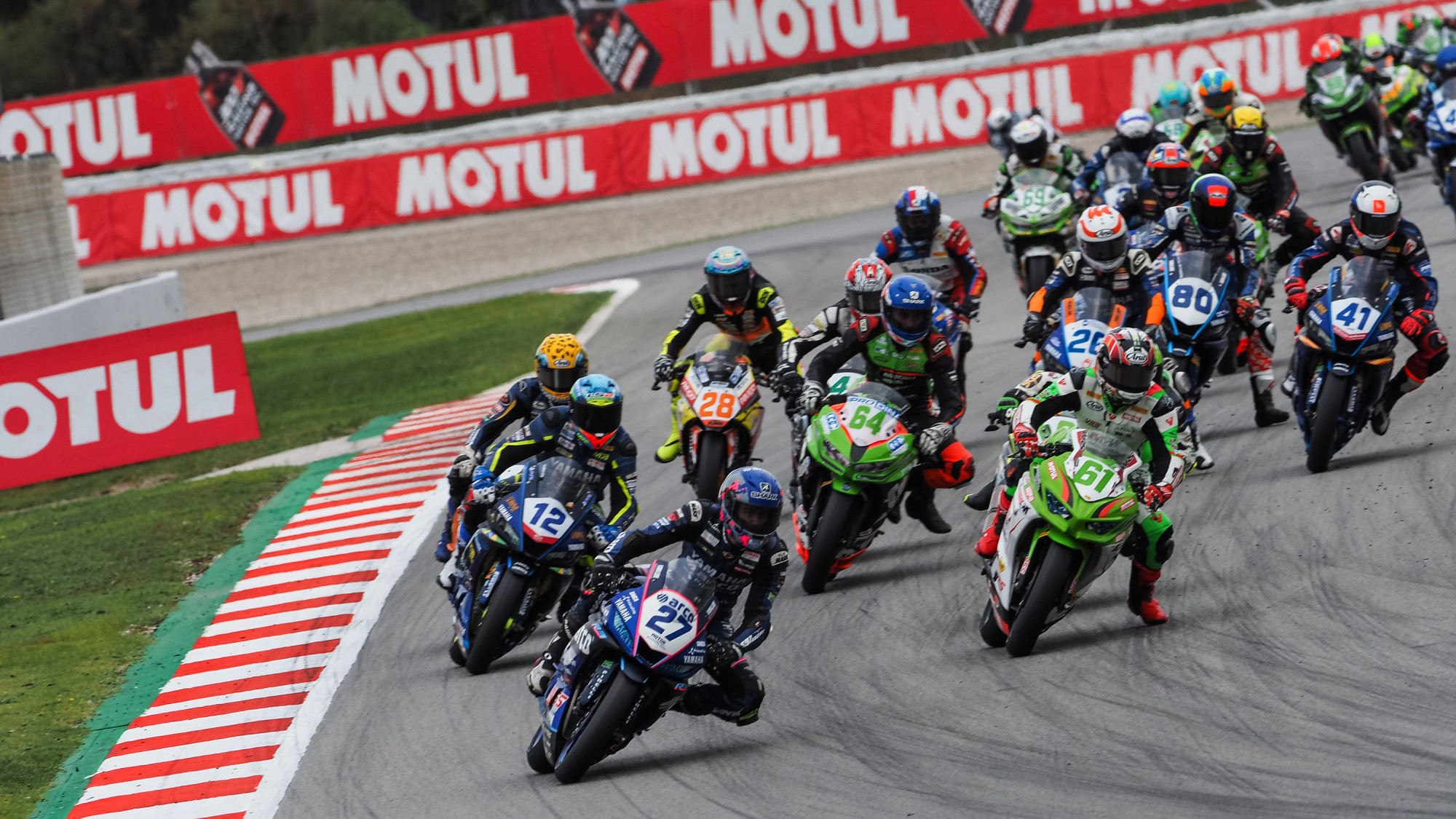 Portimao hosts the final round in the 2022 WorldSSP300 season, where the Riders' Championship will be decided
It all comes down to the final FIM Supersport 300 World Championship round of the season to determine who'll be crowned World Champion. Heading into the Pirelli Portuguese Round, it is Alvaro Diaz (Arco Motor University Team) who leads the standings ahead of Victor Steeman (MTM Kawasaki) and, at the Autodromo Internacional do Algarve, the pair will fight it out to see who will be crowned Champion after an enthralling 2022 season.
DIAZ VS STEEMAN: head-to-head for the title
Diaz narrowly missed out on claiming the title in Barcelona last time out, finishing 0.046s away from a podium finish that would've crowned him Champion. As it is, he comes into the Portuguese Round knowing a single point will be enough to claim the title if Steeman wins Race 1, whilst Steeman's charge will end if he doesn't win both races. Diaz's last WorldSSP300 race at Portimao came in 2020 where he finished in 16th place. In contrast, Steeman has raced at Portimao in 2018, 2019 and 2021 with a best result of tenth in 2019 on KTM machinery. Who will come out on top to be crowned 2022 Champion?
CAN GARCIA HOLD THIRD PLACE? Facing pressure from the riders behind…
Having been a Championship contender throughout the campaign, three non-scoring races in a row for Marc Garcia (Yamaha MS Racing) means the 2017 Champion has dropped down to third in the standings. He does have a chance of overhauling Steeman for second, just 23 points behind, but he's also only 17 points ahead of Hugo De Cancellis (Prodina Racing WorldSSP300) who is aiming for a top-three finish. Garcia took a podium finish at Portimao back in 2017 on his way to the title but his results last year left him outside the top 20. De Cancellis' best result at the Portuguese venue is 19th, which came in 2019, but had two DNFs on his last visit in 2020.
Could their recent form at Portimao open the door for Samuel Di Sora (Leader Team Flembbo) or Yuta Okaya (MTM Kawasaki) to snatch third place? Lying fifth and sixth in the standings respectively, the pair are 25 and 28 points back from Garcia with 50 available in Portugal and will be looking for one final surge up the order. Both riders have had success at Portimao, with Di Sora taking a first WorldSSP300 victory in Race 1 last year, whilst Okaya has two podiums and a fourth-place finish in his last three races here, as well as coming into the round with a victory last time out in Barcelona.
LOOKING TO END THE SEASON IN THE TOP TEN: all to play for
In a Championship as unpredictable as WorldSSP300, anything could happen in Portugal that could impact the top ten in the Championship. Lennox Lehmann (Freudenberg KTM – Paligo Racing) and Mirko Gennai (Team BrCorse) are currently separated by five points in seventh and eighth as they aim to secure a top-ten Championship finish. It'll be Lehmann's first WorldSSP300 race at the Portuguese venue, whilst Gennai only has one top-ten finish at Portimao, in Race 2 last year.
Rookie Matteo Vannucci (AG Motorsport Italia Yamaha) could have the opportunity to jump both Lehmann and Gennai in the standings as he sits only 12 behind Lehmann and seven behind Gennai. It'll also be his first trip to Portimao in the Championship, whilst two riders behind him in the standings have raced here before: Inigo Iglesias (SMW Racing) took a podium in Race 1 last year and Bruno Ieraci (Prodina Racing WorldSSP300) has a mixed record; two tenth-place finishes and three DNFs in his five races.
WHAT ELSE IS UP FOR GRABS? Awards and Championships still to play for
The Manufacturers' Championship will be decided at Portimao as Yamaha and Kawasaki fight it out for 2022 glory. Yamaha go into the round with a 15-point advantage over Kawasaki and will take the title in Race 1 if they score more than 11 points more than Kawasaki with each manufacturer's best-placed rider. The Pirelli Best Lap award will also be decided at Portimao, with eight riders in contention to take the 2022 award.
WILDCARDS AND REPLACEMENT RIDERS: news from WorldSSP300
Portuguese duo Tomas Alonso (Quaresma Racing Team) and Dinis Borges (Rame Moto Racing) will return to the Championship as wildcard riders for their home round, having done similar when WorldSSP300 took to the Circuito Estoril earlier this season. Yamaha R3 Cup title winner Enzo Valentim Garcia (AD78 Team Brasil by MS Racing) continues to stand in for the injured Ton Kawakami, whilst Indy Offer's (Team BrCorse) replacement will be Indonesian rider Wuyho Nugroho who steps up from the Yamaha R3 Cup.
Watch the 2022 WorldSSP300 conclude in style using the WorldSBK VideoPass!