#1000DucatiPodiums Davies: "To be part of that is special… makes me proud to be part of the history of Ducati"
Thursday, 4 August 2022 07:07 GMT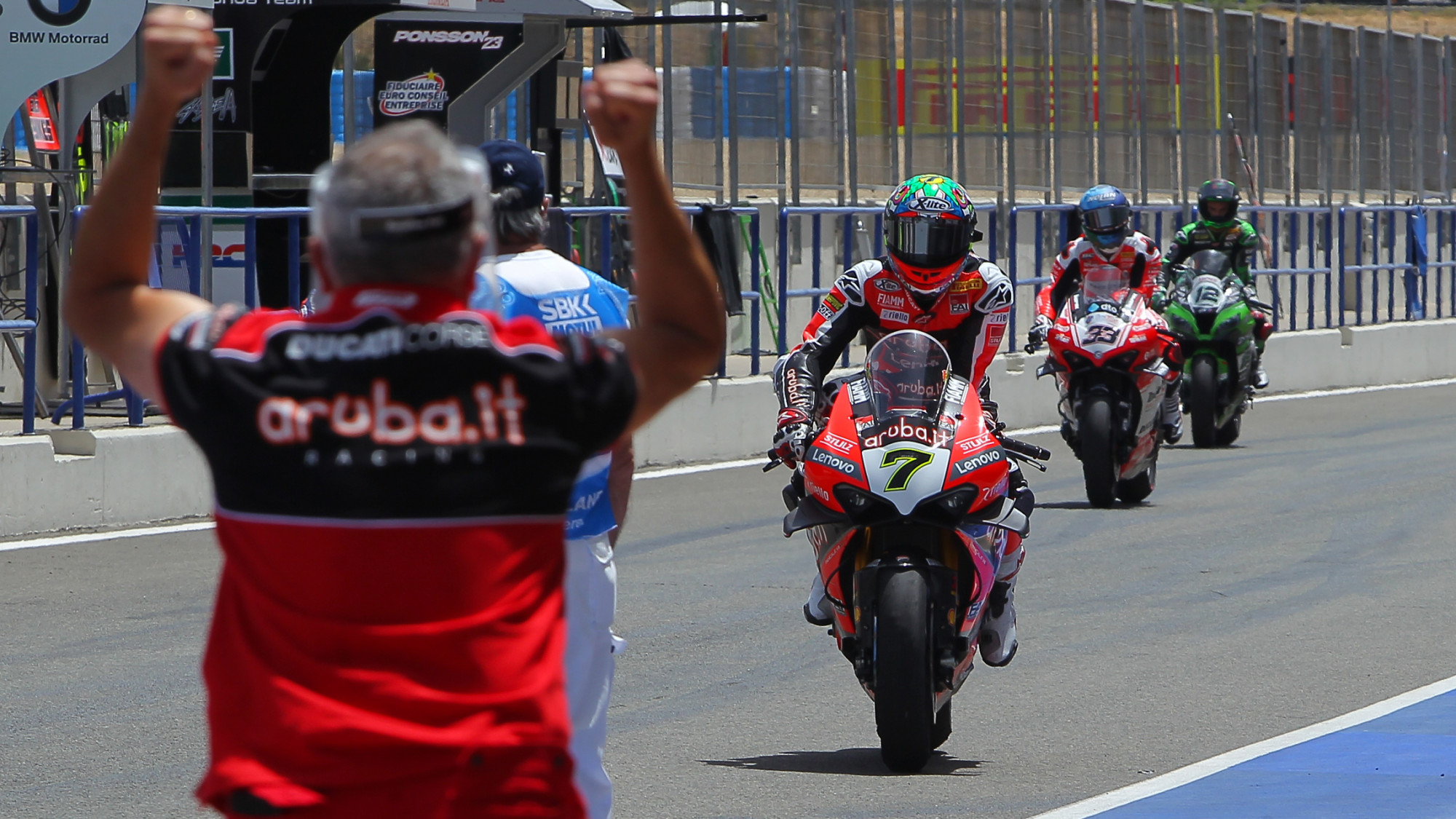 Chaz Davies took 89 podiums for Ducati in his career and reflected on the incredible milestone as the Italian manufacturer reached 1000 podiums
After Ducati secured an unprecedented 1000 MOTUL FIM Superbike World Championship podiums after Alvaro Bautista (Aruba.it Racing – Ducati) won Race 1 at the Autodrom Most during the Prosecco DOC Czech Round, Ducati legends have been giving their thoughts on the milestone. After Carl Fogarty and Troy Bayliss, next up is Chaz Davies who spent eight seasons competing on Ducati machinery and is the manufacturer's third-highest podium scorer in WorldSBK.
Davies scored 99 podiums in his WorldSBK career with 89 of them coming for Ducati and he finished as runner-up in the Championship on three occasions for the Bologna-based manufacturer and third place in two further seasons. Despite not winning a title, Davies will go down as one of the most successful riders in Ducati WorldSBK history and he was on hand to react after Bautista claimed Ducati's 1000th WorldSBK podium.
The Welshman gave his immediate thoughts on the milestone, saying: "It's amazing. 1000 podiums are not small change, it's huge, huge figures. To be part of that is special and makes me proud to be part of the history and the heritage and the success of the Ducati brand, but also the racing world in WorldSBK. Very proud to have made my contribution to that. It's a great milestone so congrats to Ducati for that."
With 89 Ducati podiums to his name, ranging from his first year with Ducati in 2014 to his retirement from WorldSBK at the end of the 2021 campaign, Davies has lots of memories he can choose from to be his highlight. Winning with the Panigale V2 for Davies is one of them, but also he had the honour of winning for Ducati at Imola on four occasions, winning all four races at the iconic Italian venue in 2016 and 2017.
Talking about his favourite memories, Davies said: "There's a lot, to be honest. Off the top of my head, the first, most important milestone I got with Ducati was the first win with the V2. They went through two challenging seasons before that win and it took two seasons and a few races until we won with the V2 Panigale. That was the first one. After that, we have many special memories. Too many to list, to be honest, but definitely a lot of good memories.
"I think that, as a Ducati rider, to win at Imola in the back garden of Ducati, I think it's not something you can really understand or appreciate until you're in that position. It's not something I really paid any attention to because I maybe expected a little bit of extra support being that it was very close to the factory and we're in Italy and everything like that. But when it comes to actually doing the job and winning not just one race but maybe two races in one weekend, and having all the fans there, and a lot of Ducati support and a lot of support for me, those were the most special moments where you pinch yourself. They tasted differently. They were very different tastes to a victory in another part of the world. Every win is special but that in particular, at Imola, was really quite far at the top of the list in terms of victories."
Davies was also able to talk about his inspirations as he grew up, citing Troy Bayliss and Carl Fogarty who have also given their reactions to Ducati's achievement, and how he would never have understood what it meant until he raced, and won, with Ducati. He said: "Troy and Foggy were like the idols in the house. They just so happened to be Ducati riders for the most part. We were big fans in the Davies household. Big fans of those guys. I think I never understood, or probably would never understand, what it would mean or feel to be a Ducati rider, get success, if I hadn't tasted it for myself. It's really quite something hard to understand from outside but it's something you feel when you are the person."
Congratulate Ducati for their achievement using the #1000DucatiPodiums hashtag and watch the 2022 title battle unfold using the WorldSBK VideoPass!