WorldSSP300 set for Portimao showdown with the title on the line
Thursday, 30 September 2021 05:54 GMT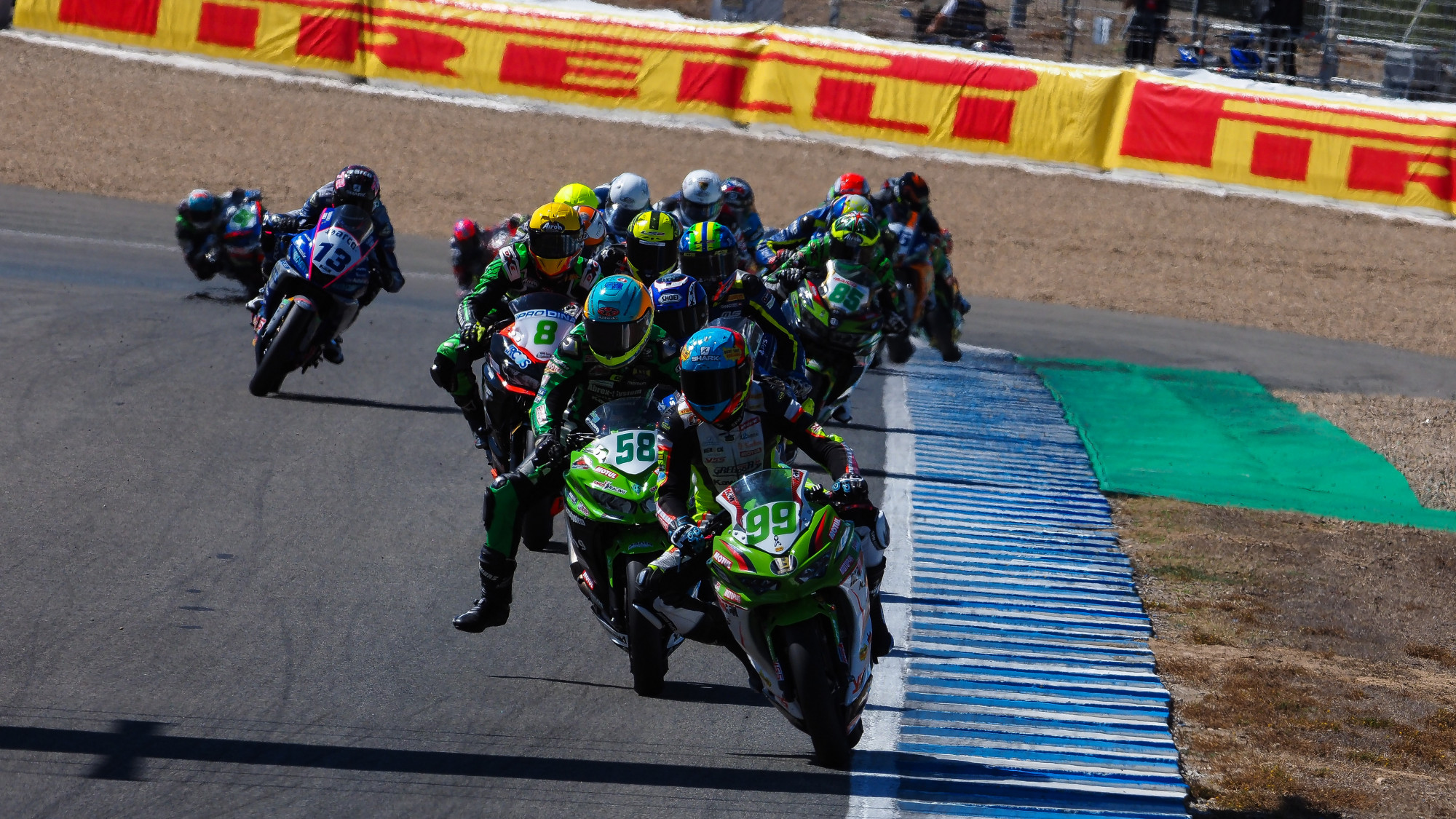 It's guaranteed to be an MTM Kawasaki rider who is Champion, but will it be Adrian Huertas or Jeffrey Buis?
The 2021 FIM Supersport 300 World Championship battle will be fought this weekend as the final round of the season awaits at the Algarve International Circuit in Portugal. Adrian Huertas (MTM Kawasaki) currently leads the standings and can clinch the title in Race 1 on Saturday, but WorldSSP300 is never that easy. Second in the standings is his teammate Jeffrey Buis, the only rider who can challenge the Spaniard for the crown in 2021. 36 points split the pair of them coming to the Motul Portuguese Round, but there'll be plenty of other protagonists.
THE CHAMPIONSHIP PROTAGONISTS: Huertas vs Buis
Adrian Huertas' stunning season has seen him take five wins, but the Motul Spanish Round was not the best for him; seventh in Race 1 from a second ever pole before a crash in the second race took him out, Huertas knows that the pressure is on him to deliver at Portimao. Teammate Jeffrey Buis took a Race 1 win at Jerez and a fourth place, closing the Championship lead down by 29 points. For Huertas to win the title in Race 1, he must go into Sunday with a 26-point gap if Buis wins Race 1, or 25-point gap if Buis doesn't win Race 1. A podium for Huertas will give him the title regardless of what happens to Buis, whilst if Buis is second, Huertas can afford sixth or better. In third in the standings, Tom Booth-Amos (Fusport – RT Motorsports by SKM – Kawasaki) awaits to be declared fit or unfit to see if he can take part in the season finale.
INTENSE FIGHT BEHIND: every point matters
Fourth in the standings and 35 points behind Booth-Amos, Samuel Di Sora (Leader Team Flembbo) was unfortunate at Jerez, taking sixth in Race 1 before being taken out by Championship leader Huertas in Race 2. Di Sora's had a strong year but heads to Portimao with the elusive first win in sight. Just five points behind Di Sora, Bahattin Sofuoglu (Biblion Yamaha Motoxracing) is in mighty form with four podiums in the last four races, the only rider to achieve that this year. Of those four podiums, two have been wins, including last time out at Jerez. Also, a run of strong finishes, including a podium last time out at Jerez in Race 2, Yuta Okaya (MTM Kawasaki) hopes he can get into the top six overall, heading to the circuit he took a first ever pole at last year. 12 points cover fourth to sixth, with the battle intensifying.
Meikon Kawakami (AD78 Team Brasil by MS Racing) is seventh in the standings, with the Brazilian coming into Portimao eager to return to the podium, off the back of four top eight finishes in the last four races. Victor Steeman (Freudenberg KTM WorldSSP Team) had a quiet Motul Spanish Round as he was 11th in Race 1 before finishing 19th in Race 2. Steeman is 12 points adrift of Kawakami and has pressure coming from behind with Inigo Iglesias (SMW Racing) ninth overall, rocketing up the order after two second place finishes last time out at Jerez, his first World Championship podiums. Steeman and Iglesias are separated by just three points, whilst Koen Meuffels (MTM Kawasaki) completes the top ten, having been relegated by Iglesias' surge in form. From seventh to tenth, 24 points is all that covers them.
OUTSIDE THE TOP TEN: aiming to make up ground
Outside of the top ten, Hugo De Cancellis (Prodina Team WorldSSP300) hopes he will be fit for a return to action at Portimao, whilst 12th place in the standings sees Ton Kawakami (AD78 Team Brasil by MS Racing) hoping for a place in the top ten overall, although the Brazilian hasn't finished his last three races. Also looking for a return to the podium in the last round of the season, Alejandro Carrion (Kawasaki GP Project) and Ana Carrasco (Kawasaki Provec WorldSSP300), the latter of which took her first ever win at the circuit in 2017 and was a race winner last year at the track. Oliver Konig (Accolade Smrz Racing) was back in the top ten and in the lead battle at Jerez and hopes for a rostrum return, whilst the likes of Marc Garcia (Prodina Team WorldSSP300) and Yeray Ruiz (Viñales Racing Team) will hope to continue good form after the Motul Spanish Round.
EMOTIONAL TIMES: this one is for you, Dean
As the World Supersport 300 paddock arrives at the Algarve International Circuit, it goes without saying that the entirety of the field and indeed the wider WorldSBK paddock will have Dean Berta Viñales in their mind. The Spanish rider passed away after an incident at Jerez and now, the WorldSSP300 riders will look to close the season in style in his and his family's honour.
Enjoy the Official Programme for Portimao here, whilst watching all the action LIVE on the WorldSBK VideoPass!