"We're fighting until the end! – Phil Marron and Pere Riba preview Mandalika showdown
Wednesday, 17 November 2021 12:24 GMT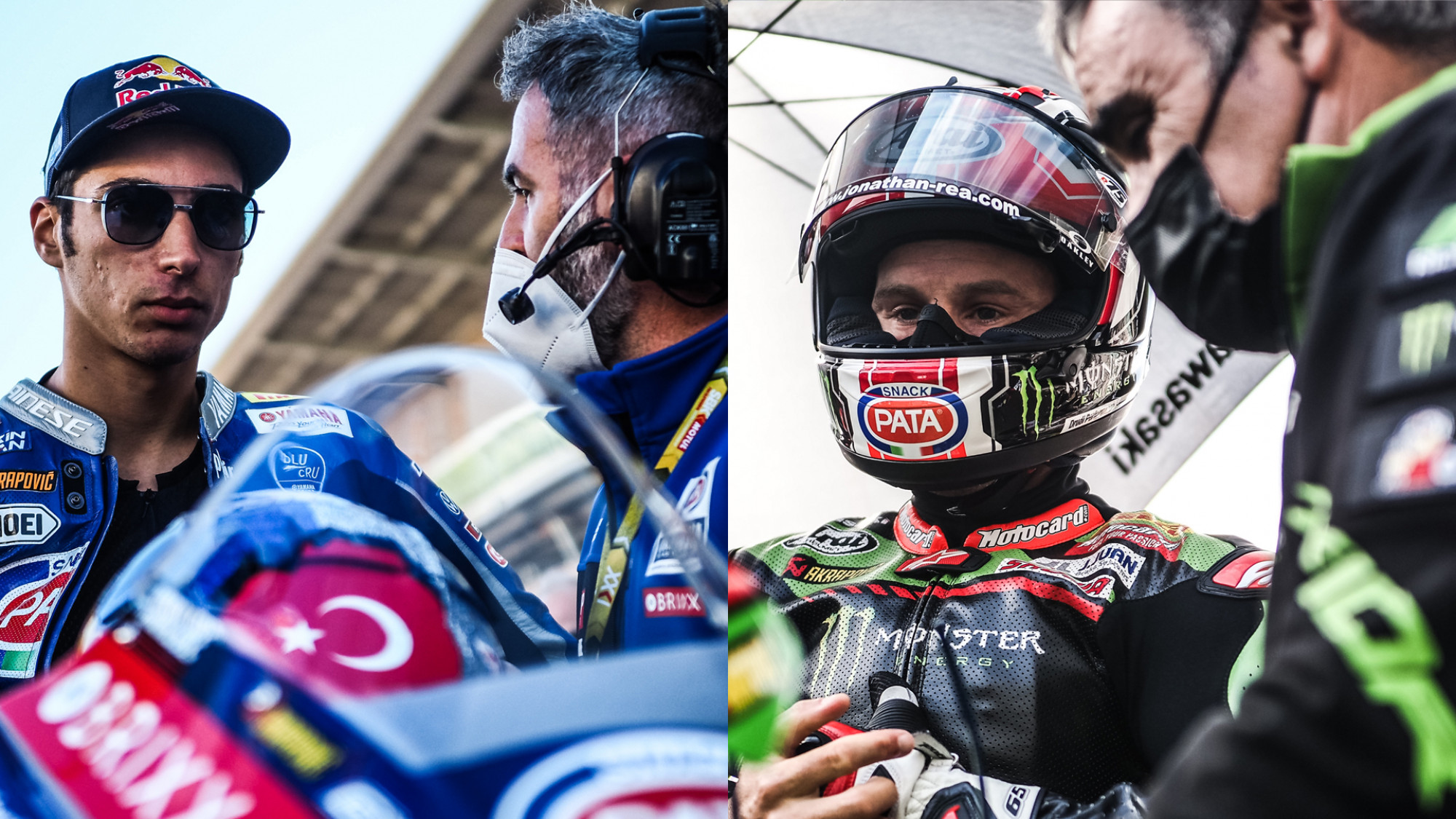 Razgatlioglu and Rea's crew chiefs talk about their roles and thoughts ahead of the #WorldSBKFinale
The final round is beckoning for the 2021 MOTUL FIM Superbike World Championship as the #WorldSBKFinale awaits at the Pertamina Mandalika International Street Circuit in Indonesia. The Pirelli Indonesian Round sees Toprak Razgatlioglu (Pata Yamaha with Brixx WorldSBK) lead the way by 30 points from Jonathan Rea (Kawasaki Racing Team WorldSBK), as both they and their teams aim for WorldSBK supremacy. Speaking to both crew chiefs – Phil Marron for Razgatlioglu and Pere Riba for Rea – to find out their approach, feelings and role to keep their respective riders calm.
MARRON: "Toprak doesn't have to go out and win it, but everyone knows what Toprak is like!"
Starting with Marron, he's been in similar positions before, although this time, he's got the privilege of a Championship lead: "Leading the Championship is a bit different to my other times going to the last round. We're in front this time whereas when I was working Eugene in 2010, he was behind Kenan Sofuglu and in 2013, he was behind Tom Sykes. We had to go out and win races and then hope it worked for us behind. Eugene went out and won the three races, Magny Cours in WorldSSP and both Jerez races in WorldSBK, but the rest sorted itself and we didn't take the title.
"This is a little bit different because we're leading the Championship and Toprak doesn't have to go out and win it, but everyone knows what Toprak is like! He's a racer and he doesn't like settling for second. I've no doubt that at some point this weekend, we'll have to tell him to think about the Championship but I'm sure for Saturday's race he won't be thinking about the Championship but just to win the race."
NEW TRACK: "We can't know for sure how the track will suit the Yamaha…"
However, a new track brings new challenges, but Yamaha have done their homework: "We've done simulations at Yamaha using the information provided by the FIM and the track designers to tget an idea of apex speeds and from that, we can try to get an idea of what gear we'll be using for each corner. From that, we have to decide whether we'd use a five or a six speed gearbox but until we actually get to the circuit and see the elevation changes on track, we will wait to make a final decision on gearing; I'm sure we'll be changing that session by session though as we learn the track.
"Until practice, we can't know for sure how the track will suit the Yamaha, but Toprak's base setting has, in general, been predictable for him. The setting for our bike isn't as agile as other Yamahas but it's still agile compared to our rivals. That makes it a nice, user-friendly setting that's predictable for Toprak, meaning he can concentrate on learning the track and getting up to speed quite quickly. Hopefully, we don't have any nasty suprises and Toprak can just concentrate on doing his job."
TOPRAK AND THE VIBE: "He's evolved as a professional… atmosphere in Yamaha is pretty special!"
Talking about Toprak, his evolution and the team vibe, Marron continued: "Since starting to work with Toprak, he's evolved as a professional in his preparation and his riding. Now, when we analyse his data, almost all his laps are identical and he's very precise on the bike. In the early days, it was difficult to find two laps the same. The atmosphere in Yamaha is pretty special, the complete group works very well together and we are all enjoying racing. Some team members get a little more nervous than others but with the racing in 2021, that's understandable."
RIBA: "All we can do is try our best… we're fighting until the end!"
Moving on to Pere Riba, the veteran crew chief says that he's not feeling any pressure: "Honestly, I don't feel like we are under pressure this weekend. The pressure's on Toprak and Yamaha because 30 points means the Championship is not in our hands. All we can do is try our best, win the races and get as many points as possible. From my side there's no pressure until we see how they manage the race weekend. Our aim has always been to have everything in place and to make as few mistakes as possible. We've always done our best as a team and given 100% for everything over the last years and this will be the same this weekend. Every test, every race, every day we are all together is so important; we do our best to do our job as well as possible all the time.
"I've been with Uri and Arturo for so long and that's been from the start for me. Mara, our tyre girl, has been with us for two years and Davide has been with us a long time too. This team has been working together for so long and we all know each other so well. We've all worked together as a race team for so long but even more imporant is the relationship that we all have away from the track. We're all good friends and to win six titles together has been a dream; I always tell them all to enjoy every single minute of this."

EX-RACER: "Some things are easier for me to understand than for crew chiefs that haven't raced…"
With Riba being an ex-rider and race winner in WorldSSP, he knows how a bike should feel, and that's something he thinks he can bring to the table whereas others in his position can't: "I always think that being an ex-rider helps me as a crew chief. I've been an engineer for ten years now and for sure, my history as a rider means that some things are easier for me to understand than for other crew chiefs that haven't raced. I know how important the feeling is for a rider and I know that if you have this feeling and confidence, it's so important to get the best feeling from the package. With Jonny, we've been together for seven years and we know each other so well and this helps. To be able to understand how the rider feels in certain situations can definitely help."
The challenge of a new track is also something on their mind. Kawasaki haven't won at a brand-new track since San Juan in 2018, but they, like Yamaha, have done their homework: "This is a new track, so we've tried to find as much information as possible. I've seen the layout and we have the measurements so it means that we have a starting point for gearing and the final sprocket. I've watched some videos that I found on the internet and I've talked to Kawasaki Indonesia to see what information they have."
NEVER SAY NEVER: "It's in Yamaha's hands… to win a seventh would be mad!"
Continuing, Riba said: "It's brand-new for everyone and we'll use our base setting and then try and understand the level of grip and make changes as normal. The weather will be important because there could be daily rain showers. I've already said to all of the guys that we need to focus on enjoying this and doing the best job we can. It's not in our hands, it's in Yamaha's hands."
With huge success before, a seventh title can be achieved. Riba praised Yamaha's gains but isn't giving up: "We've had so much success and we have to enjoy it because it's unreal, and to win a seventh would be mad. It'd continue our success but in racing and in life it's not always easy. This year's been different because at the beginning of the year, we had the regulations and the revs. Yamaha have done a great job and made a step forward with Toprak and we know how good a rider he is but it's been like we've been missing a little bit in our package in terms of the engine. We're fighting until the end and we'll all be together next year again too."
Who will do it: Razgatlioglu or Rea? Enjoy the #WorldSBKFinale with the WorldSBK VideoPass!