WHAT WE LEARNT: new tracks, rivalries at boiling point and titanic teammate tussles
Wednesday, 8 September 2021 10:17 GMT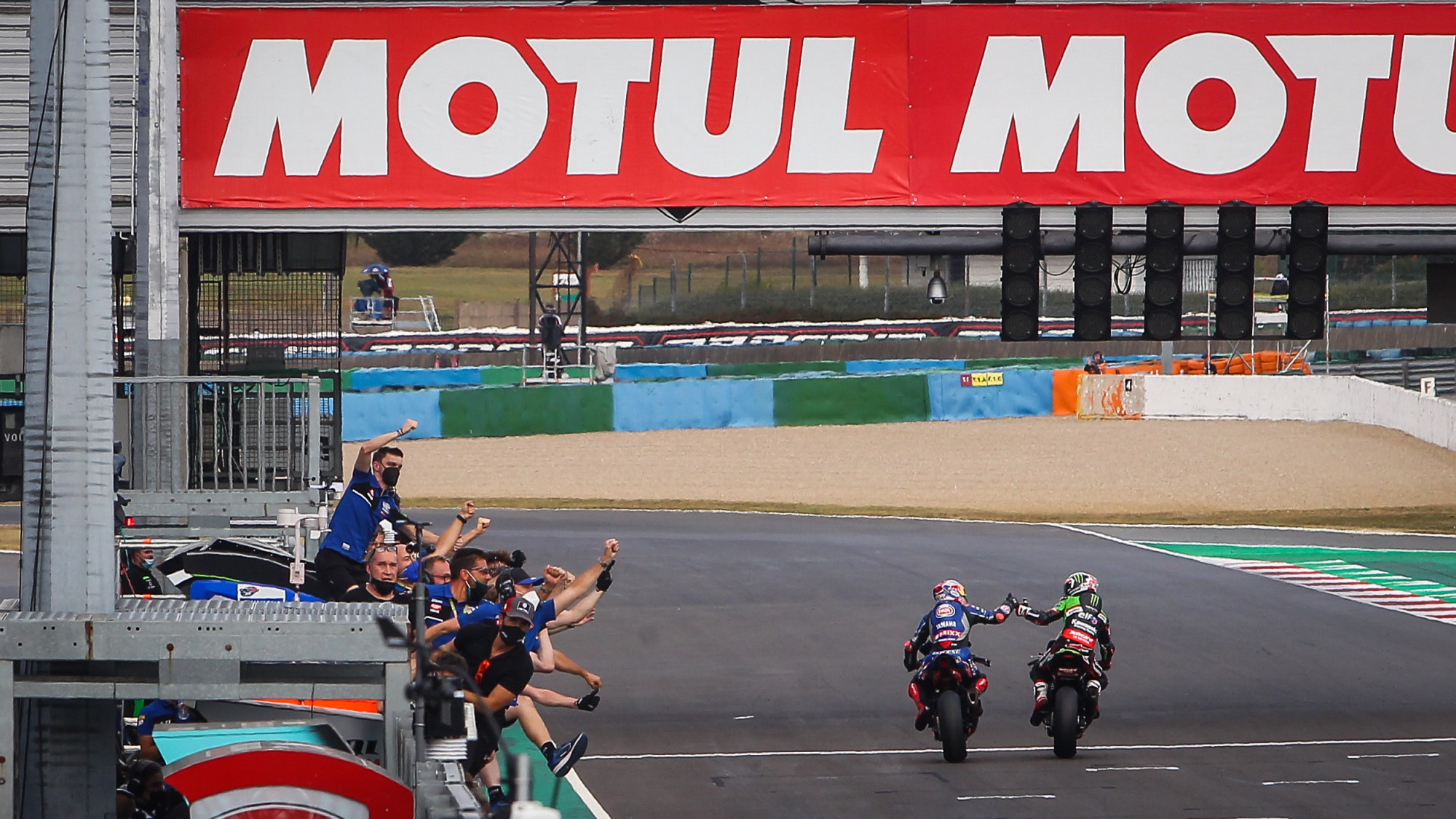 Huge battles, welcome new battlegrounds and whole lot more: WorldSBK has ignited in 2021
The 2021 MOTUL FIM Superbike World Championship is seeing one of the fiercest battles it's ever seen play out, as Toprak Razgatlioglu's (Pata Yamaha with Brixx WorldSBK) quest to dethrone Jonathan Rea (Kawasaki Racing Team WorldSBK) continues. The Turkish rider has a seven-point lead over the reigning six-time World Champion, who's eager to keep his crown for a seventh season running. However, looking back over the last three rounds, what have we learnt? It's time to look at the new tracks, escalated rivalries, title contenders, teammate tussles and Independent stories.
A VINTAGE RIVALRY: Razgatlioglu vs Rea turned up to the next level
Across the last three rounds, there's been nothing to split Toprak Razgatlioglu and Jonathan Rea and since the Tissot Superpole Race at Most, they've both been on every single podium. That's why, coming into Magny-Cours, they were level on points (311 each). However, Razgatlioglu's pace in France proved vital for him to sport a seven-point lead into Catalunya. Moreover, Kawasaki showed that whilst they were beaten on-track by Yamaha, they could beat them off it, with a protest over Toprak's win in the Superpole Race for exceeding track limits on the last lap. Rea won and Toprak was demoted to second; Pata Yamaha team manager Paul Denning said that "maybe the sporting atmosphere will change" if Kawasaki wish proceed like that. The rivalry is hot between the teams off-track and the riders on it; a backdrop to an already entertaining duel.
NEW TRACKS, NEW BATTLES: Most and Navarra welcomed in style
To get one new track in a season is a blessing but to get two, and for both to provide close-quarter action, is extraordinary. Autodrom Most gave a thrilling Race 1, the first ever WorldSBK race there. A final lap battle which saw Toprak take on Scott Redding (Aruba.it Racing – Ducati), with the Turk needing two attempts to pass as the blasted through the final sector before ultimately taking the win for the closest finish of the year. Then at Navarra, the Tissot Superpole Race exploded in the opening laps, as Redding, Razgatlioglu and Rea all traded paint and rubbed shoulders, even colliding together too. In essence, they also saw the top three in the Championship effectively in a class of their own and shaped them as the main protagonists. Two tracks making fine debuts and definitely providing some of the most pivotal moments in WorldSBK's 2021 season.
TOPRAK'S CONSISTENCY, REA'S MISTAKES: a combination that makes it tough to call
One thing that captivated the paddock is that Toprak Razgatlioglu's consistency has been something extraordinary in the last three rounds. Since Most, he has had five race wins, two second places and two third places and if you look further back and exclude him being taken down at Turn 1 at Assen in Race 2 by Garrett Gerloff (GRT Yamaha WorldSBK Team), he's been on the podium in all but three other races. On the contrary, Jonathan Rea has had numerous mistakes, costing him dearly – the biggest of which was crashing twice at Most. Both riders are on the absolute limit and with so much of the season left to go, it's impossible to say who will emerge victorious.
REDDING'S FLUCTUATIONS: the raw pace is there
Scott Redding, at Most and Navarra, was in formidable form; the British rider was a winner at Most in Race 2 before taking two wins at Navarra, making for three consecutive wins for the first time in his WorldSBK career. However, it got trickier at Magny-Cours; on the pace on a cooler Friday but then struggling as temperatures came up on Saturday, Redding handed away a lot of points. He was 38 behind coming into Magny-Cours but struggling with stopping and turning in Race 1 and crashing, before bouncing back to third in Race 2 and a top six in the Superpole Race, he is now 72 behind. It's changing in a moment's notice in WorldSBK and if that is combined with another purple patch for the #45, he could be back in real contention.
SYKES VS VAN DER MARK: the battle for BMW supremacy is on fire
As expected, it was Tom Sykes (BMW Motorrad WorldSBK Team) who has the outright pace in Tissot Superpole but again, as expected, it's a much closer affair come the racing with teammate Michael van der Mark often close to Sykes. In the Championship, Sykes is seventh, a place higher than van der Mark but they're split by just five points. A consistent display at Navarra from Sykes saw him take two sixths and a fifth, whilst he suffered a difficult Magny-Cours, combined with Michael van der Mark's return to the top five for the first time since Donington Park. Going into the final stint of the season and with three pivotal rounds to come in as many weekends, it's all to play for at BMW.
INDEPENDENT MUTTERINGS: Davies resurgent, Bassani brilliant, Gerloff subdued
After suffering an injury back at Misano and having been slightly out of position for the last few rounds, Chaz Davies (Team GoEleven) was finally back at the sharper end of things at Magny-Cours as he was back inside the top five for the first time since Assen. He clinched fifth in Race 2 and secured a hat-trick of top eight finishes, the first time he's achieved this all season. On the contrary, Garrett Gerloff has been rather subdued in the last few rounds, as he looks to get back confidence after some incidents at the start of the year. Slipping to ninth in the Championship, he's not had a top five since Donington Park. Finally, Axel Bassani's (Motocorsa Racing) form has been impressive too, always in the battle for the top ten and a welcome surprise in an ultra-competitive 2021 season.
Get all of the headlines from the rest of the season LIVE and in style with the WorldSBK VideoPass!