TECH DIVE: talking torque – the torque sensor explained
Wednesday, 19 May 2021 10:55 GMT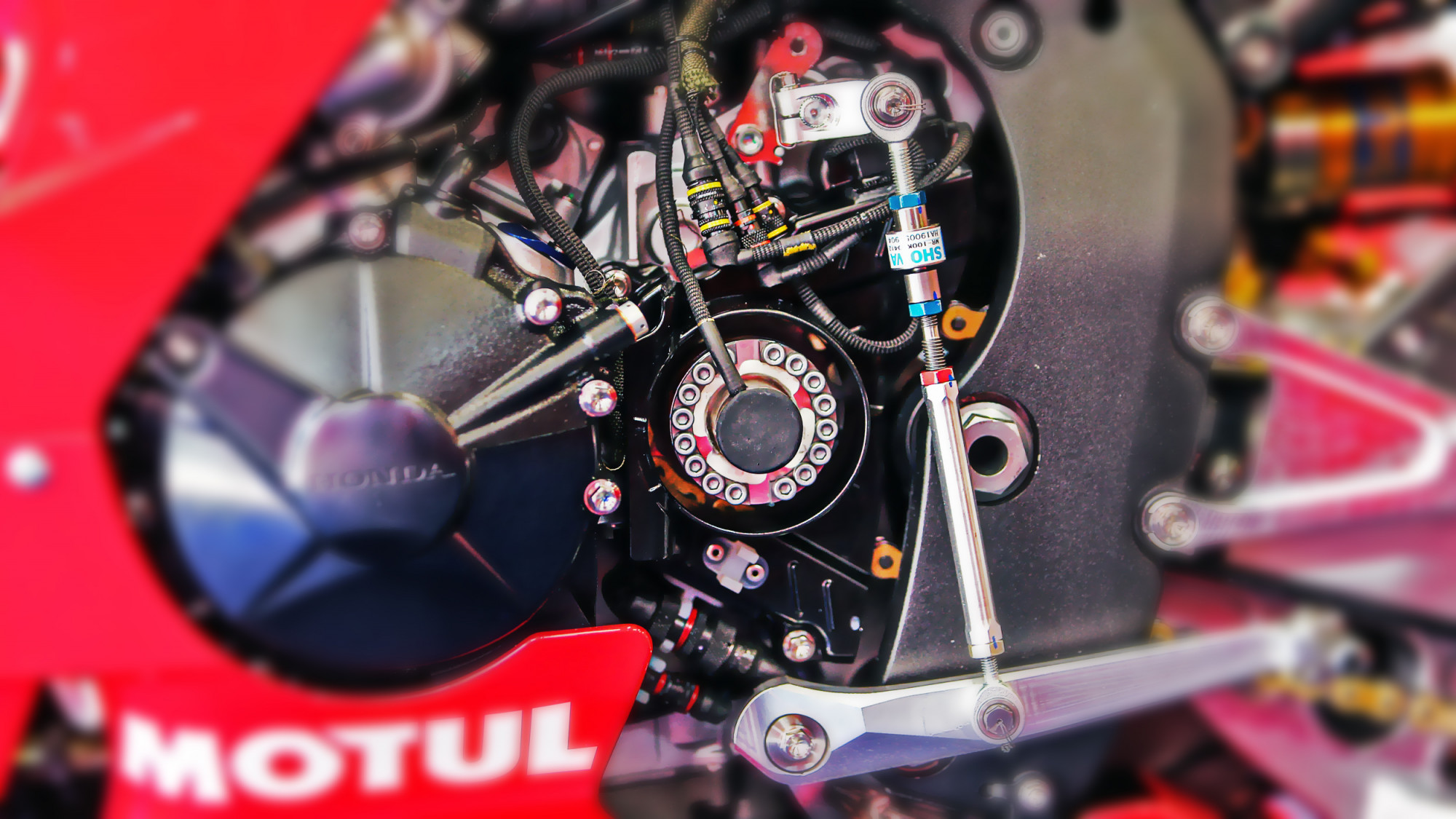 WorldSBK commentator Steve English analyses the use of the torque sensor
The 2021 MOTUL FIM Superbike World Championship has seen plenty of stories throughout the season, but one of the main stories coming into 2021 had been the technological developments across all five manufacturers throughout testing, but one thing did catch our eye: a torque sensor on the Honda Fireblade CBR1000RR-R SP. So, as part of the first of a series of articles before every round, WorldSBK commentator Steve English will take a technological aspect of a bike and explain it.
BALANCING POWER AND CONTROL
Do you want horsepower or do you want torque? That's the biggest question in motorcycle racing. Finding an engine character that does both is the ideal but engineers fell like Goldilocks in their search for that optimum configuration. In everyday life, we talk about horsepower. A WorldSBK machine produces 250bhp. It sounds like a big number, and it is, but how much of that power is usable? That's the figure that actually matters. Outright power can make a big difference on the longest straight but what about in the acceleration zone out of each corner? In Motorland Aragon, the longest straight is almost 1km long but there are also 17 acceleration zones for a bike with usable power to exit the corner strongly.
How much power can a rider actually put out through their Pirelli tyres to generate a laptime? Ducati has had the most powerful bike on the grid since the introduction of the Panigale V4 R yet Kawasaki has been able to win the title. Power isn't everything in racing. In recent years, engine character has become more important than the arms race for outright power. During the winter, Jonathan Rea (Kawasaki Racing Team WorldSBK) spent much of his time focusing on his required engine characteristics. When he first opens the throttle, he was searching for a particular feeling from the engine. That feeling was the right torque. He wanted a smooth delivery with acceleration available across a wide range of revs. He wanted to open the throttle with power available.
In the past, we had engines that either delivered their power evenly across the rev range or suddenly coming on stream in a burst of power at the top of the revs. If your engine needs to be at maximum revs to find its power, the rider needs to be very aggressive to try and keep it in the correct range of usable power. By opening the throttle in this situation, the bike can become easily unsettled and at that first crack of the power the rider can easily lose confidence. Having torque across the full range of RPM gives a rider more confidence.

TORQUE SENSOR SPOTTED AT HONDA
During winter test Honda started to use a torque sensor. The technology is commonplace in MotoGP™ but hasn't been optimised in WorldSBK in recent years. With so many of Honda's engineers having experience of the technology from the Grand Prix paddock and the Monlau Academy, they're well placed to maximise the benefit of the technology.
The sensor is used to measure output torque for traction control strategies and input torque for engine braking. The teams use the torque sensor to measure the torque in all areas of the track so that they can optimise their electronic strategies with the goal to allow throttle opening to be as smooth and continuous as possible without worrying about a burst of torque that would unsettle the bike. The same in reverse for engine braking where on corner entry, teams want to maximise stopping power.
Torque sensors were first used during the 800cc era in MotoGP™ but have been commonplace in F1 for decades. In MotoGP™, once self-learning electronics were banned, teams needed to find a way to replicate the smart electronics of the past and they did this by mapping the circuit to a torque map. Using GPS data built up over a number of years, teams built a torque map to allow for optimum power delivery at all times. A torque map is a pre-programmed method of optimising the electronic strategies.
Why a torque sensor over JUST traction control?

Over a race weekend we'll hear a lot about anti-wheelie technology and traction control and while these are now crucial for teams to maximise the performance of their bikes, they are a reactive system whereas a mapping strategy is a proactive system. Traction control compares front and rear wheel speed and then compares that to a set value to then try and get as close to that ideal value. It's very effective but a more precise system is possible if you can measure the torque of the engine at the gearbox. Being able to measure this allows teams to understsand the traction available at any given point and then dial in the correct torque for that set of circumstances.
Traction control is all about maximising the drive out of corners to allow as much power to get to the ground as possible at any given moment. While it seems counter intuitive, the way to get the best drive out of a corner means that the bike will slide. Teams need to find out the optimum measure of this and then build their electronics strategy around this value. Knowing the most possible information about this, by using a torque sensor, means that teams can measure the rate of which they deliver power and adjust the torque to compensate. It isn't self-learning but rather programmable to understand where it is on track at any given moment.
KNOWLEDGE IS POWER SO, THE END RESULT?
Having that information has the potential to be a big benefit to Honda. As it stands, they can understand more variables than their rivals. Even though they can't run the system during a race, they can develop their engine strategies to maximise their potential. Having a more predictive system means that they are fighting from the front foot compared to the reactive systems like a traditional traction control model. Will it be enough to make a difference in 2021? Time will tell but it's another indication of the lengths manufacturers are going to in their bid to win in WorldSBK.
Watch all of the action unfold throughout the 2022 season with the WorldSBK VideoPass!