Lascorz: "Ana is a rider who demands a lot from herself, she wants to go fast right away"
Friday, 9 April 2021 13:21 GMT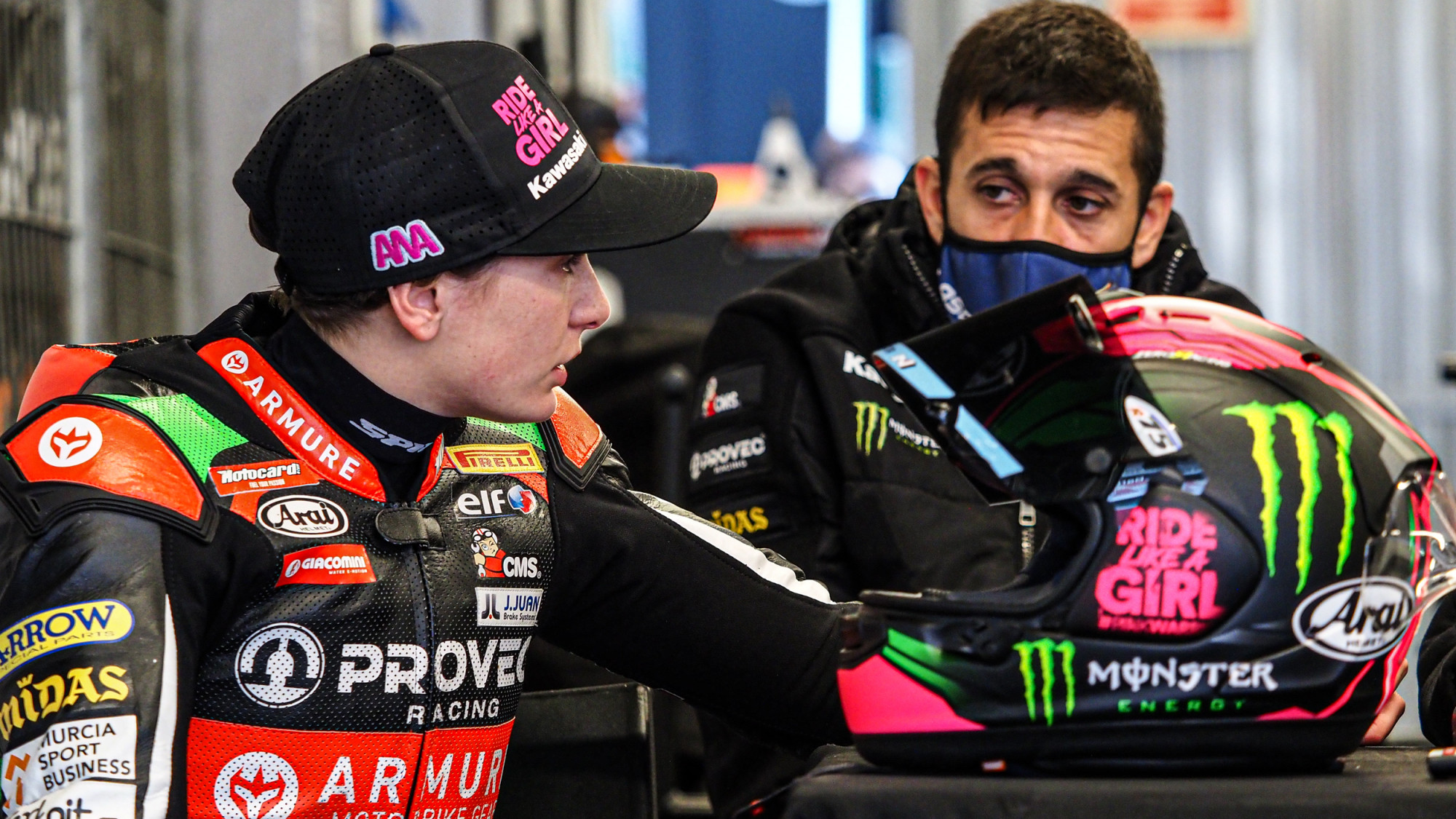 Ana Carrasco's new advisor talks about his work with the 2018 WorldSSP300 World Champion and underlines the goal of trying to achieve a second title
A few days before the start of the Test at the Circuit de Barcelona-Catalunya, the incorporation of Joan Lascorz to the technical staff of the Kawasaki Provec WorldSSP300 team was announced as Ana Carrasco's advisor. During the first two days of testing, the former MOTUL FIM Superbike World Championship competitor could already be seen in the garage of the Murcian motorcyclist, analysing her work on the track and contributing his extensive knowledge of the competition.
As is known, the 2020 campaign was inexorably twisted for the 2018 WorldSSP300 World Champion with the serious injury suffered in September during a test at Estoril. The fracture of the dorsal vertebra left Carrasco requiring surgery and with an arduous physical recovery ahead of her to be able to compete again. Now that nightmare is over and Lascorz's arrival at the Provec garage aims to propel the Pink Warrior's assault to her second WorldSSP300 title. That is the declared goal in Carrasco's fifth year in a cylinder capacity where she has already made history with her success.
"I am very happy to return to the Provec team because my beginnings were there and I have worked with them for many years," explains Lascorz in an interview conducted in Montmelo during the testing sessions that brought together a large part of those competing in WorldSSP300. "Since Ana got back on the bike, I have gone to many training sessions and tests and I see that she has great potential; I think I can help her a lot. She is a very fast rider, she has already shown it before, but she was very surprised that after the accident she was fast again, after so many months without getting on the bike."
Lascorz will act as coach of the rider, a task that he summarises as follows: "I think that what I have to try is to detect which points she can improve and help her as much as possible to interpret what the chief mechanic tells her, do a bit of intermediary and that they understand each other better."
That work has already started to take shape. In Montmelo you could see the teamwork carried out by the teams that have two and up to three riders in their ranks, a resource that Carrasco does not have, as she is the only representative of Kawasaki Provec.
"It is one of the things that I have discussed with Ana," reveals Lascorz. "I see that teams that have a minimum of two riders help each other a lot. In today's practice we saw that, in the first sector alone, which has a straight and two corners, Ana lost half a second. She finds it very difficult, because [other riders] help each other a lot. So, for the next session we have talked about her getting with a rider to see if we can really be there."
Polishing details is key to taking tenths off the stopwatch. Everything counts before a campaign that is expected to be ultra-competitive and with many potential candidates for the title. But on his side, Lascorz knows he has a unique competitor, a World Champion of indestructible morale.
"Ana is a rider who demands a lot from herself, she wants to go fast right away, she doesn't want to lower her guard, not even in the first tests she did on the karting tracks," says the coach about the Cehegin rider. "The objective is clear; it is to try to win the Championship again. I think it will be a more complicated year, because all the young riders from last season now have one more year of experience, they are already pushing for the first test and they will not make it easy for her, but we will all work to the maximum to let her win again."
Follow the preparations for the 2021 preseason and all the news about WorldSSP300 with the WorldSBK VideoPass!