"He's coming on strong!" – Troy Bayliss on son Oli's 2022 WorldSSP prospects
Tuesday, 9 November 2021 10:48 GMT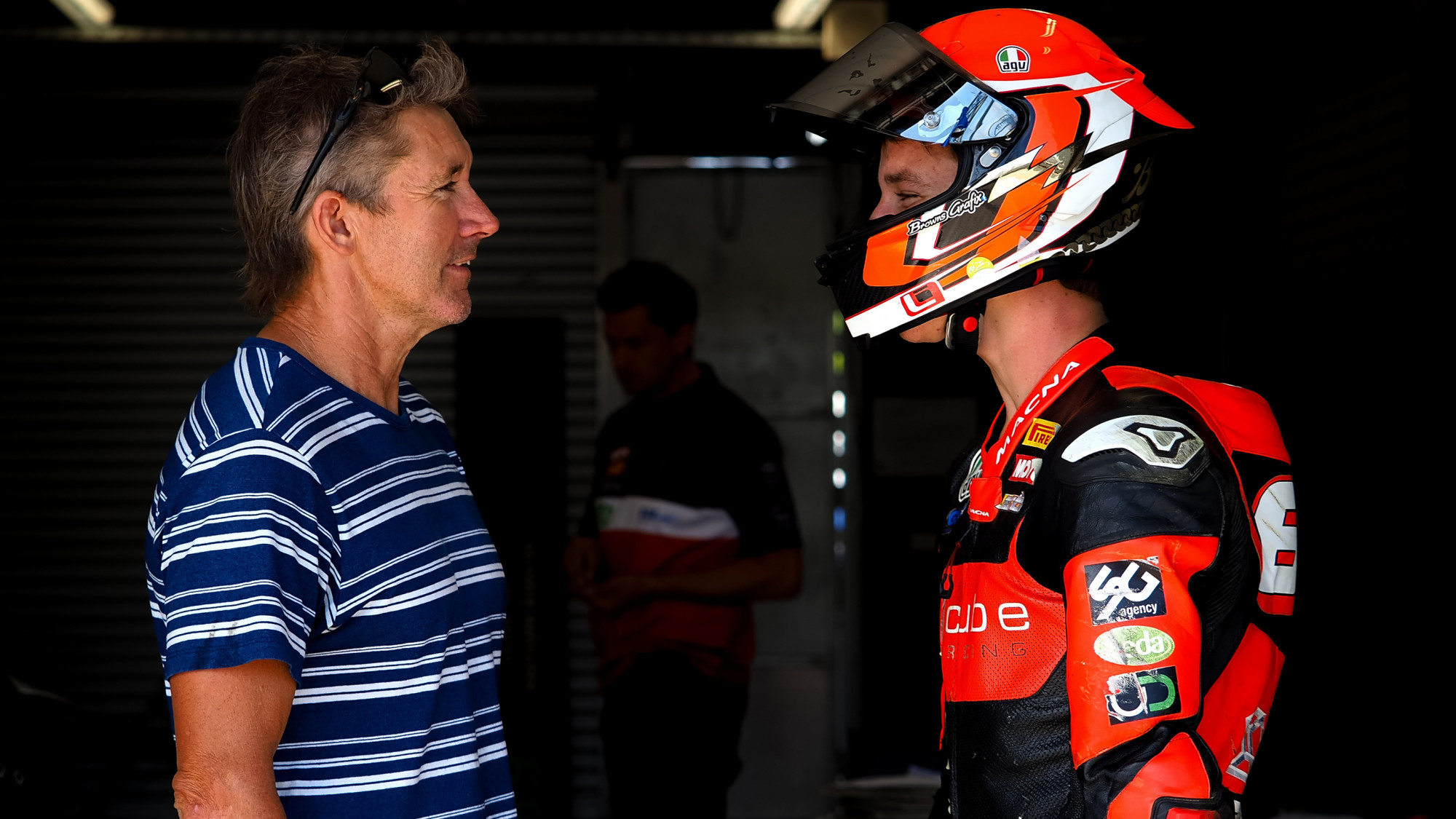 The three-time World Champion reacts to son Oli Bayliss moving full-time into WorldSSP onboard a Ducati
The famous Bayliss name is returning to the MOTUL FIM Superbike World Championship paddock in 2022 on Ducati machinery as 18-year-old Oli Bayliss embarks on his first campaign in the FIM Supersport World Championship with Barni Racing Team. Ducati are returning to WorldSSP with the Ducati Panigale V2 bike and three-time WorldSBK Champion Troy Bayliss offered his reaction to the news of son Oli joining the World Championship.
The 2022 campaign will not be Oli's first foray into competing on the world stage as he made a wildcard appearance at the 2020 Australian Round although he did not take part in the first race of the season. Since then, the teenager has been competing in his native Australia in the Superbike class and currently sits fifth in the standings with one round left.
Troy, who won WorldSBK titles in 2001, 2006 and 2008, was excited by his son's move into WorldSSP for 2022 and on Ducati machinery while also admitting he was looking forward to returning to the paddock. He said: "It's pretty exciting for us, especially for Oli but also in our family. Oli has been brought up in racing and he's done it all right; he's done the dirt track and the motocross, karting and now he's on the road racing. We've kept him on a steep learning curve, from the Supersport 300 class to the Supersport class and now also in the Australian Superbike class, and it is really exciting to join the Barni Racing Team on the Panigale V2 and come back to the World Championship. I'm really looking forward to getting to the paddock myself; I'll definitely be around at the start, because he can't even remember being overseas when I was racing, and he's only just turned 18.
"I wouldn't want to send him right on his own, I want to give him a hand and get him sorted. We've been together on the track for a long time so I don't want to be a heavy dad, but I want to be there to give him some support and basically be his mum and dad for a while because Kim can't come over for the start of it. Overall, it's great news for Oli, he's all done with school now and we could've been in Europe a couple of years ago, but we had to get school done, get a few things sorted out and now he's very excited to get into it. Probably the coolest thing is that he's starting on a twin cylinder, and I finished on one."
The return of the Bayliss name coincides with Ducati's return to WorldSSP for the first time since 2007, with Oli competing on a Ducati Panigale V2 machine. It's a signing that keeps the history of Bayliss and Ducati going following on from Troy's three titles with the Bologna-based manufacturer in WorldSBK. Bayliss discussed this, saying: "To be on board with the Ducati family of course, has been our history, so it all makes sense. It's going to be great to have an Australian back in the class as well. We are thrilled to give it a go and see where he comes up; he's been riding really well, he's coming on strong, he loves racing and training so, I think he's going to have a good time. It's not going to be easy; he's got plenty of new tracks to learn but he seems to do OK with that. I'll try and get him a bike up and running so he can get used to one before we get over to Europe for testing. Hopefully, the only thing he will have to learn is the tracks."
Despite Oli's experience on a Ducati Panigale V4 R from his Australian Superbike campaign, targets for his first full-time campaign on the world stage are being kept to a minimum according to Troy. "We're not really setting a target; he knows what he wants to do, and he just wants to be competitive, and he wants to win. He's pretty clever with the way he approaches things like that, you can easily rush into things and try too hard too early, he's switched on like that. Hopefully with some advice from me and the team, we can keep him under control, so he doesn't get too excited. I've brought him up to be on a Superbike, and he can handle one no problem. However, when this came about, I thought that with some of the people who helped me out, we said we shouldn't throw him straight in on the Superbike. I'm not saying it's going to be easier on the Supersport bike, but I think it's going to be a nice step into the World Championship, and it is a good way to go."
The parallels continue between Troy and Oli's early careers through a sponsor who is supporting Oli on his adventure into WorldSSP and also helped out Troy to move to the UK in 1998 to compete. Troy explained: "A guy called Darryl Healey took Kim and I from Australia to his private team in the UK back in 1998, GSE Racing, and basically, he was my manager you could say but also a friend, and he's been helping Oli out as well as a personal sponsor since we started. Darryl is still involved with all of this, and I think you'll see he's involved with the team as well, so it is great to have him doing what he's doing and it's also great for Oli."
Watch the 2021 WorldSBK finale FREE when you sign up for the 2022 WorldSBK VideoPass!