HOT HEADLINES FROM SAN JUAN: all the fallout from WorldSBK in Argentina
Wednesday, 20 October 2021 11:02 GMT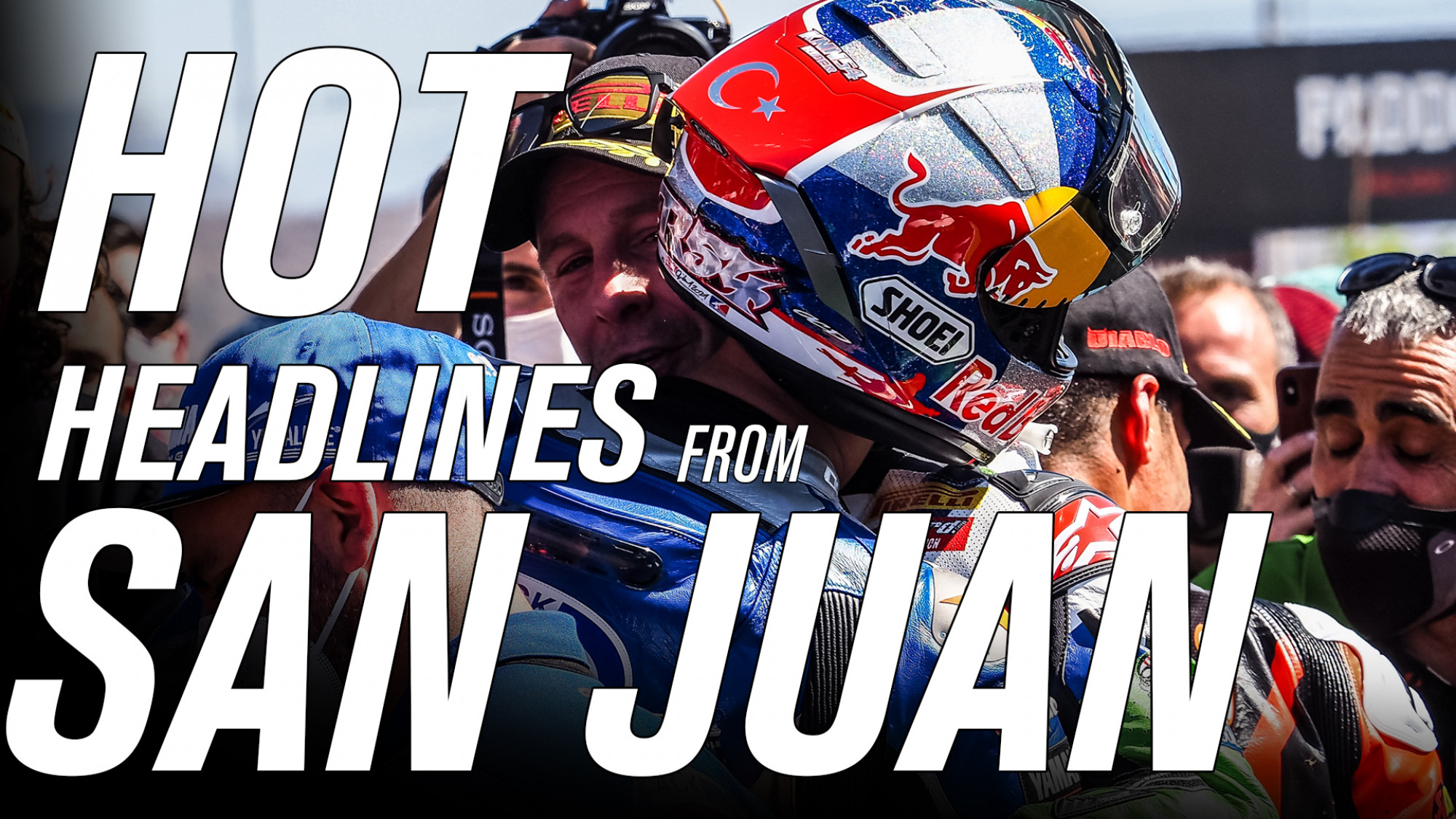 No holding back from WorldSBK stars as they talk tough following the penultimate round of 2021
The 2021 MOTUL FIM Superbike World Championship is coming to a close with just a round to go after a thrilling Motul Argentinean Round at the Circuito San Juan Villicum. The penultimate round gave plenty of talking points, as the main contenders didn't mince words in their post-race debriefs. Get all the gossip, insight and fallout from Argentina, with spicy stories and hot headlines below.
Scott Redding (Aruba.it Racing – Ducati): "If that's what it's going to take, that's what it's going to take… thousands of people going home with no voice, and I'm happy about that!"
Race 2 winner Scott Redding fought back from Race 1's crash and won on Sunday, something he was hungry for since the start of the day: "That was what was needed. I was ready for it; I was hungry. It wasn't so much visualising, it was getting pumped, getting ready for war and taking it to them. That is where it started in morning Warm-Up. I just wanted it today, badly. From the first lap of Warm-Up, it was hammer down. I went off the start for Race 2, went back a little bit and then I felt OK.
"I saw them battling and got a little bit stuck in. I just showed that little bit of the aggressive side that I've tried not to show because I don't want to have too much contact; I have respect. We try to race in a respectful way. From my side, it felt respectful today. I need to watch the race back. I was hard. I was like 'there's a gap, I'm going for it'. I do have that side to me and if that's what it's going to take, that's what it's going to take. I can't stress enough how good it's been with all the fans cheering! There's going to be thousands of people going home with no voice, and I'm happy about that!"
Toprak Razgatlioglu (Pata Yamaha with Brixx WorldSBK): "Podium again… this is the business"
Razgatlioglu was in fine form again but missed out on a first ever triple after finishing third in San Juan's Race 2: "I tried my best again, but my tyre had a big drop very early. In the last three laps, I tried again for P2, but Jonny was also very strong, and the front end was sliding a lot. I said 'OK, third position is enough for today' but also, during the race, the bike had some chattering. I am happy; I didn't crash, we are on the podium again, this is the business. The chattering was a big problem; I tried to enter with a little bit of sliding but the chatter came, so it was better to release the brake. It is very dangerous because you brake, then the front slides etc. I was fighting for second position, but also Jonny is very fast today, so we are here. Also, we take good points for the Championship and now, I am excited because I don't know the Indonesian track, this is a new one!"
Jonathan Rea (Kawasaki Racing Team WorldSBK): "You can feel a sense of urgency when he's in the race"
Jonathan Rea is 30 points back in the title race, but in Race 2 and his fight with Toprak, he saw that the Turkish rider was on the limit: "He almost crashed twice today at Turn 12. He locked the front two times in front of me so he's riding on his limit as well. You can feel a sense of urgency when he's in the race because his passes are really late and today, when I could fight with him, I could understand a lot more about how he was managing the race from a mental point of view. That was nice because I felt much more in control, I could take a breath and understand him. Yesterday, I was on the back foot but today I could fight in that position. That feeling's a lot better.
"I think I can just go to Indonesia and worry about myself. This is racing, anything can happen. They need a clean weekend to get it done but, of course, he's in a much better position than I am. It's always better to have an advantage than come from behind, especially with the way he's been riding; he's been riding really strongly. We can just do our best, concentrate on myself and try to learn from our difficulties this season."
Michael Ruben Rinaldi: (Aruba.it Racing – Ducati): "Same problem I've had all year… frustrating, mentally…"
Michael Ruben Rinaldi didn't hold his frustrations in, as he struggled in with high grip: "I knew our potential was to do a Ducati 1-2. The problem is that when the tracks allow you to have more grip, every other rider on the grid will use it to go faster. I'm not able to go faster. This is the same problem I have had all year and it is so frustrating, mentally. We are working a lot to understand why, but we can't say exactly what it is. They also say that it is my riding style or how I use the throttle; I will work on that, but we have no reason to explain this.
"My ride is good to win one race but the next, not so good. My ride is good so that in the race on Lap 19, I can do a 1'37.9 but in the Superpole, I can only do a 1'38.3, and that's with the Q tyre. One thing I can say is that if we can solve this problem, we will always be there at the front. Sincerely, I don't know if it is the weight or something else that allows Scott to turn and not have the same problem as me, but for sure, he will have another problem. I'm not complaining about my weight and that he's faster than me because he can put more weight on the rear tyre, because this is b******t. This year, he was better at solving his problems than I was solving my problems."
Michael van der Mark (BMW Motorrad WorldSBK Team): "The last step is always the most difficult one… I'm stronger than my first year with Yamaha"
Talking about next steps and how hard they are, Michael van der Mark was direct: "It's the hardest step to take; it is difficult to say how to fix it and what we need to fix but all we can do now is keep fighting. Some weekends, sometimes we can see the podium and smell it, but that just gives us more motivation. The last step is always the most difficult one, at one point it will just click.
"I think it is best to compare it with Yamaha; we haven't finished many times on the podium, but I think this year, I am stronger than the first year with Yamaha. The competition has grown so if you look at the competition and where we are with the bike after just a year, I think we are doing a really good job. The last step is also the hardest, it could take one more year or it could take longer. I want to win, I want to finish on the podium; the rest is nice but if I finish sixth or seventh in the Championship, I don't even look at it; we need to go forward."
Axel Bassani (Motocorsa Racing): "I think, 'stay calm Axel, watch the other guys!'… it's incredible
San Juan sensation and rookie revelation Axel Bassani was fighting for a podium, keen to not get carried away: "It was the first time that I am with such strong guys with a lot of experience. In the first part of the race, the pace was not very fast, so for that moment, I try to overtake and go to first. But I think, 'stay calm Axel, watch the other guys!' but in the last part of the race, I had stomach ache. Third in Superpole and the fifth-fourth-fourth, it's a very good weekend. I'm very happy with the work we did with the team, we have very good results all weekend and this is very important."
Talking about the battle with the top three in the Championship, Bassani continued: "For me, it's simpler. It's a little bit safer because there's no strange or dangerous overtakes and it's all with the mind. There are no mistakes, so it is very good to have a fight with these guys. All of them, Scott, Jonny and Toprak, it's incredible to fight with them. I learn how to manage the race."
Watch the final round of the sensational 2021 season unfold with the WorldSBK VideoPass!