FP2 RACE PACE ANALYSIS: who will be fighting at the front this weekend?
Friday, 28 May 2021 17:45 GMT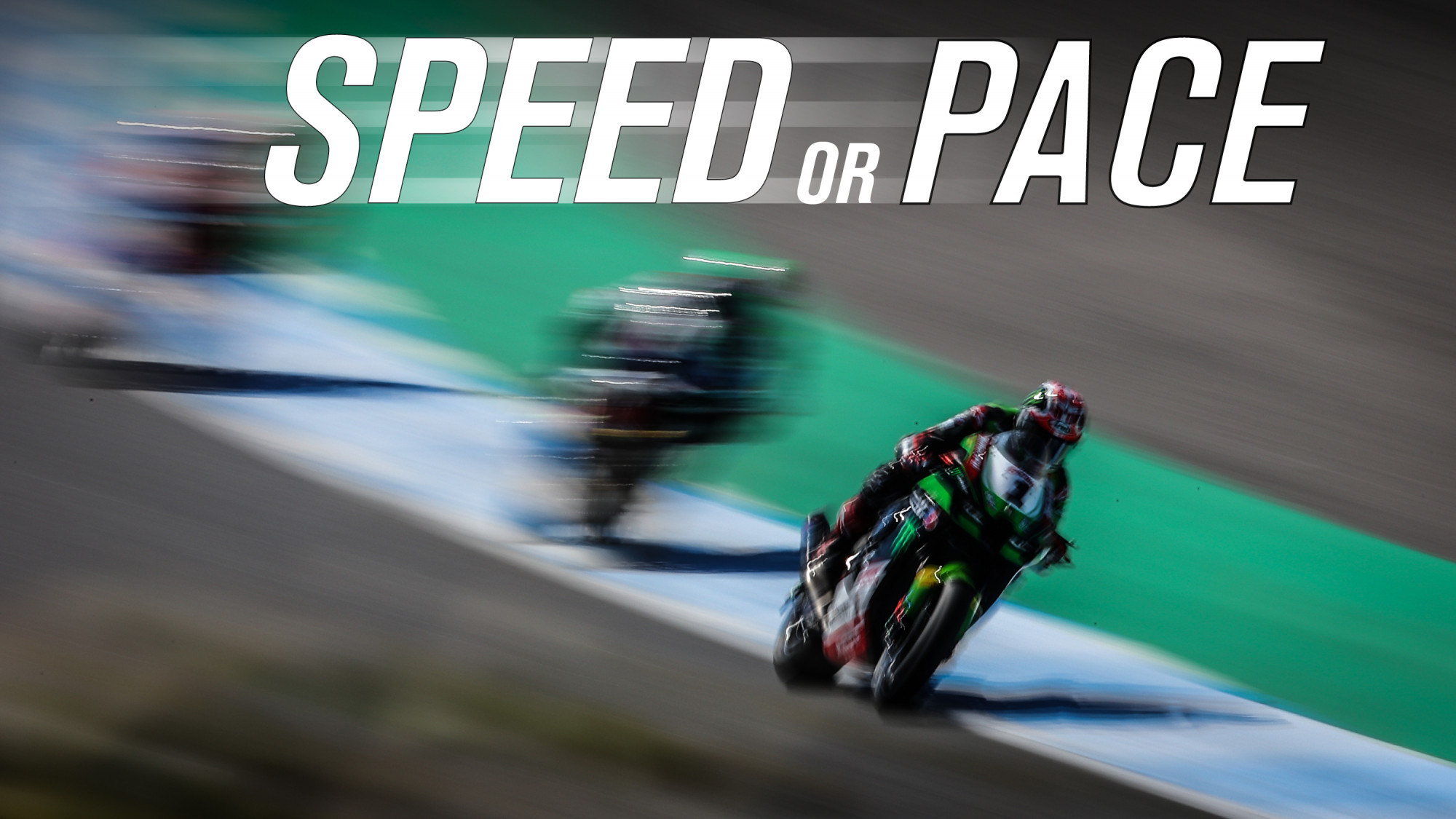 There's a clear pattern after the first day of action, so we've analysed all of the details to give you a forecast of this weekend's pace
The 2021 MOTUL FIM Superbike World Championship is as competitive as ever and the unpredictability for the weekend ahead is growing stronger. However, after Friday's Free Practice session, we have a little indicator of who is hot and who is not. Toprak Razgatlioglu (Pata Yamaha with BRIXX WorldSBK is on a mission, but will Scott Redding (Aruba.it Racing – Ducati) hunt him down, and can Jonathan Rea (Kawasaki Racing Team WorldSBK) be better than both?
VICTORY FIGHT: the pace is hot
After just the opening day of action, Toprak Razgatlioglu has cemented himself as one of the favourites for success once again, having taken two wins at the circuit last year. Of his 19 flying laps in FP2, a staggering 16 of them were set in the 1'37s bracket, of which his fastest was a 1'37.284, with his second fastest a 1'37.464 and his third a 1'37.468 – all achieved in the first eight laps of his session, his fastest on Lap 2 of Run 2.
However, at the other end of the session, he is just as consistent as his final three laps were all inside the 1'37.6 bracket, and at the end of a staggering 15-lap run. Of that 15-lap run, just two laps were outside the 1'37s bracket, and the 1'37 in-turn were all between 1'37.606 and 1'37.983 – excluding his fastest lap time. So, what does this mean for Razgatlioglu? Well, his average lap time is a 1'37.828 and without his two laps outside of the 1'37s, the average pace is 1'37.692 – both being the fastest average of all the field.
Toprak's nearest challenger in terms of average race pace is Scott Redding, and the British rider was likewise electric with a strong group of laps in his final run between a 1'37.566 and 1'37.940. Redding put together a 19-lap race simulation on the SCX tyre too, although a couple of laps saw him cool down and then charge again. His final two flying laps dropped off considerably, with them down into the 1'38s but this isn't clearly the tyre or whether it was traffic. Nonetheless, with his average lap time from fast flying laps a 1'37.856, he's on average 0.028s behind Razgatlioglu. It could be a close battle, but it may well come down to the SCX tyre conundrum… again.
Perhaps someone who can never be discounted for race pace is Jonathan Rea, but judging by FP2 times, he isn't quite there yet, although he's neither a million miles away. Rea's fastest lap time was a 1'37.831, slower than Toprak's average in the 1'37s. However, Rea's pace was low-to-mid 1'38s and in his final run, was able to drop into the 1'37s twice out of seven laps. His average lap time after FP2 is a 1'38.176 without counting the slower laps where traffic or pit-ins and pit-outs played a part. Three 1'37s in FP2 in compared to 16 for Toprak, whilst on paper Rea may not be as relentless as Razgatlioglu, his team has all the experience to continue refining the ZX-10RR package for racing.
PODIUM CONTENTION
Leading the way outside of the top three is Alex Lowes (Kawasaki Racing Team WorldSBK), who set a fastest lap as a 1'37.836 but besides this and his final flying lap, he was firmly in the low-to-mid 1'38s. Of his 16 laps, two 1'37s and six 1'38.0s and 1'38.1s, bringing an average fast-lap pace of 1'38.351, just under two tenths behind his teammate. However, both are in a battle for the podium places, and whilst Lowes right now may be a little behind, his pace is consistently solid, bringing firm foundations to build from.
With an exactly identical average fast-lap time of 1'38.351 is Michael Ruben Rinaldi (Aruba.it Racing – Ducati), with the Italian coming on strong in the final stages of the day to jump up inside the top five. Only two laps in the 1'37s from Rinaldi, his pace is a little bit more inconsistent than Lowes' with him only dropping into the 1'38.0s on two occasions, and his other times being more erratic, whether it was due to pace or traffic is unclear. Despite this, Rinaldi's in the mix if he can string it all together.
IMPRESSIVE OUTSIDERS
Like Rinaldi, Garrett Gerloff's (GRT Yamaha WorldSBK Team) average pace was very strong and was even faster than Rea's and Lowes', with an average fast lap of 1'38.093. However, his runs are a little disjointed, with no more than three flying laps in FP2, making it difficult to indicate exactly how he will perform over the 21-lap full-length races. Nonetheless, if we were to extrapolate his times then he'd be a solid bet for another Estoril podium, with all of his fast laps between 1'37.826 (his fastest in FP2) and 1'38.279. Despite being yet to pinpoint where he needs to find time like he stated in his review of day one, if he does, Gerloff will be right in the mix once again.
Fellow Yamaha star Andrea Locatelli (Pata Yamaha with BRIXX WorldSBK) was impressive on his first day of action at Estoril; 16 laps were set inside the 1'38 bracket as he did a long run of 15 laps which resulted in 12 back-to-back mid 1'38s, with just one lap dipping into the 1'39s. Mightily impressive, Locatelli's average pace is a 1'38.737 but his metronomic consistency will pay dividends in race trim.
Ireland's Eugene Laverty (RC Squadra Corse) was one of the surprises of Friday action, as he placed firmly inside the top seven for BMW. His pace was extremely consistent and whilst he may not have the outright podium potential, he's a firm fixture for top six success. An average time of 1'38.395, all of the laps that were set during each of the runs were inside the 1'38s, all less than six tenths behind his fastest time of a 1'38.123. Fellow Independent BMW rider Jonas Folger (Bonovo MGM Racing) was likewise impressive, with an average of 1'38.480. Like Laverty, all of his flying laps were 1'38s, although neither BMW rider put together a long run.
KEEP AN EYE ON THOSE WHO COULDN'T SHINE
Five riders may well be worthy of a top six challenge too – both of the factory BMWs, both of the factory Hondas and Chaz Davies (Team GoEleven). Michael van der Mark (BMW Motorrad WorldSBK Team) was able to get into the low 1'38s and if he can find a way to keep on that pace, he could be one to watch. Teammate Tom Sykes only achieved three 1'38s in what was a difficult first day for both BMWs, mired by tech issues and a crash for Sykes. Over at Honda, Leon Haslam (Team HRC) could hit the mid-to-high 1'38s, whilst despite three crashes, Alvaro Bautista (Team HRC) was also able to match his teammate, albeit with six back-to-back laps at this pace, his fastest lap of a 1'38.469 coming at the end of his long run. For Davies, he had 1'38 pace straight away but tech issues hampered his afternoon.
IN CONCLUSION
Razgatlioglu is clearly a favourite but he will be chased hard by Redding and Rea, whilst the likes of Lowes and Rinaldi will be fighting out for best of the rest or potential a podium place if everything falls their way. Gerloff probably has the most exciting potential with such a competitive average lap time, but he will need to string the pace together, whilst judging by Friday, Laverty and Folger could also spice things up at the front if they can qualify well.
Watch all of the action unfold at Estoril with the WorldSBK VideoPass!