Ex-WorldSBK star Frankie Chili on best moments, new generation and life outside of the paddock
Thursday, 25 February 2021 10:01 GMT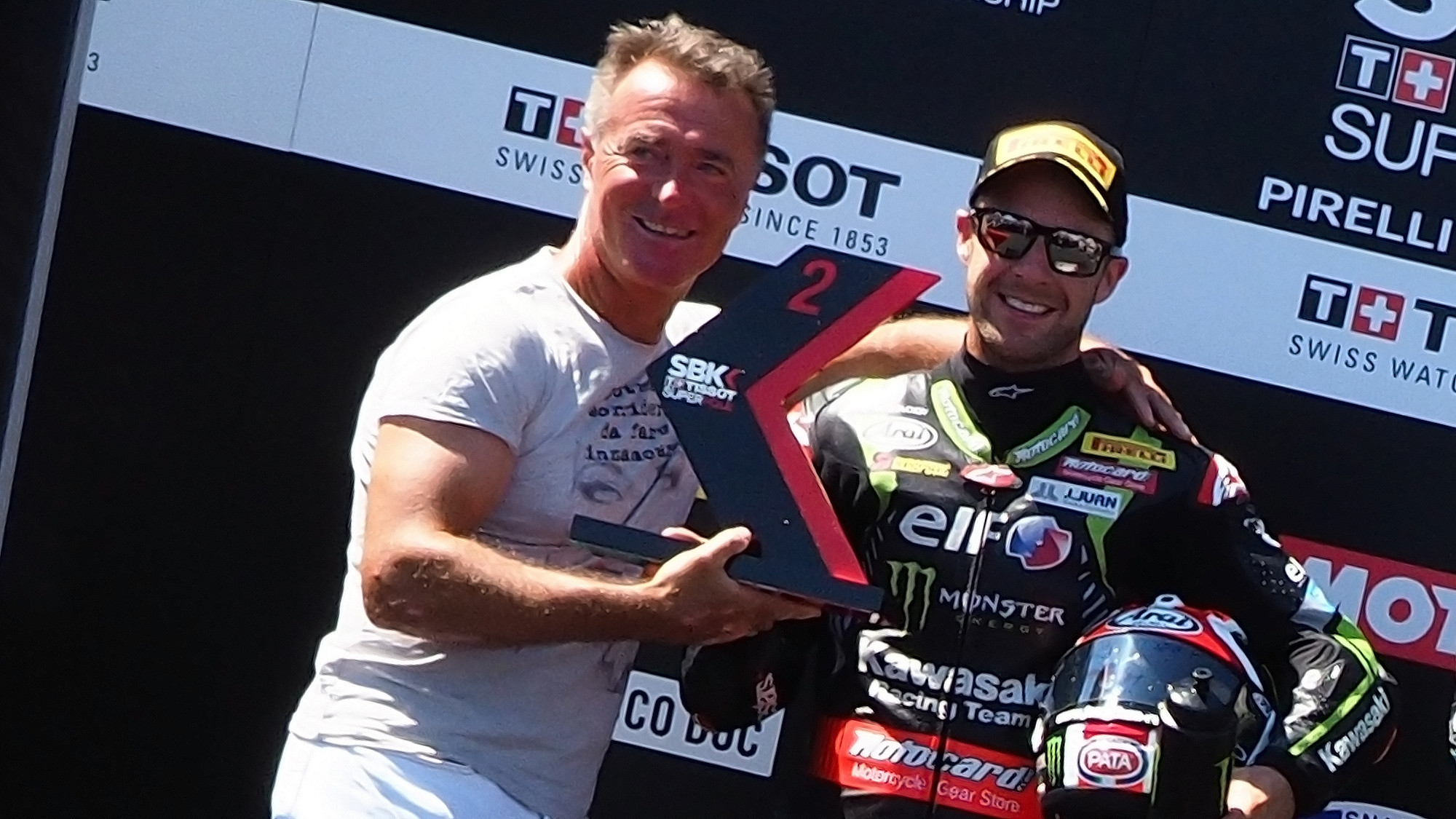 17 wins and many rivalries and last lap fights, we catch up with Chili about WorldSBK and beyond
The 2021 MOTUL FIM Superbike World Championship is set to welcome new stars and make legends for the future, but we've got plenty from the past too. One of the most-loved and charismatic riders the Championship has enjoyed, we spoke to Pierfrancesco Chili about his WorldSBK life. Reliving some of his greatest wins, previewing the next Italian talent and living with Parkinson's Disease, Frankie was as open and humorous as ever, rekindling memories from a magical era of WorldSBK.
Starting with what his best race was, it was hard for him to say: "I have a good memory for many races! I won at Monza, Brands Hatch, Donington Park and Assen; every time, battling someone different. They were all very, very big races. In 2000, I won at Monza for the last time; in Race 1 Colin Edwards started the race with a big lead but I closed him in. With two laps left, he looked behind at the first chicane and thought, 'how can you be here?' but I won and he was very angry for that!
"I sprayed him with champagne, which after Race 1 wasn't good, he smashed his bottle everywhere and he was angry for this too, it was a very funny moment for me! In Race 2, in the middle of the last lap on the exit of Lesmo 2, I made a mistake, running wide. Although I was second, I still arrived back to the pitlane without clothes, just the underwear and the back protector! I really enjoyed this time in WorldSBK! For me, this was a great time with many great names and I loved the fans too!"
Casting his mind back to another Monza memory, Chili said: "In 1996, we went to Monza but I had already broken a hand a foot from the Italian championships the week before. I was fighting the inflammation by using a package of kiwis, as they can be an anti-inflammatory. After the practices, I put my hand and my foot in a kiwi box! On the last lap of Race 2, I knew Fogarty was better than me at the Variante della Roggia, so I braked later and went over the gravel, and Fogarty and Aaron Slight overtook me, whilst Troy Corser was behind me.
"After Lesmo 2, I said, 'OK, now we go for the win!' and by the time I was out of the Parabolica, my team on the wall couldn't see me because I was behind Aaron Slight. The circuit commentator was shouting "Slight! Slight! Slight!" and then he screamed "CHILI" and everyone was shocked! The adrenalin was unbelievable and I forgot all the pain I had in the first place!
The 17-time race winner then discussed his rivalry with Fogarty: "My rivalry with Carl Fogarty got a stiffer. He wasn't very technical on the bike, but he could be strong at any time. In 1998, we were both under pressure because Ducati had two factory teams and for 1999, there was only one. I made a mistake on the last lap of Race 2 at Assen and I crashed at the chicane; I lost the race and the Championship. I sat down with Carl in 1999 and we regained each other's respect but people still think we're unfriendly. We played on this situation and when we were invited to England to have dinner together, people gave us boxing gloves as a joke!"
However, Foggy wasn't Chili's only rival: "I think is hard to say one; Fogarty was very impressive and determined but Haga was too. With him, you have to wait for the pass; it can be left, right or over – he didn't care! Colin Edwards was very fast and neat, similar to Troy Bayliss. Neil Hodgson in 2003 was a rival, as he was in the factory Ducati and I was on a private Ducati. Instead of rivals, they're more like competitors, and we are all relatively friendly."
Some of Frankie's greatest success came in the UK; two wins at Brands Hatch and a sole win at Donington Park, Chili was and remains immensely popular in the UK. "I loved racing in England throughout my career, it was a second home for me," he said. "A lot of fans came to support me and there, I found a place which gave me the reason to love racing. I needed the hot temperatures from the fans, the passion they have for the sport is incredible!"
All good things must end though and Chili gave up racing in 2006: "In the last year of my career, I was very upset and disappointed, because I broke my pelvis and couldn't be as fast as before, as I had a lot of pain. I couldn't put the leathers on or take them off on my own, my wife helped. On the race track, in chicanes, I was very slow and I wasn't interested in carrying on like this, not at 42. I still have dreams that I must get ready for a race weekend, but thankfully, they're just dreams!"
Chili did return to the paddock as a manager in 2009: "I was team manager for Guandalini Ducati back in 2009 but I didn't enjoy it a lot, and then I tried to set up my own team in Moto3 in the CIV but in the end, I was very tired. I didn't want to be in the paddock anymore to just be there for the sake of it. I didn't feel the passion and therefore, I stay at home and take care about what I have in Misano. I bought one hotel, then they built new apartments, so I have 14 apartments and two beaches to take care of during the summer, but I'm busy for eight months a year.
Sadly, Chili was diagnosed with Parkinson's Disease back in 2018, something he spoke publicly about in 2020. Talking about it to us, Chili said: "At the beginning, it was hard to accept but now, I try to control it with pills and medicines. I feel less energy but I am still involved with many things mentally, so that can keep me busy."
On the current WorldSBK stars, despite watching from afar in recent seasons, he is starting to get back in touch with what is happening, saying: "Slowly, I am starting to enjoy World Superbike again! I see now that some Italian riders are coming good, especially Michael Ruben Rinaldi. I know him from the CIV in Moto3, and he was very focused then. Now, it's time for him to make the last step and win more races. He can feel a lot of pressure in the factory team and he'll need the good feeling with the team, and then we will see.
"Jonathan Rea is unbelievable. He showed everybody two years ago against Bautista that he can still come back. He put the work in on and off the track and he won the title. I never see in my career anything like that. For me, only Jonny can beat himself. Scott Redding also has a strong mentality and a lot of speed, but if I was to bet, then I would go for Jonny!"
Watch more history in the making throughout the 2021 season with the WorldSBK VideoPass!