Vintage Misano Race 2 from 1999 to be premiered this weekend!
Friday, 29 May 2020 09:08 GMT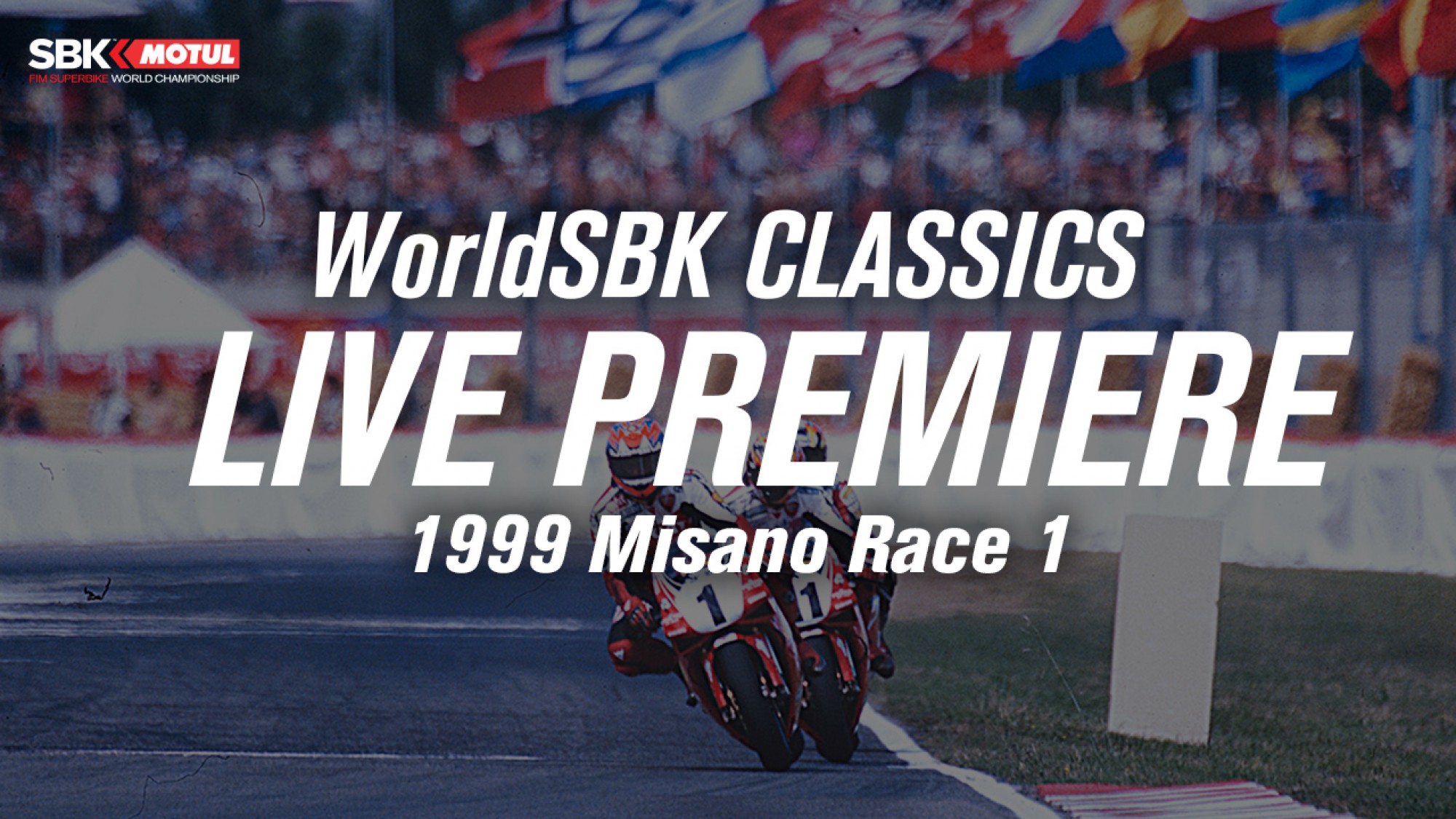 Carl Fogarty's stunning victory against teammate Troy Corser will be streamed across Facebook and YouTube, with a final lap showdown making for great racing…
Fulfilling your need for WorldSBK action this weekend, yet another vintage favourite from the FIM Superbike World Championship will be premiered live across Facebook and YouTube. This week, it's the turn of the all-Ducati battle of Misano's Race 1 in 1999, in accordance to the weekend of Carl Fogarty. The race will be premiered on Saturday at 2pm CET, so 1pm for British fans!
Coming into the weekend, reigning World Champion 'Foggy' sported a 45-point lead after an emotional Nurburgring round, winning Race 1 but crashing five laps from the end and out of the lead, finishing 15th. At Misano in Ducati's backyard, it was him and teammate Troy Corser who went head-to-head, swapping the lead throughout making for a thrilling last lap showdown. Corser passed Fogarty half-a-lap from home but the British ace fought back and with the two dicing towards the final few corners, it would be 'King Carl' who reigned supreme.
Previous races to have premiered are available to watch on our YouTube channel. Enjoy the timeless moment Colin Edwards and Troy Bayliss went head-to-head at Imola for the title in Race 2, 2002, as well as Tom Sykes claimed his only WorldSBK title from Jerez Race 1 in 2013 or Neil Hodgson's first win in front of 100,000 home fans at Donington Park Race 2 from 2000. Indulge in the epic last-lap battle between Sykes and Rea at Buriram, in Race 2 from 2016 and the exciting lastl ap battle from Race 1 at Assen in 2009, with a final lap battle between Ben Spies and Noriyuki Haga. The first title Italian WorldSBK Champion, with Max Biaggi at Imola in Race 2, 2010 can be relived, as can Carl Fogarty's first Honda win in Race 2 at Hockenheim in 1996. Marco Simoncelli's podium from Imola's Race 2, 2009 and the classic from Donington 2007 Race 2 can also be enjoyed time and time again, as well as a Rea vs Davies classic from Aragon in Race 1, 2015.
Watch the 2020 World Superbike season when action resumes in comprehensive fashion with the WorldSBK VideoPass!