Rinaldi unveiled as new ARUBA.IT Ducati rider for 2021 title charge
Wednesday, 14 October 2020 13:09 GMT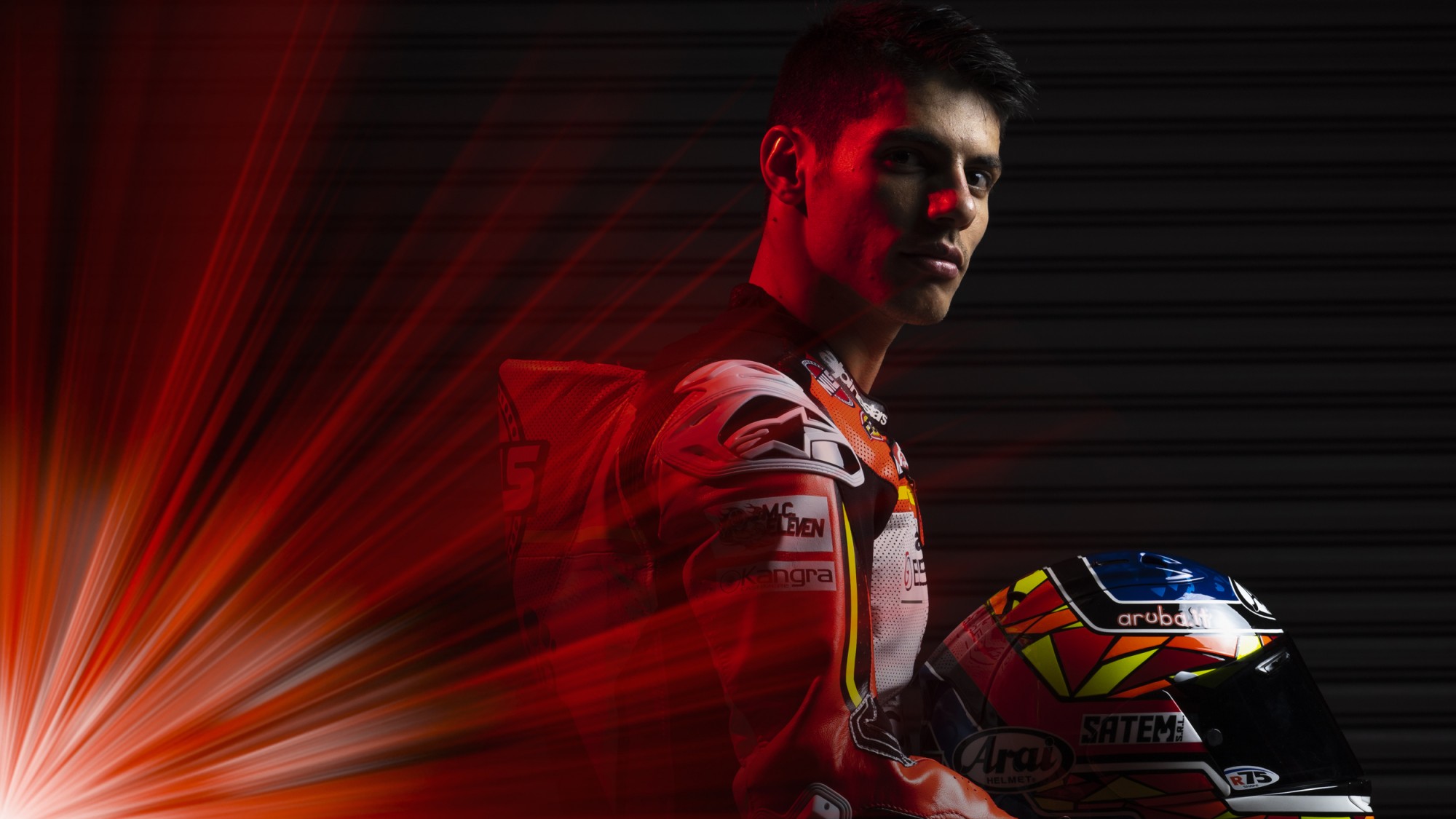 Michael Ruben Rinaldi completes the factory Ducati line-up for next season as he replaces Chaz Davies
The final factory bike on the grid has been filled for the 2021 season. After much rumour, speculation, intrigue and gossip, Michael Ruben Rinaldi will replace Chaz Davies at the ARUBA.IT Racing – Ducati team for next season, completing the full circle of WorldSBK Ducati seats. Italian star Rinaldi has been a winner in 2020 on the Independent Team GOEVELEN Ducati and now he has a real chance to be the next star Italian in the factory Ducati team. He will partner Scott Redding, with the 2020 rookie entering his second year of his two-year deal.
Rinaldi has been hot property in the WorldSBK paddock since coming to the paddock in 2014 in the FIM European Superstock 600 class. Two top five finishes were a good base to launch from in 2015 and despite five poles, three second places and a win, he was second in the title – the Champion being none other than Toprak Razgatlioglu whilst in third was Federico Caricasulo. 2016 saw him step up to the STK1000 class where his relationship with the ARUBA.IT Ducati's Junior Team would soon blossom. Two podiums in his first year helped him to sixth overall before he was Champion a year later with three wins. Having finished second to Razgatlioglu in 2015's STK600 class, he was Champion of STK1000 whilst Toprak was eight points behind in second.
Both stepped up to WorldSBK in 2018, although Rinaldi only participated in the European rounds with the ARUBA.IT Racing – Junior Team. He led a race at Imola for the first time, and his best result was a sixth at Brno. Having contested just 16 races of the 26 races, Rinaldi was a respectable 14th. For 2019, he switched to Barni Ducati, but it was a challenging season; a best result of fourth at Jerez saw him leave the team and go to Team GOELEVEN for 2020.
What was initially a questionable move preseason turned out to be a stroke of genius. With Öhlins suspension and a bike closer to the ARUBA.IT Ducatis of Redding and Davies, Rinaldi was a surprise from the start and took a first podium in fine style in Race 1 at MotorLand Aragon's Teruel Round – when he won. Two more podiums thus far at the age of just 24 have given Rinaldi the chance of a lifetime to be a factory rider for Ducati; every Italian's dream. He will join names such as Giancarlo Falappa, Mauro Lucchiari, Pierfrancesco Chili, Lorenzo Lanzi, Michel Fabrizio, Davide Giugliano and Marco Melandri in becoming an Italian factory rider at Ducati in WorldSBK, a prestige honour.
Speaking about the deal, Rinaldi said: "After an exciting journey in Ducati, joining the official team is an honour for me, as well as confirmation of the quality of the work done over the years. My first target will be to repay, through the results, the trust that has been given to me. For an Italian rider, racing with Ducati is an extraordinary feeling, and I am sure that the passion of the Ducati people will give me an extra boost.

"I would like to thank Stefano Cecconi and the Aruba family who have always believed in me, and Daniele Casolari, Serafino Foti and the whole Feel Racing for supporting me over the years. A special thought to Claudio Domenicali, Gigi Dall' Igna and Paolo Ciabatti for having involved me in this new project. Finally, I would like to involve the Ramello family, Denis Sacchetti and all the guys in the GOELEVEN team in an ideal embrace. Thanks to them, I was able to make an important quality leap that allowed me to reach this great goal. And of course, I would like to thank my family for having supported me from the beginning together with Germano Bertuzzi whose support has been fundamental. I feel I can promise them all my utmost commitment to achieving great results together."
Ducati Corse's General Manager, Luigi Dall'Igna, also spoke of the excitement of Rinaldi's arrival: "We're pleased to welcome Michael Ruben Rinaldi to the official team. This year, Michael has shown great competitiveness, crowned by the Aragon victory, and has always been fighting for top positions. We believe that the time has come for him to join the official team and we are convinced that he has a bright future ahead of him."

Dall'Igna then went on to speak of Chaz Davies, who Rinaldi replaces in 2021: "I want to thank Chaz, who has been an excellent ambassador for our brand over the past seven years and has achieved some very important results with us: 27 victories plus another 59 podium finishes and three consecutive second places in the World Championship. We will try to close our adventure together in the best way during the next race weekend in Estoril."
Stefano Cecconi, the team manager for ARUBA.IT Racing – Ducati, said: "It's with great enthusiasm that we welcome Michael to our team. It is a source of great satisfaction for us as well as a confirmation of the goodness of the project we undertook five years ago with the Junior team. Rinaldi himself was one of the great protagonists, achieving important results: the same results we expect him to achieve from next season on.
"A big thank to Chaz Davies for all the years we have spent together since we decided – together with ARUBA.IT – to embark on this fascinating adventure and during which a bond of deep respect and trust was created. The affection for the man and the rider will always remain intact, and for this reason, we want to wish Chaz the best for the future, both inside and outside the track."
Will Rinaldi surprise many next year? Don't wait that long and enjoy the final round of the season this year with the WorldSBK VideoPass!