Redding on bringing his crew chief to WorldSBK: "It was my biggest push"
Thursday, 5 December 2019 16:49 GMT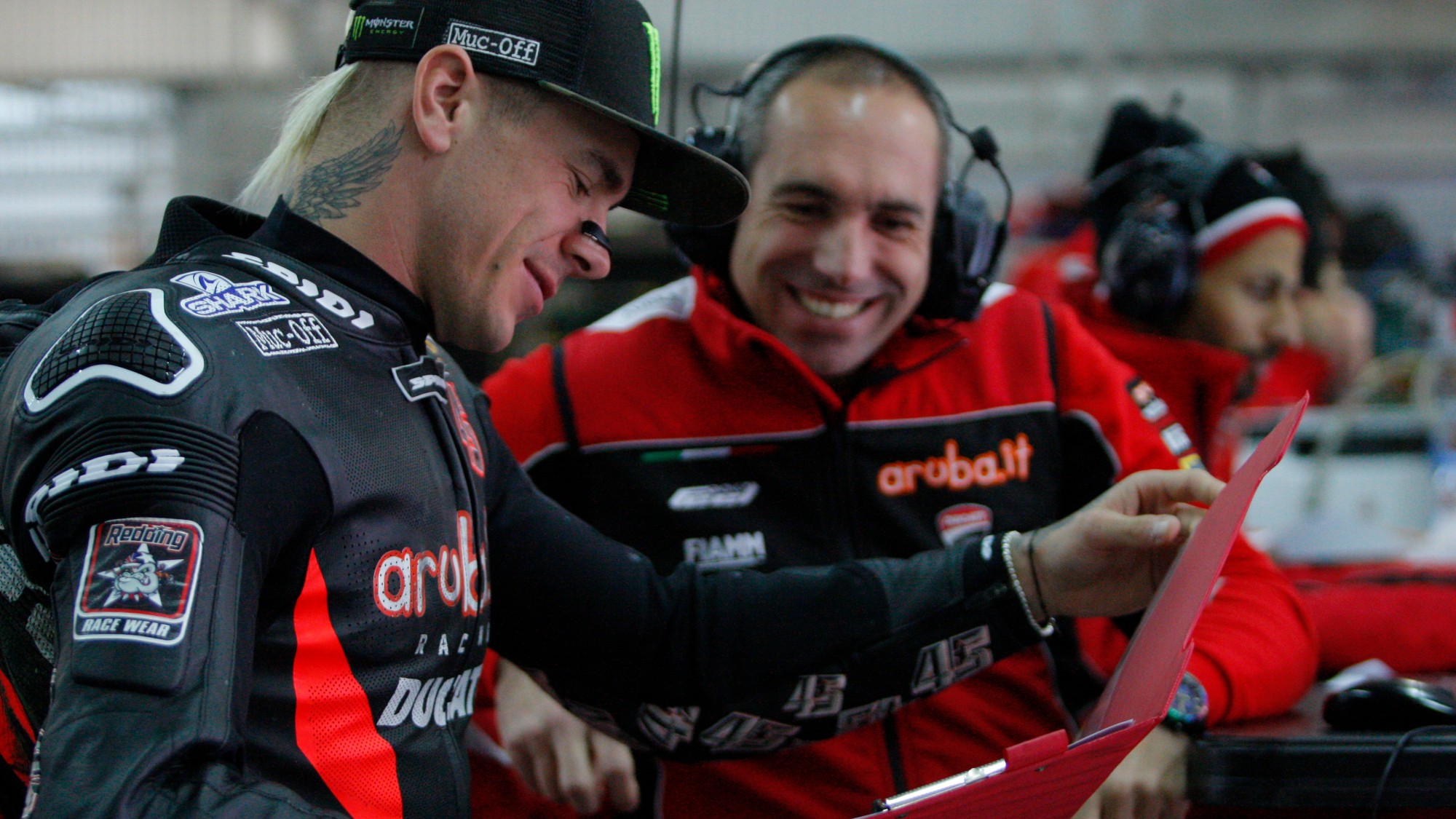 The Ducati man opens up on how Giovanni Crupi and himself built a winning relationship together in 2019
Present at both the MotorLand Aragon and Jerez tests in the Ducati box alongside Scott Redding (ARUBA.it Racing – Ducati) was another new entry to the paddock. Giovanni Crupi, crew chief to the 26-year-old rider from Gloucester last season in the UK, has remained with him for this new adventure in the MOTUL FIM Superbike World Championship.
For the Italian engineer, this is more of a return to the paddock than a debut. Crupi took his first steps in WorldSBK in 2008 and has since worked alongside several Ducati teams, including Althea, Barni Racing and even the factory team in 2014.
From 2016 onwards, Crupi has been working in the British series, a move which united him with Redding at the end of 2018. The pair won the national Superbike title in their first season together.
Speaking at the Jerez test, Redding left no room to interpretation when asked about how important it was to secure his services for 2020.
"Massive! It was my biggest push. Obviously, Ducati have got good crew, they've got a good team together, but my relationship with Giovanni was something I haven't really had for a long time with a crew chief. He understands me. He knows I work hard, he knows I like to have fun, that I do some parties. And above all, he knows how to manage me", the Englishman told WorldSBK.com.
Redding used an example from last year's British season to illustrate how vital this relationship was to achieving success in 2019. "So, last year I got really angry in the season when I was taken out by [Andrew] Irwin. I've gotten in trouble before for saying the wrong things. I say it as it is, and it's gotten me in trouble.
"Giovanni grabbed me, and he told me: don't do this, don't do that. I went to do an interview and he stood there; he really didn't want me to put myself in trouble. For someone to think that of you, it means there's a lot of trust there."
Crupi's proven technical knowledge was equally important for Redding, who personally vouched for his WorldSBK return.
"There's many reasons why I wanted to take him with me. I think he's one of the best crew chiefs for this bike. He's been there developing it, he knows it well on-track. We work together and he understands what I want. Sometimes a rider's feeling is more important than what you see on the data. You don't get that with a lot of crew chiefs.
"When I was talking with Ducati, I said: if you want to try and win this title, I've got to take this guy with me. I believe he is the man to do it. They said OK. We've got him here now, and I think it's the best overall package I could have for this year."
Enjoy the full build up to the 2020 World Superbike Championship thanks to WorldSBK VideoPass.