Keeping it simple: The secret to Rea's success
Saturday, 17 October 2020 14:58 GMT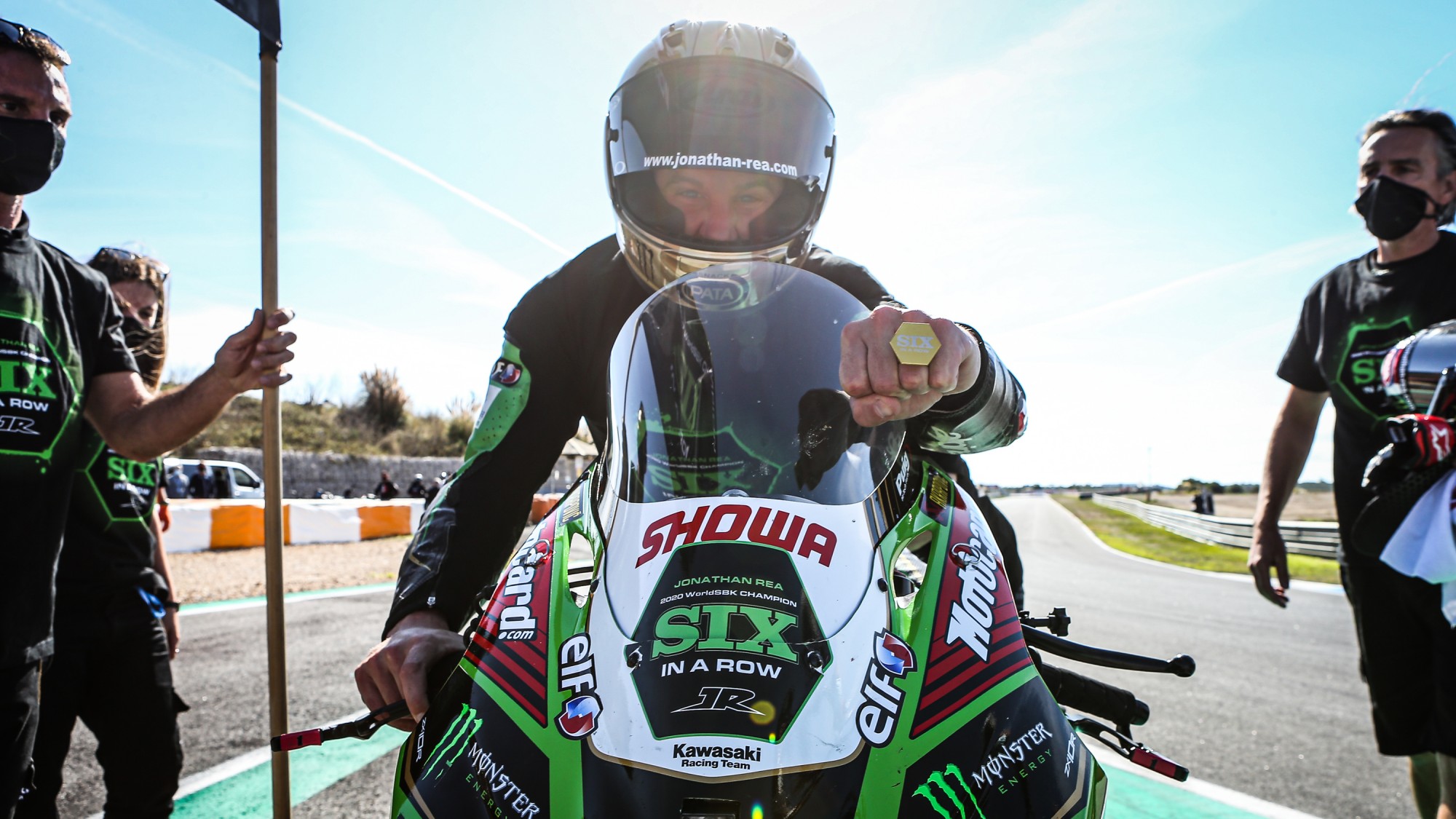 Jonathan Rea made it six straight WorldSBK titles at Estoril but what's the secret to his success? WorldSBK commentator Steve English spoke with Rea and crew chief Pere Riba to find out
Six MOTUL FIM Superbike World Championships, 99 victories, 185 podiums and 27 pole positions. There has never been a career like Jonathan Rea's and over the last twelve months he has shown just how complete a rider he is. Last year, his title success came down to a drive and determination to refuse to concede the crown to Alvaro Bautista. This year, he led from the front but had to deal with plenty of challenges along the way. The success he's earned this year was sweeter than the others because he had plenty of doubts during the course of the campaign. After a five-month long racing hiatus, he regrouped for racing knowing that his back was against the wall.
"Honestly, when the calendar came out I was a bit gutted," said Rea. "I thought it was going to be very hard this year. The season was shorter and we weren't going to Assen or Imola or Donington Park or San Juan and they've all been good tracks for me. Jerez? It's never been our best track. Aragon was a Ducati track. Barcelona is a MotoGP™ track. After Portimao, I was worried about what we could expect for the rest of the year. I think that I've made a step with the bike and with my riding. There's no way that I could have performed like I did at Aragon this year in the past.
"We know our weaknesses and my comments don't fall on deaf ears with Kawasaki, showing us the Championship standings and everyone high-fiving and happy with the results. We keep working to improve everything. We know our strengths and weaknesses inside and out but we've known that in the heat we struggle with rear grip and tyre drop. Our strengths are mechanical traction, stopping the bike and changing direction. You can't make a bike do what it doesn't want to do. In production-based racing, you can't magic a solution with new parts and upgrades."
So much about sporting success is about what happens behind the scenes. The hard yards of training. The years of sacrifice. The times of doubt that you overcome to get stronger. The hardships and the pain. If you come through them, sometimes you can bask in the light of success. There has never been a Superbike rider like Jonathan Rea. His success is unparalleled and he's rewritten the history books. His career is one unlike any other Superbike rider but what's the reason behind his unprecedented six titles in a row?
"I think that people make racing so complicated," explained Pere Riba, crew chief to Rea. "For me, it's simple. It comes down to feeling and the relationships he has with the team. Jonny is a five-time World Champion and he's a God of WorldSBK, but that doesn't mean he doesn't make mistakes. Even a God can't be perfect. Working with Jonny, we have a great relationship because he knows that when I tell him he's not riding well, that I'm telling him it to make him better. He's very open to learning and improving.
"I need to be the same when he tells me something. It's so important for the rider and crew to have an open mind. You can't know everything and you need to be open to learning. I was a rider and I know from my career that the bike is ridden by a feeling and not by data. Engineers see lines and information but on the bike 1+1 doesn't always equal two. The feeling is the most important thing."
Over the last six years, the feeling has not been one of sustained success but rather relentless competition to keep getting the most from themselves. The rider pushes his team and the team demand the same commitment from him. Rea's calling card has been his consistency and again in 2020 this is what set him apart.
The battle for the title between Rea and Scott Redding (ARUBA.IT Racing – Ducati) was what was expected coming into the campaign but the dynamics were different to last year when Alvaro Bautista started the season in unbeatable form before faltering. This year, Rea was able to keep grinding out results whereas his chief rival came unstuck with the competitive nature of WorldSBK.
"Scott has been my biggest rival and he's done well this year. His performance in Jerez was special all weekend and he's been strong this year but I expected him to be stronger. Scott is very talented and has been a factory rider in MotoGP™ and was one of the biggest rivals for Marc Marquez when they were younger. Last year, I thought Alvaro was unbeatable but I've not had that feeling this year with Scott.
"The Ducati is stronger this year, the Yamaha is stronger, Honda has done well and there are so many good riders now. Winning a Championship is always a different story and in the past, I've always gotten the best out of our package over the season while other riders haven't done that. This year the other teams and riders are now figuring that out how to do that and they're more consistent now. It's very competitive now in WorldSBK and everyone else is now more consistent over a full season."
Over the years, Rea and Riba have always focused on 'winning the round rather than the races.' They want to leave each weekend having outscored their rivals. Taking a look at the bigger picture has been a key element of their success and this year, that became even more important. With so many competitive riders – seven winners and ten podium finishers – it's been difficult to see the wood from the trees for title contenders.
Riders have been competitive one week and struggled the next. In this most unique of years we've seen riders win one weekend and struggle the next. Even Rea has struggled at times this year but overall, on a week by week basis, he's outperformed his rivals and got the job done. He's shown throughout his career that he can win from the front or can win a bar room brawl. He's the King of WorldSBK and until someone can take the fight to him over a full season, his reign will continue. WorldSBK is getting more and more competitive but the competitive yard stick remains unchanged.
Watch the final round of the WorldSBK season from Portugal with the WorldSBK VideoPass!