Davies' Ducati divisions, Rea 'prays' for new ZX-10RR and Redding's fury
Wednesday, 23 September 2020 10:38 GMT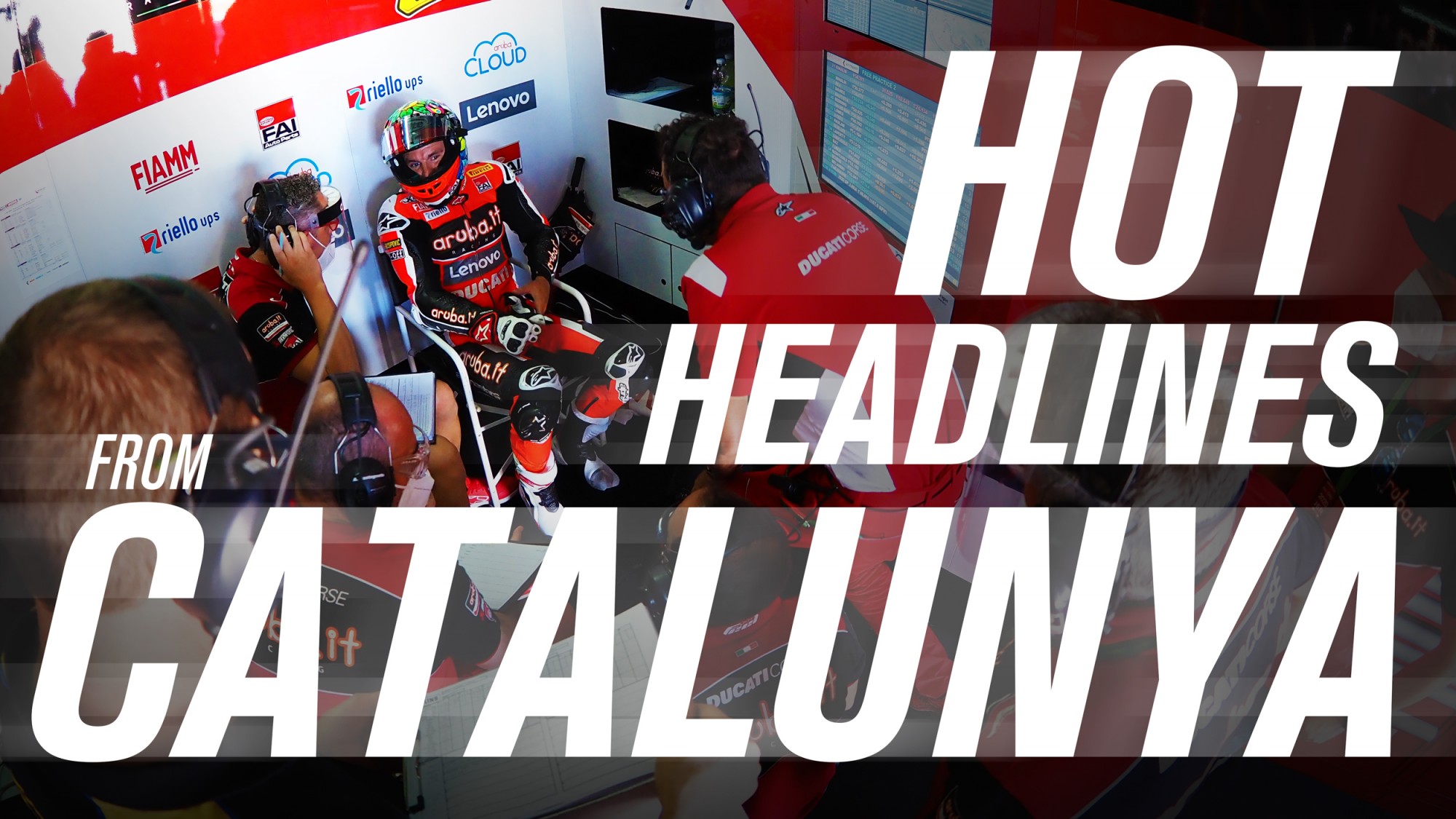 The big news from Catalunya also gives insight into why Tom Sykes' experience has "gotten BMW out the s**t" at various points in 2020
The 2020 MOTUL FIM Superbike World Championship was a firecracker for the inaugural Acerbis Catalunya Round at the Circuit de Barcelona-Catalunya and once again, there's plenty to talk about after the event. However, this is directly from the riders after their media debrief and it's clear to see that despite positive results, it's not all happy days for everyone.
Why are Davies and Ducati divided over fixing solutions to problems?
Chaz Davies' (ARUBA.IT Racing – Ducati) Race 2 win may have put him in the race for second overall but there seems to have been a bit of animosity surrounding Ducati at the moment. Davies 'proved he was right' with an area to work on, plus said how the team have been looking at him for answers: "I think it was a job well done; my crew did a very good job and it was nice to be able to manage the race from the front with that kind of pace.
"It is super satisfying. I prove every time that when I say, 'we need to bring solutions in this area' and then they do that, we achieve better results. It's a slow process and we made another step forward; it's late, but the potential is there. I've been consistent with my comments and I tell them where the problem is, but, sometimes, for the responsibility, they look at me. I look at them for answers and they look back at me."
Talking about the prospects of him joining an Independent team for 2021 or remaining with a factory squad, Davies clarified: "Honestly speaking, I put in the effort to ride for the best team, with the best bike, with the best engineers and the best support and to come here and win races like in Race 2. I don't think that kind of thing is consistently possible in a non-factory team. It's not as interesting for me and I think I deserve better."
Rea praying for new model ZX-10RR
Jonathan Rea's (Kawasaki Racing Team WorldSBK) Race 2 wasn't the best but he continued to extend his lead in the standings. He was asked about whether he feels a new ZX-10RR is needed and he answered, saying: "I'm praying every night for that; it'd be the best Christmas present I could have ever imagined. In the current climate with what we are going through right now in the world, I don't know what's going to happen. I cross my fingers but it's out of my hands and it is a Japanese decision, so let's see."
Redding is raging
Scott Redding (ARUBA.IT Racing – Ducati) was far from happy with his Race 2 performance and when asked what happened, he didn't hold back: "What didn't happen? F**k me. We had a brake issue after two or three laps that got progressively worse, a lot of vibration through the lever and the front wheel which was getting really bad and in the end, when they brought the bike back, they couldn't turn the wheel; I think the disks were twisted because of the amount of temperature inside. So, on top of the bike not really working the best for me, I had a tough afternoon."
On top of his tough afternoon, Redding lost more ground to Jonathan Rea in the title race, something that he was as equally frustrated and angered about: "When Jonny has a bad day, I'm supposed to take the most of that and win, not finish behind him. That hurt me a lot and I tried to battle with him, slow him up and get him into my zone.
"Honestly, I said before the weekend that I need to win all three races and I didn't win any of them. That was my chance, and yes, there're still enough races left, and some things can happen, but I thought I still had one hand on the title before the weekend; finishing this weekend, I don't. It's going to take something odd for me to get it back, but I'll still try, and we can still improve the bike ready for next year as we can still win titles in the future."
Sykes 'being made to look bad on paper' after recent results
After his best result of the year and talking about the BMW S1000 RR's performance ) and whether or not new parts are on their way, Tom Sykes (BMW Motorrad WorldSBK Team), said: "I can only do what the package beneath me allows and when that happens, I don't look quite as stupid on paper. It's been making me look bad recently and it's frustrating."
Sykes then went on to express how his calm nature in the garage has been appreciated during the difficult times of 2020: "In this game, it's a small world and you have to be politically correct. The team know that my experience has gotten them out of the s**t a couple of times. Like at Aragon, we missed a two-day test there and then we had a problem in FP1 and at the end, I got about five laps at the end of the session. However, in those five laps, I was still able to be inside the top five.
Continuing, Sykes said that he wasn't a rider to kick-off physically: "I'm never going to be one of those riders who throws my riding kit around, because you've got to appreciate the equipment you have, nor am I going to smash the garage up because it's unprofessional. This certainly gets noticed and the management appreciates this and at the end of the day, we all want the same target and we'll keep working towards it."
Follow all of the drama and excitement in the final two rounds of the season with the WorldSBK VideoPass!