Champions Hodgson and Guintoli discuss their ups and downs from WorldSBK weekends
Friday, 5 June 2020 09:25 GMT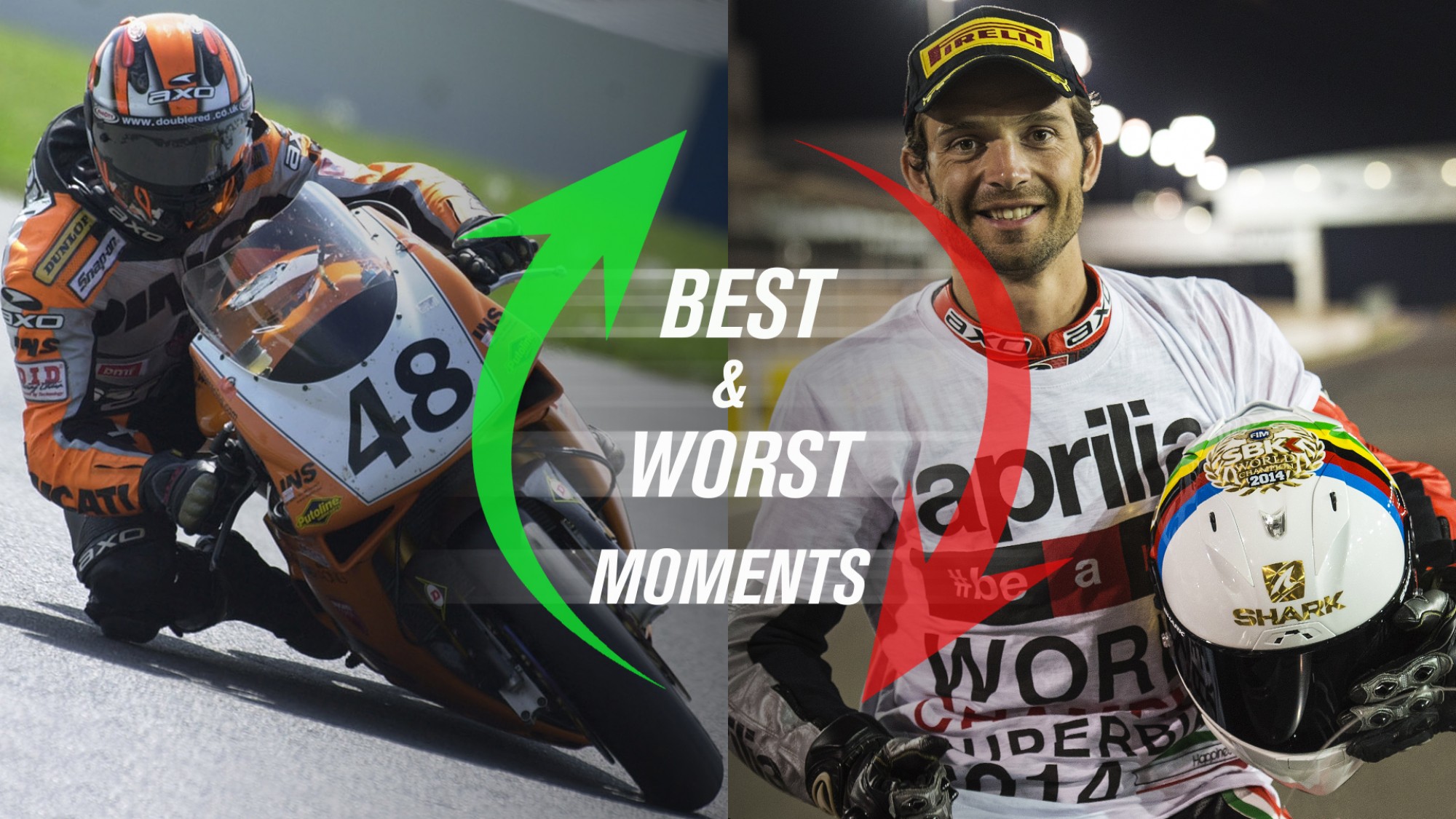 2003 Champion Neil Hodgson and 2014 Champion Sylvain Guintoli discuss their best and worst weekends from their WorldSBK careers
In the latest series of best and worst weekend articles, 2003 Champion Neil Hodgson and 2014 Champion Sylvain Guintoli discuss their best and worst WorldSBK weekends. From winning as a wildcard to securing the title, both riders had ups and downs in MOTUL FIM Superbike World Championship, and they explain in detail their best and worst weekends.
Discussing the best race form his career, Hodgson selected Donington Park from 2000, a weekend where he was a wildcard; finishing third in Race 1 and claiming a stunning victory in Race 2. Hodgson said: "The best race is an easy one for me, I've got a clear standout and that was in 2000. I was racing in British Superbikes and I got the chance to be a wildcard at Donington Park and having raced three previous years in WorldSBK, in 1996-98, it never went according to plan. I had podium finishes but was never close to winning really.
"I turned up as a wildcard, angry, and with a point to prove. I really wanted to show everybody that I was a different man, now with an English team around me and I had a lot more confidence. I finished third in the first race which built a bit of confidence. In the second race, I had a really good battle with another wildcard, Chris Walker and Noriyuki Haga and it looked like we were battling for second. Pierfrancesco Chili was leading but he had chosen a softer rear tyre and it was starting to go off as the race went on. Right by the end, I think his tyre was destroyed, and when I started the last lap, I knew there was a chance to catch him. Luckily for me, he had a big slide halfway around the lap and I was able to capitalise on that to get past him and stay in the lead to win race."
For Hodgson's worst weekend, he selected Hockenheim 1997. He said: "I led most of the race in Hockenheim and I was in a battle with Akira Yanagawa, Carl Fogarty and James Whitham. Near the end of the race, it started to drizzle, a little bit of rain on the visor and Hockenheim is really fast so I started to panic. On the last lap I was leading, cooling into the final section when Fogarty came alongside me, and I made a mistake of letting the brakes off and trying to go around the outside of him.
"I ran on to a little bit of oil left there by James Haydon in the morning warm up when his bike blew up. I hit this bit of oil and the bike went sideways which meant I dropped to second place. Then I went into the next corner way too fast. I panicked and ran off the track. I went from being in the position to win my first ever WorldSBK race and I ended up finishing fifth."
For 2014 Champion Guintoli, his best weekend was from Losail 2014 where he secured the World Championship by winning both Race 1 and Race 2. He said: "The last race, the title at stake and a lot of tension. That weekend was extraordinary because there was this tension, the whole championship was at stake in those two races and I was 12 points behind Tom Sykes.
"Here were all the ingredients to make it a fantastic weekend. It went pretty well. Doing the double, it was my first double in WorldSBK. At that moment, to finish in style, in apotheosis win the title and win the title on the line in the last race. Because there was this tension, when the races took place and I won the races, with the team, with my family too, my wife was there with all the children, so it was really a wonderful moment."
Guintoli's worst weekend was Imola 2016 where he had a big crash. He explained: "The worst race is by far Imola 2016. I crashed during Superpole and it was a massive crash. Physically, I was not feeling well at all. I was unconscious for a while. I remember, when I fell down, I could hear the people taking care of me, but I couldn't feel anything; I could just hear the voices and I couldn't move. It lasted a while, because I started to see in the medical centre again, so almost half an hour.
"I thought I was dying and that was a really horrible feeling. And as I couldn't move at all, I didn't know if I was paralysed or not because it had never happened to me before. Then I woke up and got better, but I still had big injuries and it kept me off the circuit for over two months. I had fractures, displaced sides, vertebrae, sacrum... a broken ankle too. It's true that you have bad weekends when you have a poor performance but when it's crashes where you really get hurt like that, those are the worst weekends."
You can watch more WorldSBK action with the WorldSBK VideoPass!