Will the WorldSSP300 championship be sorted out in France?
Wednesday, 25 September 2019 07:02 GMT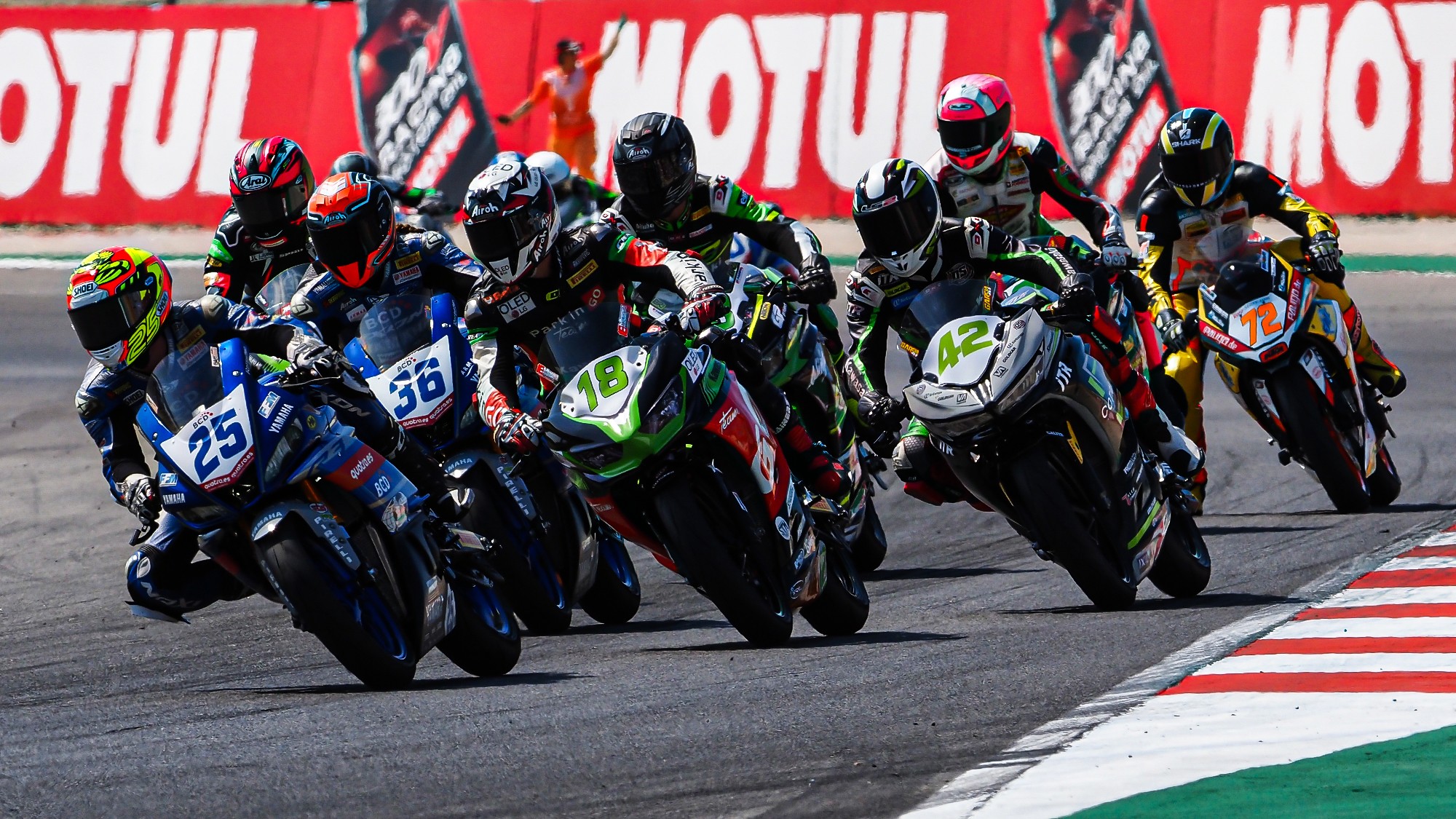 The complex and intricate layout of Magny-Cours assures that the battle really will be on in WorldSSP300 at the Pirelli French Round!
The championship is on the line for World Supersport 300, as three riders go into the Pirelli French Round with the chance of becoming champion. However, only one can win it this weekend: Manuel Gonzalez (Kawasaki ParkinGO Team) has a 38-point advantage over Scott Deroue (Kawasaki MOTOPORT), and needs just a top four finish to secure the crown. However, this is WorldSSP300, where a top four finish is certainly easier said than done…
Manuel Gonzalez has shown that he has plenty of consistency in just his second full season in WorldSSP300. Three wins and two more podiums has seen him build up a 38-point lead over Deroue. A top four finish is all that is required for the Spaniard to take the title if his nearest rival wins, whilst there's plenty of permutations if Deroue is second or lower. Gonzalez took a third on his first visit to the circuit in 2018; can he mount the podium again, and make sure Spain retains WorldSSP300 success?
He may have only taken his first win of the season at Portimao, but Scott Deroue won't go down without a fight in WorldSSP300. The Dutchman has been twice-third in the standings at the end of the season and has been one of the more consistent riders in the class. However, bad luck in 2019 has seen Deroue on the back foot. Pole position at Magny-Cours last year could be his saving grace, although he retired. Deroue must take more than 14 points or more from Gonzalez to take the fight to the floodlights of Losail.
Defending champion Ana Carrasco (Kawasaki Provec WorldSSP300) must win at Magny-Cours and hope that Gonzalez is 14th or lower. She cannot afford to have anything less than a win at Magny-Cours if she is to take the championship down the final round of the season. Just eight points from the opening the opening two races and not taking advantage of Gonzalez and Deroue's Donington Park issues have been pivotal. However, she clinched the championship at Magny-Cours last year, so all is not lost yet.
There's no mathematic chance of Andy Verdoïa (BCD Yamaha MS Racing) winning the championship in 2019, so the Frenchman heads home to race for nothing but pride and glory. His two podiums of 2019 have come in the last three races, showing great improvement throughout the season. He leads the French charge as the field arrives at Magny-Cours, whilst also remaining in the battle for third place with Carrasco. Just 14 points behind Deroue, Verdoïa may even find himself improving to second, should events transpire against his rivals.
13 points behind Verdoïa is 2017 WorldSSP300 champion Marc Garcia, who is leading the battle for fifth position overall. The Jerez Race 1 winner jumped to fifth in the championship at Portimao and now sets his sights on bridging the gap to those ahead of him. On his last appearance at Magny-Cours, Garcia took victory from 11th on the grid, highlighting that anything is possible. One point behind Garcia is Victor Steeman (Freudenberg KTM Junior Team) whilst his teammate, Jan-Ole Jahnig, is just one point further back.
The battle for the remaining positions inside the top ten will likely be sorted out between four riders. Hugo De Cancellis (Team Trasimeno Yamaha) hopes to secure his eighth place with a strong performance at home, having not scored points since Jerez in June. Indonesia's Galang Hendra Pratama (Semakin Di Depan Biblion Motoxracing) is one of just two riders in the top ten to not register a podium in 2019 – the other is Steeman. Hendra Pratama sits in ninth overall and is three points behind De Cancellis. Completing the top ten is Ukraine's Nick Kalinin (Nutec – RT Motorsports by SKM – Kawasaki), who has been strong in the last two races. He is three points further back of Hendra Pratama. Two points behind Kalinin is Donington Park winner, Kevin Sabatucci (Team Trasimeno Yamaha).
Watch all the action across the Pirelli French Round event with the WorldSBK VideoPass!