The unpredictability of Laguna Seca
Thursday, 11 July 2019 18:56 GMT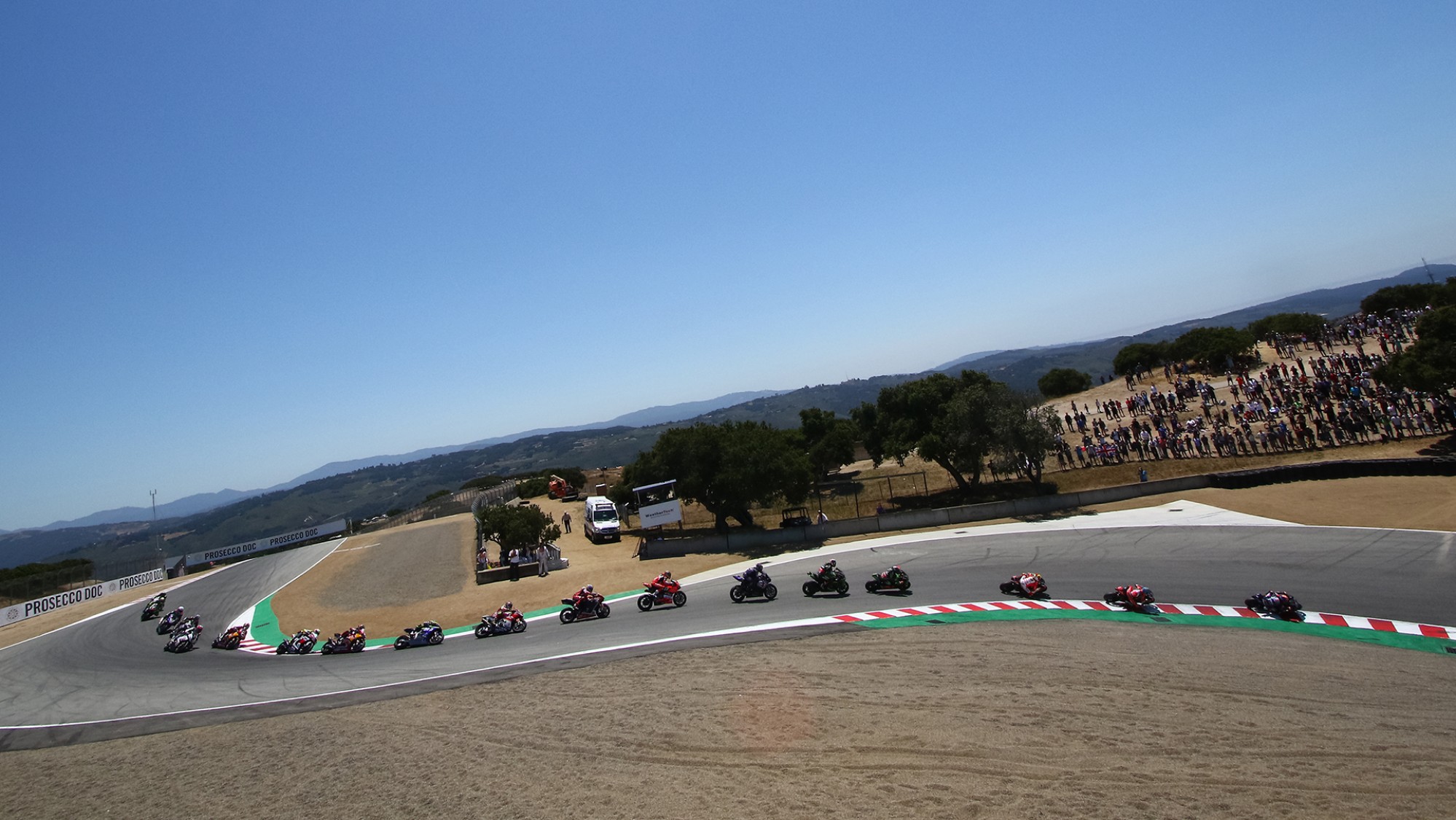 WorldSBK commentator Steve English delves deep into the Laguna Seca circuit, with experience being the key around this historic American venue
California is the motorcycling heartland of the United States. More new bikes are sold in the state than anywhere else in the country and even the outlaw bikers that have dominated American culture over the last 50 years hold their roots in the area. Laguna Seca is one of the most famous and beloved race tracks in the nation and this weekend, it hosts the final round of the 2019 WorldSBK season before the Summer break.
The undulating circuit has a bit of everything and is as true a test of man and machine around. An experienced racer here can make up for a lot of failings with the bike and while a great bike can mask a rider's inexperience, it can't overcome it. There are nuances to the track. You need to know where to place the bike because with blind crests, off camber turns and a slick track, this is a 3.6km ribbon of asphalt around a lake. It's absolutely fantastic.
Racing has been a key to local life for over 75 years but initially the Laguna Seca circuit was only built because the local racers demanded a safer alternative than the Pebble Beach Road Races. Purchasing land from the US Army this circuit instantly became one of the biggest battlefields of racing and from when WorldSBK first came to the Californian coastal venue in 1995, it has become a firm favourite. Once again, this weekend the threat will come from the Japanese with Kawasaki having momentum on their side.
Following Jonathan Rea's (Kawasaki Racing Team WorldSBK) triple treat at Donington Park, the four times WorldSBK Champion will head for the hills around Salinas County with confidence. He's won the last three races at the track and will certainly feel that he has a chance of extending that run. With a 24-point advantage, Rea won't be thinking about defending that lead but rather wanting to extend it.
In motorcycle racing, you're either attacking or defending and Rea only knows one way to attack and that's to go for the jugular. We've seen an uncompromising Rea in recent rounds because he knows that he is under pressure to perform. Any slip up could be heavily punished by his title rival, Alvaro Bautista (ARUBA.IT Racing – Ducati).
Thus far in 2019, Rea has made some mistakes but very few that have cost him more than a handful of points. His rival on the other hand has made lots of mistakes in comparison, consequently costing him heavily. Suddenly, Bautista has 14 wins to his name but is the man doing the chasing. How he deals with this reversal of fortunes remains to be seen but his form this weekend will be heavily scrutinised.
The Ducati star needs to stop the bleeding. He has some experience of Laguna Seca from his MotoGP career but it's been six years since he last raced here. With so many flat and off-camber corners, this isn't an easy track at the best of times and if you're struggling to get the right feeling from your bike this can be almost impossible. Everyone knows what the Ducati can do when Bautista feels good with it but now, he's under pressure to recapture the feeling he had at the start of the campaign. If he can do that, he stands a chance this weekend but Rea will start the weekend as the favourite to extend his title advantage.
Watch WorldSBK action unfold at the dramatic WeatherTech Raceway Laguna Seca with the WorldSBK VideoPass!