The relief of winning
Wednesday, 15 May 2019 14:38 GMT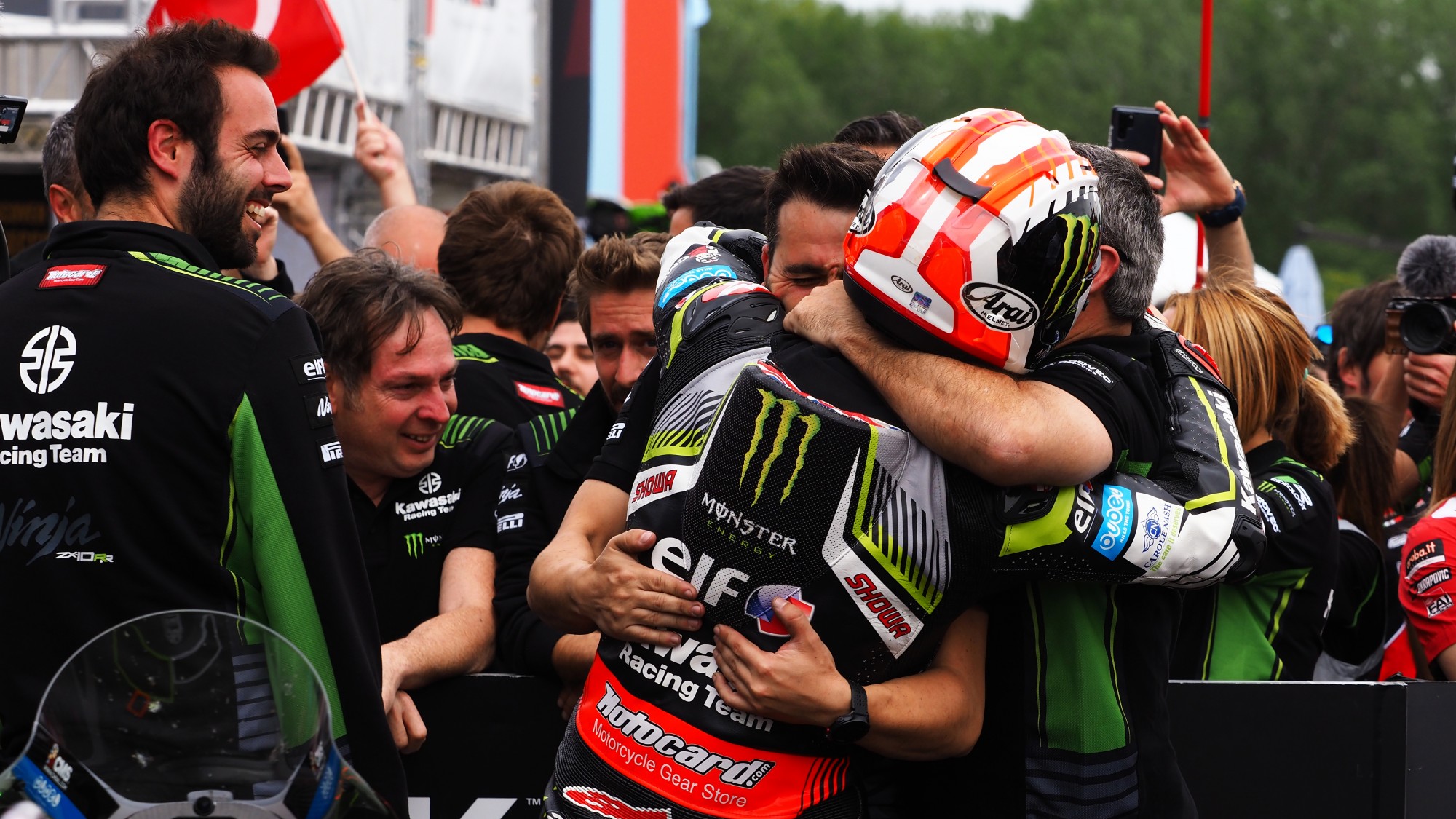 Jonathan Rea got back to winning ways at Imola and afterwards the four-time WorldSBK champion talked with WorldSBK commentator Steve English about his relief at getting back on top
After a win you see a true reflection. The mask is down, and a rider is raw. You'll see the celebrations in Parc Fermé and on the podium, but typically by the time those festivities are finished riders are back on point. They're thinking of the next race. They're thinking of the next round. They're thinking about their next opportunity to keep winning.
Jonathan Rea has grown accustomed to winning. Over his title-winning years he's rewritten the history books. Finishing second to Alvaro Bautista has been gnawing away at his psyche. Even worse was beaten to the flag by Michael van der Mark in Assen. Rea came to Imola with a point to prove. It wasn't to Bautista or the rest of the grid though – it was with himself.
It's hard to find the motivation to keep winning. You need a foil. You need someone else to step up to the plate. Bautista and Ducati have done that this year. They've been able to develop a very strong package and get the most from it. Winning 11 in a row showed how good a job they've done and for Rea Imola was a clear landmark of the WorldSBK calendar.
"I went to Italy with a different mentality to the start of the season," said the Northern Irishman. "Being beaten in Australia was tough. It was bad in Phillip Island, but we talked about the Phillip Island effect but when we went to Thailand and Aragon it wasn't any better. We were straight-up beaten by Ducati and Bautista.
"In Assen we started make some inroads with the bike and the gap but Imola wasn't just a win, it was a great weekend. We were strong from FP1 and all the way through. It was so nice to have a weekend like that and I've tried to enjoy the moment from that weekend. I don't want to get swept away and think we can win every weekend because it'll be hard to do that. We need to do the best we can every week.
"I went out to Italy and before the event I talked about trying to change the momentum of the championship. I know how important momentum can be. I wanted to win because when you keep winning you keep picking up five points...they all add up. It was nice not to lose points and it was definitely the time to do it. It was important for us to prove to Alvaro that we're there. Chaz having a good weekend too was a positive. He's turned a corner and his Superpole lap was really strong."
Whether or not Imola marks a momentum shift remains to be seen. For Rea moments after the race also marked the relief that comes with getting back on top. That's a relief that will be shared by his team. With crew chief Pere Riba alongside him on the podium it was clear how important this race victory was. In the past the Kawasaki squad has had a huge array of team personnel on the podium for the presentation of the team trophy. To have Riba, an integral member of the team, on the rostrum was a sign that this win wasn't like many others. It was a win where Kawasaki clearly felt they were under pressure. They felt that after Bautista's success their backs were against the wall.
They will also feel that with a feature race on Sunday that they could have closed the gap even more. Admitting that the right decision had been made, it was clear though that Rea was disappointed not to have another bite at the cherry. With Davies back on form Rea certainly felt that there was blood in the water and points to be had. Ultimately no-one can argue with the decision to cancel Race 2 on safety grounds. With some riders saying they were aquaplaning through fast corners it was clear that the rain and track conditions were, unfortunately, not suitable for racing.
For Rea and Kawasaki there's no resting on their laurels. All that's happened is that they've halted the Bautista juggernaut. There's still a lot of racing left and a lot of work to do.
That work won't start at Jerez on June 8 though, it'll start in Misano with a two-day test next week. The majority of the WorldSBK grid will be there and they'll have lots of upgrades to check. Track conditions will be hot and that will help teams fine-tune their bikes for the Spanish summer when racing resumes.
"We'll go to Jerez but even though our testing has been good there in the winter we'll know it'll be tough. The conditions in the winter are ideal. The track temperature is perfect. It won't be similar conditions in the next round. The temperature will be high and the key to winning in Jerez will be managing the tyre life. It'll get very hot at that race so as the temperature increases you need to find a setting that still allows you to be fast. Alvaro has been really strong at this, but we'll see what we can do. We're testing at Misano before Jerez and we've a lot to try and work through."
The joy of winning? It quickly gets replaced by the relief at achieving what you set out to do. That then changes into a question: how can I keep winning?