Manuel González becomes the youngest champion in World Championship history
Sunday, 29 September 2019 14:00 GMT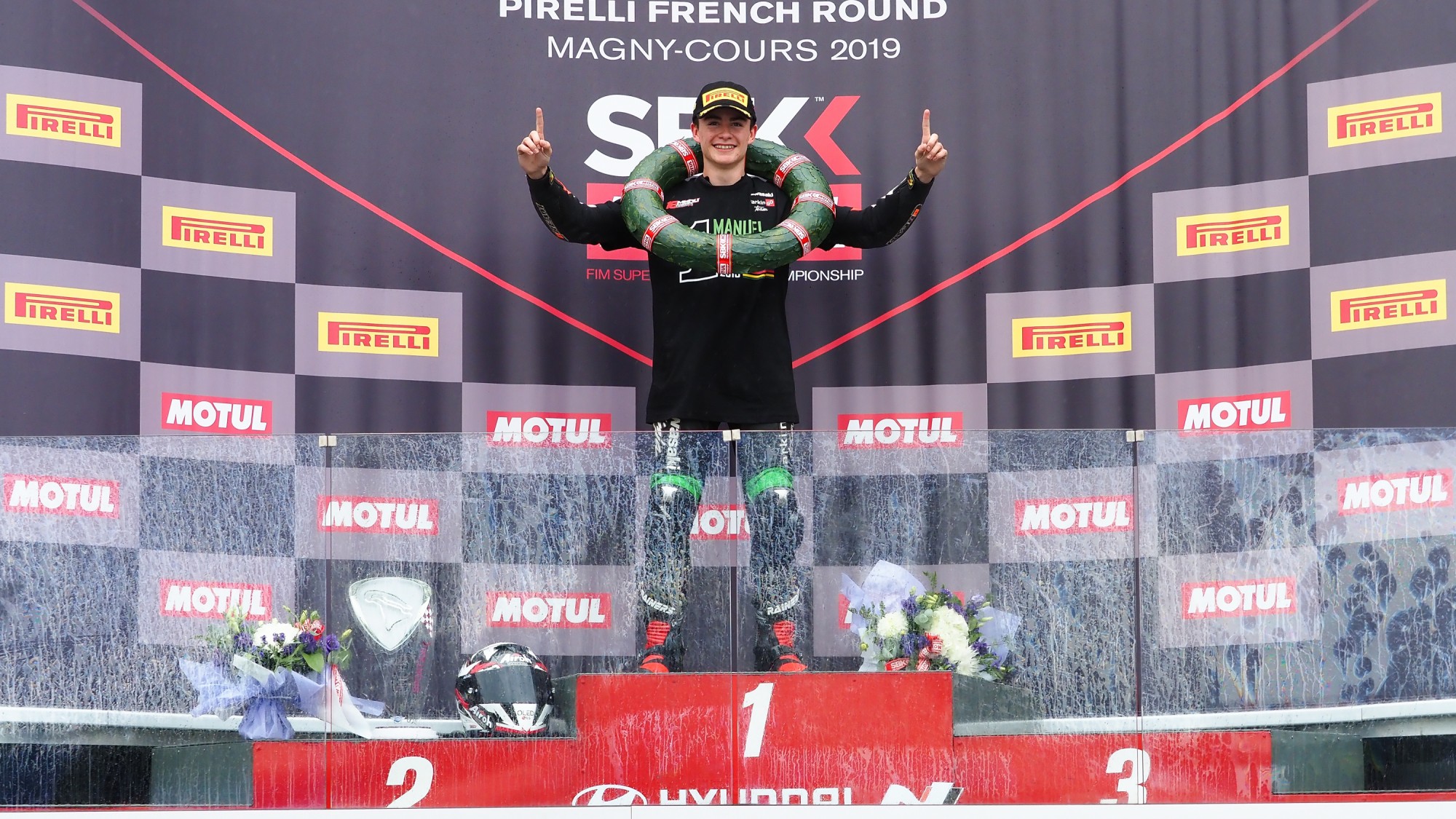 The Spaniard has toppled nearly every record in WorldSSP300 on his way to the title
Where were you at the age of seventeen? For most of us, the honest answer would not be 'basking in the glory of being a World Champion'. Yet every so often a new, brazen and mind-bogglingly youthful face turns around and chucks all established rules and certainties out of the window, rampaging through record after record on course to their precocious crowning moment.
For Manuel González (Kawasaki ParkinGO Team), a day like this Sunday at the Pirelli French Round had been foreseen for quite some time, even before landing in the WorldSBK paddock less than two years ago. The same year that the World Supersport 300 Championship was created, he was making waves in another newly created championship, the European Talent Cup, becoming its first champion.
That same year, González debuted as a wildcard in WorldSSP300 at Jerez. By doing so, he missed out on becoming the youngest rider to participate in the series inaugural season by a single day (15y02m18d, to Nicola Bernabé's 15y02m17d). It would be one of the sole milestones not to bear González's name.
First, he became the youngest rider to make it onto the WorldSSP300 podium, four weeks shy of his 16th birthday. Then, he became the first sixteen-year-old to take pole, this year at MotorLand Aragon. One day later, González was officially both the series youngest race winner and championship leader.
But the big one was yet to come, as the crowning achievement of his WorldSSP300 career was waiting at Magny-Cours. The icing on the cake is in the record books: no rider has ever become a World Champion in road racing motorcycle competition at such a young age. Not in WorldSBK, not in MotoGP™. A month after his 17th birthday, González has beaten them all. Who is next on the list? One Marc Márquez in 125cc, at the age of 17 years, 8 months and 21 days.
A career half as good as his Catalan counterpart would be a brilliant return for González's efforts, but where do his next steps lie – and where can he continue tearing up the record books? Perhaps it could be a pursuit of a second WorldSSP300 crown? Or could it be a venture one class up, into World Supersport? If the teenager chooses the latter, he'll have plenty time to continue breaking records: the youngest WorldSSP champion was Chris Vermeulen at the age of 21 – four years his senior.
Congratulate González via social media with the #GASChamp hashtag, and relive the best moments from his scintillating season with WorldSBK VideoPass!