Jerez Schedule: When to follow the action in Spain
Tuesday, 4 June 2019 12:03 GMT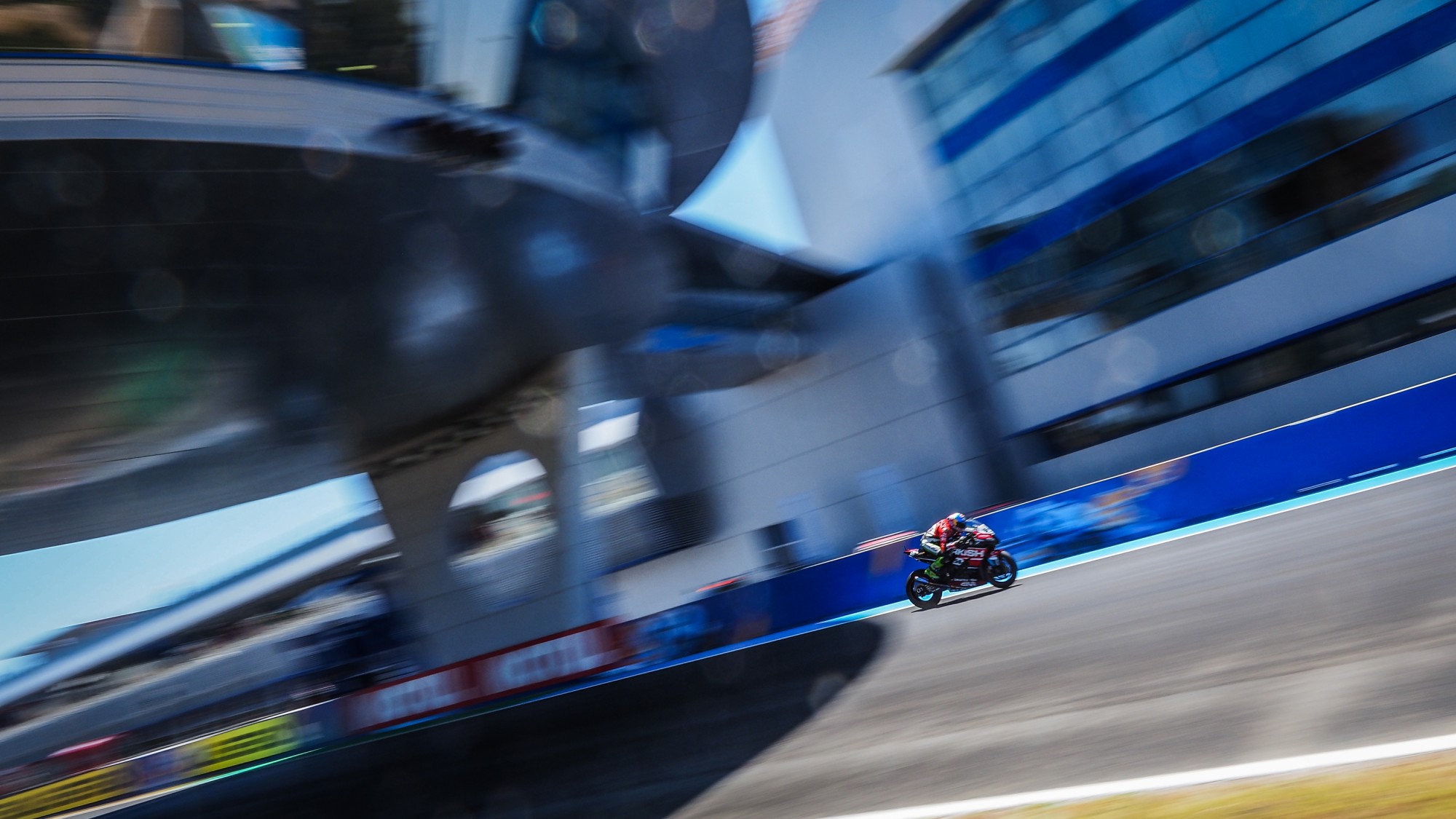 WorldSBK heads full speed into Round Six, the fourth on European soil
The MOTUL FIM Superbike World Championship sets sail for Spain and the acclaimed Circuito de Jerez – Ángel Nieto, a classic and beloved circuit for every fan of two-wheel racing. The 2019 season will reach its halfway point at the 4.4km track and the fights are already flaring up across all three categories. Expect tight, unpredictable, and all-around unmissable action from Friday 7th June to Sunday 9th.
Here's the timetable, starting from Day One. The WorldSSP300 youngsters will kick off one of the most challenging weekends of their short careers with Free Practice 1 at 09:00 local time (GMT+2) for Group A. Their WorldSBK big brothers will take to the track at 10:30 for the first 50-minute session of the weekend (which as a reminder, can be watched live FREE on WorldSBK.com), with FP2 scheduled for 15:00, before WorldSSP closes the day's action at 16:00 with their own FP2.
Fast forward to Saturday: after the morning Free Practice sessions, we jump straight into the WorldSBK Tissot Superpole at 11:00, with Race 1 on course for 14:00. WorldSSP qualifying will take place in between, at 11:40, while it's a full day for WorldSSP300: Superpole at 12:20, the Last Chance Race at 15:15, and finally, for the first time on a Saturday, Race 1 at 17:00.
Everyone will go out with all guns blazing on Sunday morning: it's the Tissot Superpole Race at 11:00. The sixth race of the WorldSSP championship will kick off straight after at 12:15, before WorldSBK is back on track at 14:00 for Race 2. WorldSSP300 will close off proceedings with Race 2 at 15:15, the second main race of the feeder series' weekend.
Don't miss a single race from the Acerbis Spanish Round, LIVE or OnDemand, with WorldSBK VideoPass.
Full Schedule (all times local time, GMT+2):
Friday 7th
09:00 – 09:30 WorldSSP300 FP1A
09:45 – 10:15 WorldSSP300 FP1B
10:30 – 11:20 WorldSBK FP1
11:30 – 12:15 WorldSSP FP1
13:30 – 14:00 WorldSSP300 FP2A
14:15 – 14:45 WorldSSP300 FP2B
15:00 – 15:50 WorldSBK FP2
16:00 – 16:45 WorldSSP FP2
Saturday 8th
09:00 – 09:20 WorldSBK FP3
09:30 – 09:50 WorldSSP FP3
10:00 – 10:15 WorldSSP300 FP3A
10:25 – 10:40 WorldSSP300 FP3B
11:00 – 11:25 WorldSBK Tissot Superpole
11:40 – 12:05 WorldSSP Tissot Superpole
12:20 – 12:40 WorldSSP300 Tissot Superpole A
12:50 – 13:10 WorldSSP300 Tissot Superpole B
14:00 WorldSBK Race 1
15:15 WorldSSP300 Last Chance Race
17:00 WorldSSP300 Race 1
Sunday 9th
09:00 – 09:15 WorldSBK Warm-Up
09:25 – 09:40 WorldSSP Warm-Up
09:50 – 10:05 WorldSSP300 Warm Up
11:00 WorldSBK Tissot Superpole Race
12:15 WorldSSP Race
14:00 WorldSBK Race 2
15:15 WorldSSP300 Race