In the shadows of gladiators WorldSBK goes to work at Imola
Wednesday, 8 May 2019 14:40 GMT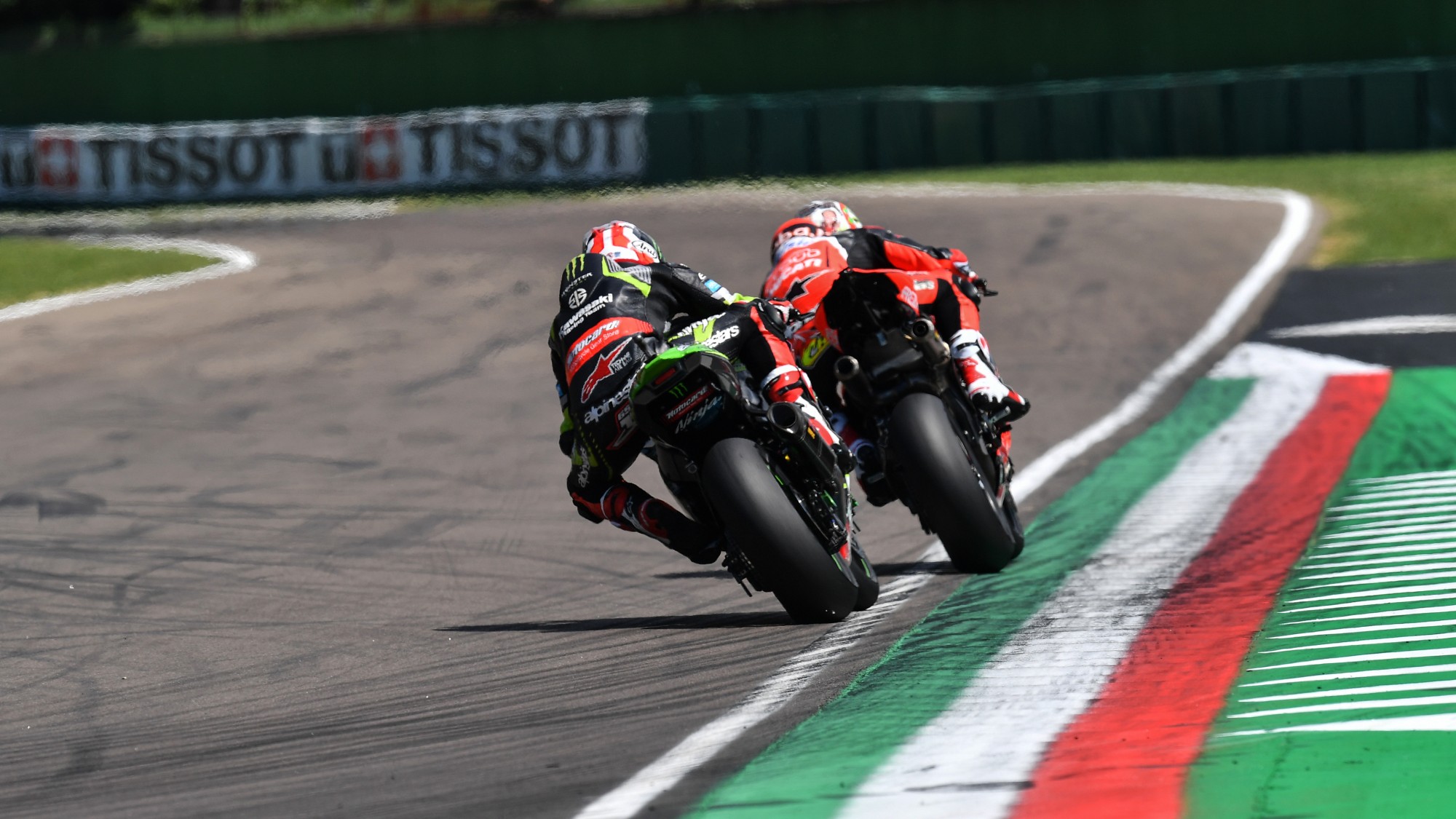 Racing at Imola goes back 2000 years and it's always been a test of your mettle, explains WorldSBK commentator Steve English
No circuit on the WorldSBK calendar has more history than Imola. The Italian track has been holding racing, of one form or another, since the Roman Empire and it's still delivering thrills and spills to the masses. Imola is about contrasts. It's heaven and hell. It's beautiful and terrifying. It's risk versus reward. It's a test like no other.
It's always been thus. Designed by the contours of a small valley by the river the circuit is hemmed in on one side by the Santerno river and natural boundaries on the other. In the 1950s when locals developed the circuit it was originally named after the river, but it would later be renamed after Enzo Ferrari's son. The Ducati factory in Bologna might be closer to Imola but it has been Enzo Ferrari's shadow that has always hung over the region. This would only be made even clearer when the circuit was named after him following his death.
Ferrari's cars were the first vehicles to be tested at Imola and after his son died from leukemia the circuit was renamed the Autodromo Dino Ferrari in his honour. Unfortunately for Imola it wasn't to be only time that tragedy has touched the track.
A tale at every turn

Steeped in history, packed with emotion and ready to make more history: Imola awaits the sound of #WorldSBK!

#ITAWorldSBK pic.twitter.com/BRldArjVhO

— WorldSBK (@WorldSBK) May 6, 2019
That track though is unlike anything else. Running with a river to one side and a parkland to the other it is a ribbon of risk. The track winds its way through the town of Imola with churches and houses lining the circuit boundaries. Imola is a natural amphitheatre and it has been able to provide plenty of theatre over the years. The most famous race weekend in WorldSBK history took place at Imola when Colin Edwards and Troy Bayliss went head to head for the 2002 title - 'The Showdown at Imola'. That was the second visit of WorldSBK to the track after its run as a MotoGP circuit came to an end in 1999. It's been almost ever present on the WorldSBK calendar since then. The Superbike race is the biggest race weekend of the year for the circuit. The Ducati fans and a narrow paddock make it one of the most atmospheric rounds of the year. It's an old school track, as you'd expect for one that has been in operation for almost 70 years, and while some new circuits are clinical Imola is unashamedly just itself.
The first racing hosted at Imola were chariot races and not a lot has changed since then. Imola is a test of bravery and intelligence. Filled with undulations, it's a very technical circuit to learn and understand. There are few circuits that offer as great a challenge for riders. There are blind corners over crests, there are heavy braking zones and there is risk and reward element to every section.
Imola is about contrasts and while it is the most breathtaking circuits on the calendar it's also been one of the most heart-breaking circuits anywhere in the world. What Imola gives with one hand it takes away with the other.
That's why it was so important for Alvaro Bautista to test at Imola before this weekend's race. It's such a difficult circuit to learn that arriving without having tested would have been a real challenge. As it is, he'll now know exactly what to expect when he rolls down pitlane on Friday morning. The Spaniard is unbeaten in 2019 and will expect to maintain that form at Round 5.
11 out of 11 for @19Bautista!@mickeyvdmark finishes 2nd after a crossing the finish line so close to @jonathanrea #NLDWorldSBKpic.twitter.com/j3w50ZGOwZ

— WorldSBK (@WorldSBK) April 14, 2019
His teammate Chaz Davies has won four in a row at Imola in the past and has said: "Racing in Imola for Ducati is special. When you turn up there you feel like a rock star, because there's a lot of people and they love Ducati. They appreciate what I've done over the years and you can feel how much the Italians love Ducati, and also, I can feel how much they love what I've done for them.
"Imola is different to Misano, it's only at Imola that I really feel that buzz. I've been lucky to have good results there in the past and after winning in Italy in front of the Ducati factory and the fans, I pinch myself because it means so much. The pressures on and when you're able to come out the other side with a double win, it's very special."
What Davies wouldn't give for a repeat of that this weekend.