In conversation: The best quotes from Imola!
Tuesday, 14 May 2019 10:08 GMT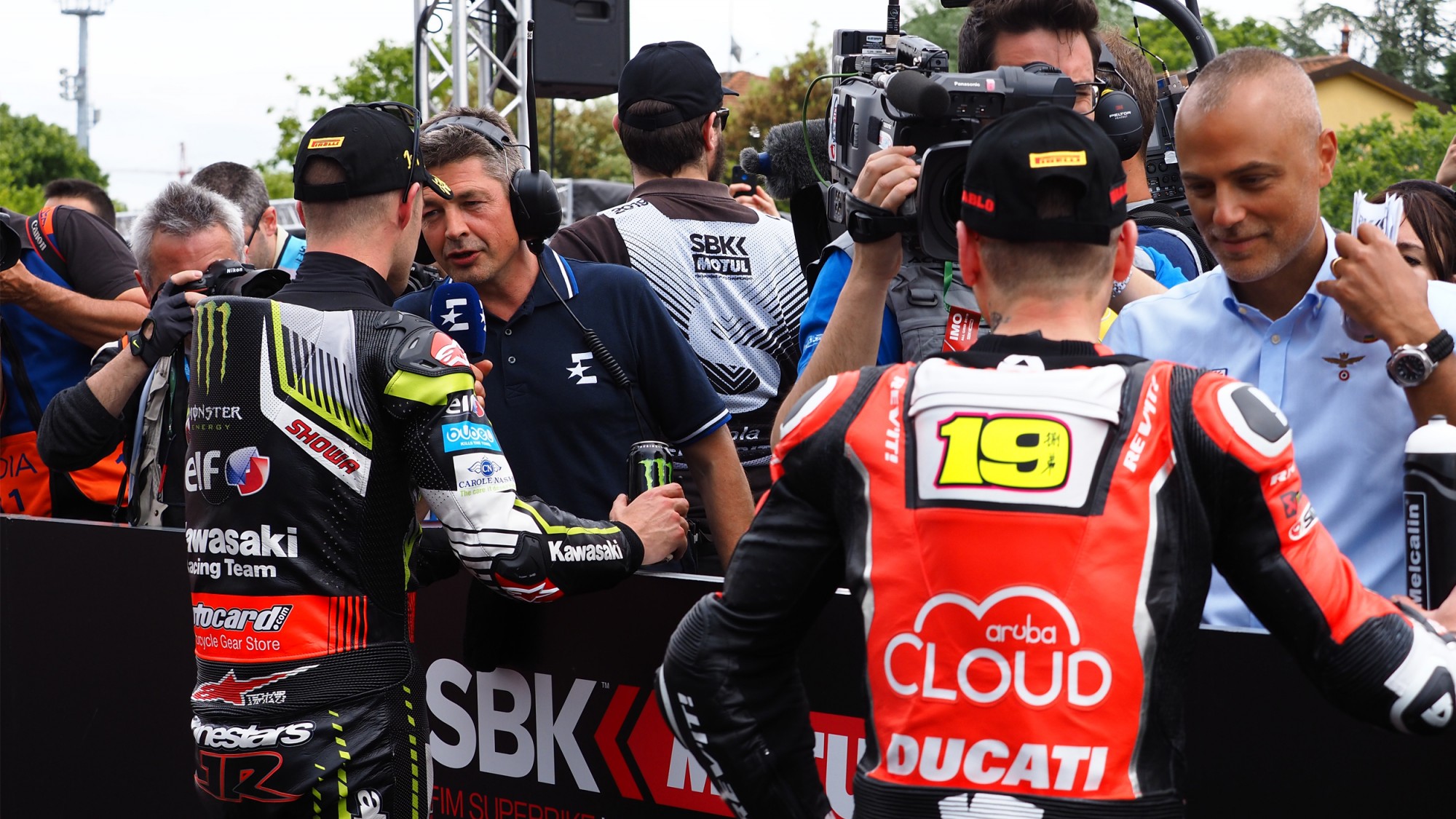 From riders making the difference to motherhood and going running in Race 1, the weekends top quotes are here!
"Kawasaki is still strong" – Alvaro Bautista (ARUBA.IT Racing – Ducati)
Alvaro Bautista's dominant streak ended in Imola, with the WorldSBK championship leader having to settle for a second and a third, whilst main rival Jonathan Rea went on to victory. The Spaniard did however mention that Kawasaki are still strong and despite vanquishing them in the first four rounds, the manufacturer can still run at the front with a gap.
"I won at Imola because the rider makes the difference" – Jonathan Rea (Kawasaki Racing Team WorldSBK)
Achieving eighth and ninth wins at Imola, Jonathan Rea put in two more dazzling performances at the legendary Italian venue. The reigning four-time champion said that at Imola, it was more about the rider's input and not all about how well a bike performs. It was a fine performance from Rea, who was on lap record pace in the Tissot Superpole Race as he held on ahead of rival Chaz Davies. But taking points away from Bautista means Rea's comeback starts now.
The King wins his first Tissot Superpole Race

Faultless perfomance for @jonathanrea #ITAWorldSBK pic.twitter.com/XghDMqdZTt

— WorldSBK (@WorldSBK) May 12, 2019
"Light at the end of the tunnel" – Chaz Davies (ARUBA.IT Racing – Ducati)
Despite a technical problem in Race 1, Chaz Davies looks back to his usual self after a strong Pirelli Italian Round weekend. A second place in the Tissot Superpole Race and a pole position mean that Chaz Davies is back as a front runner. However, the biggest achievement for the Welshman was that he was able to beat his teammate, Alvaro Bautista, who, until Imola, had been a dominant force in WorldSBK. Now, the championship moves on to Jerez, a circuit where Davies has won at three times. Will he add to his tally?
The GAME IS ON! @chazdavies7 takes Superpole ahead of @jonathanrea and @19Bautista !#ITAWorldSBK pic.twitter.com/vYwDSua2YT

— WorldSBK (@WorldSBK) May 11, 2019
"I watched Race 1 while running… And I'm excited to say it's the last time it will happen!"
Forever a voice of calm and reason, Loris Baz's popular return is just around the corner. The Frenchman will be coming back for the Acerbis Spanish Round at Jerez and is glad to report that it is the last time he will need to watch WorldSBK whilst going running! The next time Race 1 happens, Loris Baz will be in it. No need to watch, just the need to participate!
Watched race one while running! ( and yes excited to say it's the last time it will happen!)
Gutted for @chazdavies7 tho! Good luck tomorrow guys!

— Loris baz (@lorisbaz) May 11, 2019
"Eugene goes to some lengths to test if I'm ready for motherhood" – Pippa Laverty
Not a rider, but the surname may suggest a strong association to the battered and bruised Eugene Laverty (Team Goeleven), who suffered a huge accident on his Ducati Panigale V4 R. The Irishman's wife said on Twitter that she is being prepped for motherhood with Eugene needing to be fed, dressed and some other baby-related activities…
Eugene goes to some lengths to test if I'm ready for motherhood with
Feeding
Dressing him
How I cope with sleep deprivation
Wiping bums

Think I'll party for another year or 2 yet as it's not as fun as my Mum friends make it out to be

— Pippa Laverty (@PippaLaverty) May 13, 2019
Be sure not to miss any of the action from the Acerbis Spanish Round with the WorldSBK VideoPass!