Fit again Laverty ready to fight at the front
Tuesday, 3 September 2019 14:01 GMT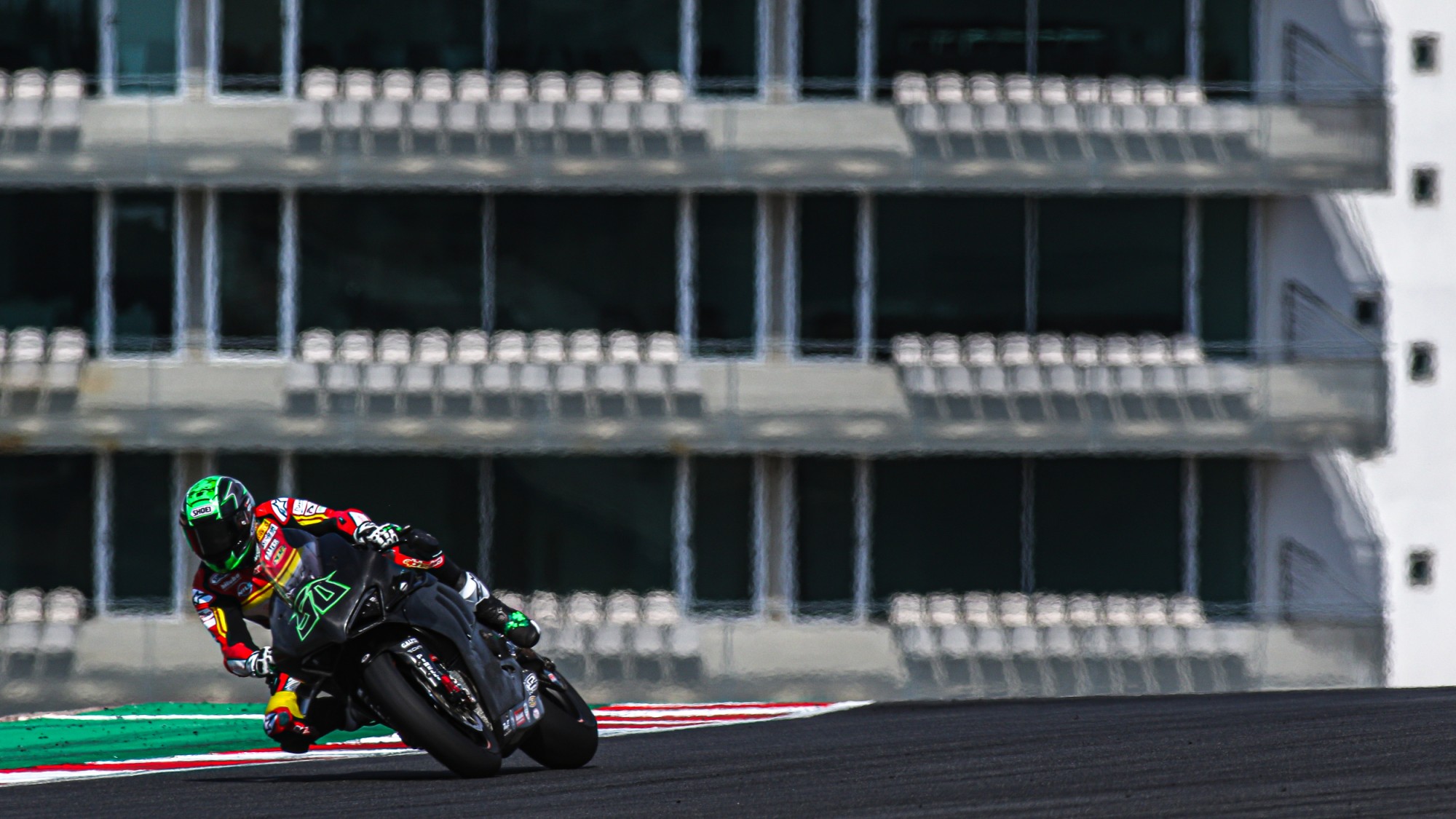 With his future secured after a turbulent season, Eugene Laverty is now focused on returning to form. WorldSBK commentator Steve English marks the Irishman as a rider to watch!
The summer break may be over, but don't think for a moment that the stars of WorldSBK have been sat on a beach topping up their tans. They've been working hard to get ready for the final four rounds of the year, and none more so than Eugene Laverty. The Irishman has been back at the centre of attention in recent weeks, with the confirmation that he'll move to the BMW Motorrad WorldSBK Team for 2020.
The 33-year-old is keen to put the injuries behind him and get back to fighting at the front of the field. As a 13-time race winner, Laverty is used to starting race weekends as a candidate for fighting at the front. That's not been the case in recent years, but with his future secured and a weight lifted from his shoulders, he can now concentrate on getting the most from himself and his Goeleven Ducati.
"To have my contract signed for next year is a big relief compared to this time last year," admitted Laverty. "At that point everything was up in the air until November and that was too late. For me to be signed up in August takes a lot of pressure off me. It's always a negative pressure on a rider when you're fighting for a job so now, I can just focus on these last four rounds and trying to fight for podiums like we did before I was injured. I want to enjoy these races."
Those injuries stem from a nasty highside at Imola, where Laverty had gone to with the confidence that came from scrapping for a podium at Aragon. Since then it's been a cycle of injury rehabilitation stemming from multiple fractures in both wrists. Now with Portimao on the horizon, the 2013 runner-up can look forward to a track with which he has lots of fond memories including wins in the Superbike and Supersport classes.
"Portimao is my favourite track in the world. It's something unique! I've done so many laps around this place over the years that I know this place like the back of my hand. At some tracks, you need the bike to work in a certain way to be fast because the rider is limited in what they can do but this place is the opposite! It's so up and down that you can sit forwards, backwards and ride around the bike around to find a big chunk of time here. The rider makes the difference at Portimao.
"I remember in 2009, a lot of people had written me off, but we went to the final round of the season in Portimao with a chance of the title. It was a fairy tale to win that race and it's one of my best ever memories. You always look back with rose-tinted glasses to those memories, but I went from two of the worst years of my career [in 250GP] to two of my best in World Supersport."
With WorldSBK having had an official test at Portimao, the teams should have a solid baseline with which to start the weekend. This was even more important for Laverty given the time he's missed throughout the season. Having stayed on in Portugal after the test to train in the summer heat, he's feeling very confident ahead of this weekend's action.
"We tested in Portimao last week and it was very beneficial for us. That test, and being able to return to race at Laguna Seca, were important for us. At Laguna, I was able to test a rear linkage which gave us more grip and it allowed us to start the Portimao test from where we left off in Laguna. Even though we were a bit slow initially, we made progress during the test to change the bike and make the rear tyre work.
"Portimao is good track for the Ducati because it's up and down and quite physical, but with the Ducati and it's linear engine, and the wings, it makes the bike easier to ride than some of the other bikes. I finished as the top Ducati, but I think that the factory boys have a bit left up their sleeve for the race weekend. We'll need to find a bit to fight for the podium but that's my goal. It'd be a dream come true for me because I've had a close relationship with the circuit, and they've looked after me really well over my career - I'd love to reward them with a podium."
A podium would be Laverty's first in over a year, but don't rule it out at a circuit with which he has a special affinity.
Watch the WorldSBK weekend unfold at Portimao with the WorldSBK VideoPass!