Belief is the bedrock of Rea's success…
Wednesday, 2 October 2019 10:21 GMT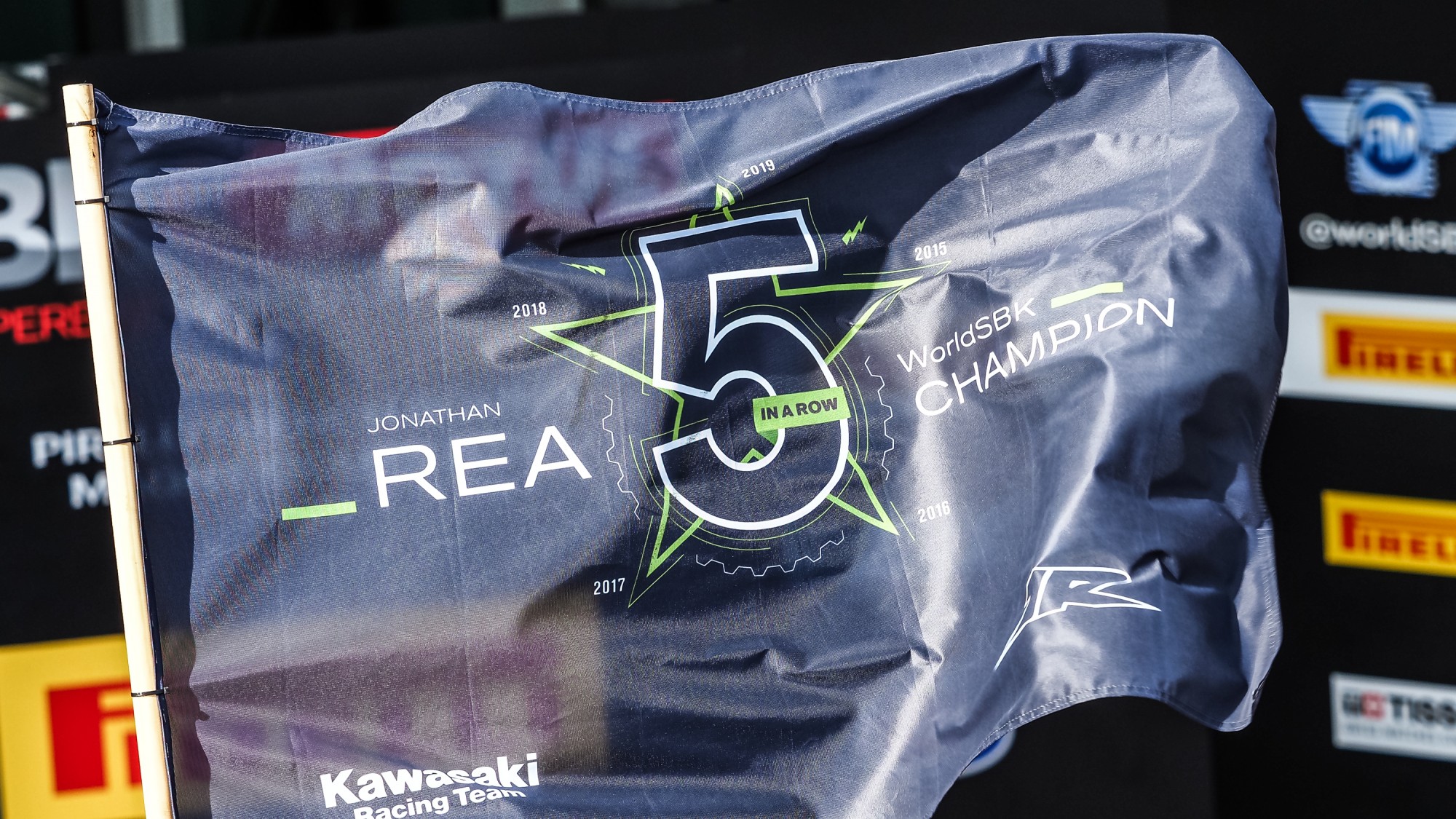 Success can be fleeting but not if you're Jonathan Rea and Kawasaki, who became the first ever five-time WorldSBK champion. Commentator Steve English assesses Rea's campaign
Dream. Believe. Achieve. This has been Jonathan Rea's mantra in recent years. Holding on to that belief was tough this year for the newly crowned five-time WorldSBK champion. Instead the turnaround in his campaign can be summed up as impossible, improbable, inevitable.
Eleven wins in a row to begin the campaign didn't put Alvaro Bautista (ARUBA.IT Racing – Ducati) in the driving seat; it gave him one hand on the title. Injuries and bad luck would be the only thing that could stop the Spaniard sweeping his way to title success...or so we thought.
From round five at Imola, onwards momentum somehow shifted to Rea. It wasn't from having a better bike or having changes made to the Ducati's RPM limit that turned the season in Kawasaki's favour. Rather it was Bautista making mistakes. It was Bautista throwing away points. This was a title lost just as much as it was a title won.
Rea has ridden unbelievably well all year; his greatest season of a fantastic career. The Northern Irishman made two mistakes this season – clashing with Alex Lowes at Jerez and crashing in the Misano Superpole race – they are the only blots on his copybook. They led to the only non-podium finishes of his season with a back of the grid penalty at Jerez, ensuring a fourth-place finish in the next race. Other than that, Rea has been peerless. He's also been fortunate.
Fortune favours the brave but you'd have been a brave man to bet on the series of mistakes that Bautista made to move from title favourite to unwanted at Ducati. The last week has seen a war of words open between the Italian manufacturer and their lead rider. From a 61-point lead to the title race being run with six races remaining was clearly as unfathomable for Ducati as it was for everyone else.
Bautista's collapse has been reminiscent to some of the biggest in sporting history. Greg Norman's final round of the 1996 Masters, Liverpool's comeback in Istanbul against A.C. Milan or Newcastle losing the Premier League title from a commanding lead. These are talked about year after year and so will Bautista's. It will also be talked about because it's uncertain if he'll get another chance of winning the title. The disappointment from this year could be felt for a long time for the Spaniard.
Rea won't shed much sympathy because this was a title that was won just as much as it was a title lost. In mid-season Pere Riba, crew chief to Rea, said "you watch, Jonny will win this title. He is a better rider and he has the best mentality in this paddock. All he wants to do is win." Riba was right about his rider and that belief shone through all season. In moments of doubt Rea only had to look to his right to find his biggest backer and his biggest believer.
Belief that they would find a way to still win. Belief that they would find a way to overcome the Ducati's advantages. Belief that their experience would win out and give them an advantage. Belief that somehow the title could be won.
As the summer progressed from June to July and the summer break, it took one last round for Bautista to go from being a contender to being on the ropes. That came at Laguna Seca where a non-scoring weekend left him in a hole that he couldn't climb out of. Rea was relentless in America. He continuously applied pressure on Bautista and his rival made mistakes. In a pre-race interview, Rea talked about winning races and applying pressure. The Ducati rider smiled and talked about being happy to be a contender.
Ultimately, that pressure made the difference and Rea became the first five-time WorldSBK champion. His feat this year was the best yet because of what he had to endure and overcome. At the start of the season he didn't know what to say or do. He tried being magnanimous at times but at others the frustration clearly became too much. He tried to talk positively but had plenty of doubts. He didn't overcome those doubts until Donington Park where Bautista's crash in the rain finally gave Rea the conviction that he had a chance.
Leading the title race for the first time gave him belief but going to Laguna Seca gave him confidence. After that weekend the title coronation seemed to be on countdown. That countdown ended in France and while it's all too familiar to talk about Rea as champion, this season was a very different success compared to the others.
Watch more excitement than ever before with the WorldSBK VideoPass, now with an 85% discount!