250 and still not out: Great Britain's a big winner!
Sunday, 14 July 2019 19:07 GMT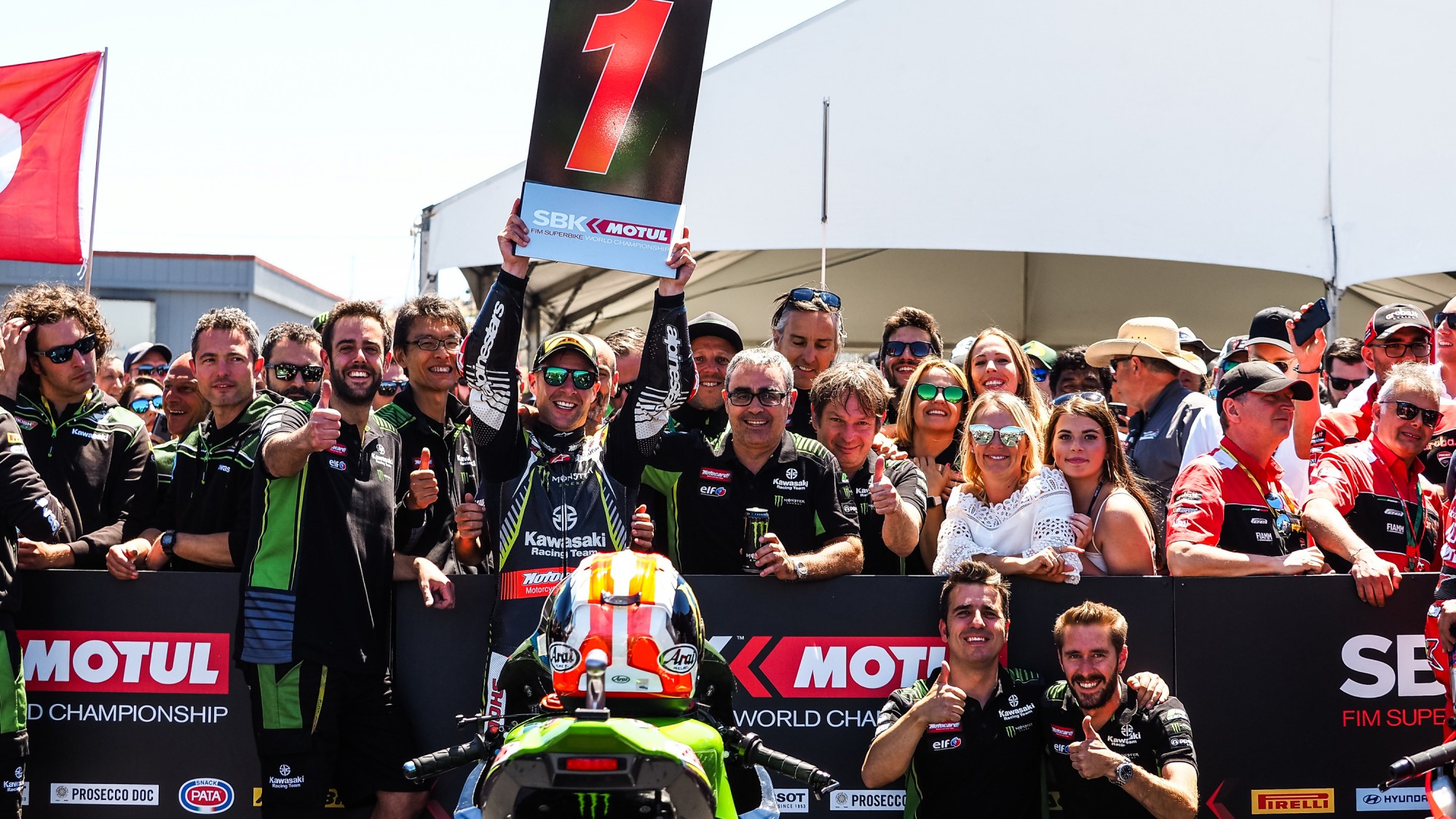 After Jonathan Rea's 80th career win became the 250th for British riders in WorldSBK, we reflect on the nations incredible dominance, starting back in the 1980s!
Jonathan Rea (Kawasaki Racing Team WorldSBK) took victory in the Tissot Superpole Race at the Geico U.S. Round, giving Great Britain a record 250th WorldSBK victory, the first nation in World Superbike history to achieve this landmark milestone. Of the 250 WorldSBK wins for the UK, Jonathan Rea has contributed 80 of them, and looks set to increase this number throughout the rest of his WorldSBK career.
The United Kingdom's winning in WorldSBK began back in the second season of the championship back in 1989, when Terry Rymer came from seventh on the grid at Manfeild in New Zealand, winning by over 15 seconds in a dominant display of racing. Rymer would repeat the achievement a year later at the same circuit, although it would be the last time he would win in WorldSBK.
Rymer's win would be the last one for Great Britain until Race 2 at Donington Park, 1992, when youngster Carl Fogarty romped to his first win at home – the first time a British rider would win on British soil, with 37 occasions to follow right through until Jonathan Rea in Race 2 at Donington Park, 2019. Foggy's first win at Donington Park in 1992 was the first of 59 wins for Fogarty, whilst other riders such as James Whitham, Neil Hodgson and John Reynolds would join the list of British winners over the course of the next decade.
Hodgson took time out of WorldSBK competition until 2001, a year after he took his first win in World Superbike as a wildcard at Donington Park – consequently the first 1-2 for Great Britain in WorldSBK, as he headed home fellow wildcard, Chris Walker. It was in 2003 where Hodgson made his name, storming to the championship with 15 race wins.
2003 saw British riders lock-out a podium for the first time too, as James Toseland took his first win of his career at Oschersleben in Race 2, heading home Hodgson and Walker. More new British winners appeared, as Shane 'Shakey' Byrne took the double as a wildcard at Brands Hatch later that year in front of over 100,000 fans, heading home two more all-British podiums.
After a first win in 2003, James Toseland took his first of two WorldSBK crowns in 2004 and by the time he hung up his leathers in 2011, the Sheffield-ace had achieved 16 wins – including eight and a career first double in his second championship year of 2007, when he won both races at home at Brands Hatch in style.
It would then be a lengthy wait for more title success for the UK, but the plucky Brits kept notching up wins, with a first coming for Jonathan Rea in 2009 at Misano, whilst Leon Haslam took four a year later in 2010, along with the likes of Cal Crutchlow, whilst Tom Sykes and Chaz Davies joined in the following seasons, before the UK returned to title-winning ways.
Tom Sykes narrowly missed out on a WorldSBK crown by just 0.5 points in 2012, after a season which saw him put together a consistent season, peppered with four wins. But in 2013, Sykes took nine wins, this time, enough for his first – and so far, only – WorldSBK crown. He wasn't the only British winner that season though, as Chaz Davies and Jonathan Rea also contributed to the tally. 2014 proved less successful but 12 wins followed.
However, since 2015, the Union Jack has dominated, with the top three riders in the championship between 2015 and 2017 all being British and even in 2018, Rea and Davies had the pace on the rest of them. Since 2015, an incredible 106 wins have come the way of the UK, just under 50% of the amount before this period. In 2015, 2016 and 2017, it was 75 victories from 78 races – an amount that is unrivalled. In short, British riders have come, conquered and set the benchmark for the rest of the riders from all over the world to beat. Can they do it?
Find out if the British riders themselves can be conquered in the United States with the WorldSBK VideoPass!