Halfway to History: WorldSSP300 may have a female champion
Friday, 22 June 2018 10:00 GMT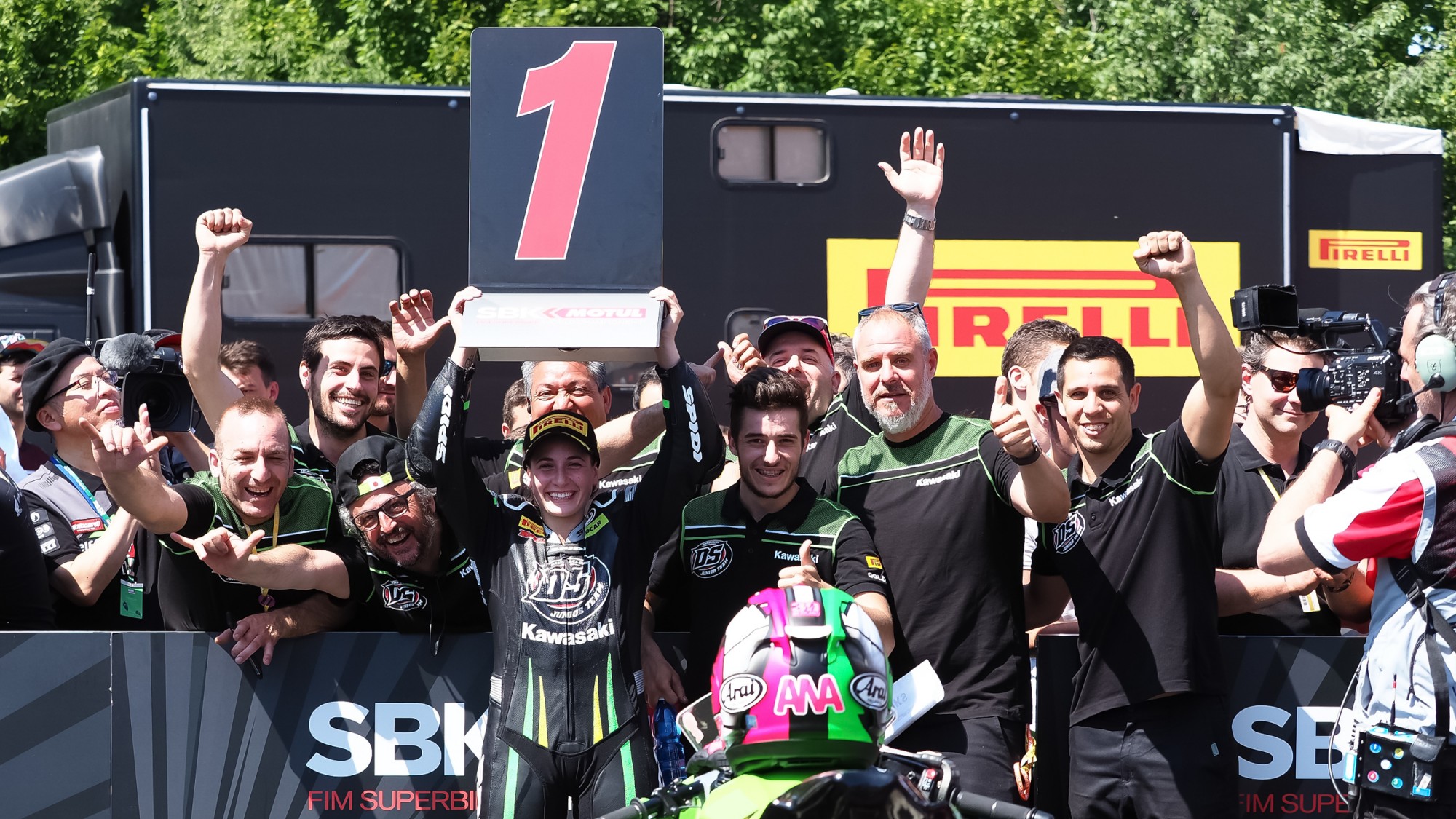 Ana Carrasco leads the championship, has won two races and is hunting for more
The champion of the 2018 FIM Supersport 300 World Championship could be female – and the best part of that sentence is that it will no longer come as a surprise to anyone. The merit is fully Ana Carrasco's (DS Junior Team), who has revolutionised the World Superbike feeder category with the backing of the DS Junior Team.
The full package comprised of the Murcian rider, the Kawasaki Ninja 400 and the team structure directed by ex-rider David Salom has exposed itself as an extraordinarily effective combination. In three steps – from Aragon to Imola – the 21-year-old rose to the championship lead. With two steps more taken, after stops at Donington and Brno, she has cemented herself as the enemy to beat for any rider aspiring to take the WorldSSP300 crown this season.
Already etched into the records of the championship – and every fan's memory – are her consecutive exhibitions in Italy and the UK, two utterly dominant triumphs, starting from pole and leading the pack from lights to flag. The last weekend, in the Czech Republic, was less rewarding for Carrasco. Caught wrong-footed when the red flag came out with three laps to go, she had to make do with 11th place, her worst result of the season. Despite this, she left Brno with an advantage of 20 points in the championship standings, with three races left.
The challenge she now faces is as exhilarating as it is vertiginous. Fronting a raucous field of 40 riders, Carrasco must manage her advantage and continue her string of results through Misano, Portimao – where last year she became the first woman to win a World Championship race – and Magny-Cours, where she could go down in history as the first woman to take a motorcycle racing World Championship, her openly-declared goal since arriving in the World Superbike paddock in 2017. It will be a tough task: Borja Sánchez (ETG Racing), how her closest rival, is 20 points behind, but just 21 away is German rider Luca Grunwald (Freudenberg KTM WorldSSP Team), and 23 behind is Dutchman Scott Deroue (Motoport Kawasaki). Three riders less than a race's distance away, which leaves her with very small room for mistakes.
Whatever happens from now to the end of September, Carrasco has already shifted the traditional discourse in two-wheel competition. Women riders will never again be classified as a mere curiosity or a quota on the motorcycling grid: each one will be a potentially dangerous rival and an enemy to take into consideration. Ana Carrasco has established that, and even though no rules are unchangeable, this one has arrived to last.
The rider from Cehegin has had to claw her way through one race at a time. She was the second female Spanish rider to make her way into the MotoGP™ paddock, the first to score points in Moto3™, the first to win a race at world championship level, and the first to lead an international competition. Now the WorldSSP300 title lies in reach, and Carrasco has all the tools to grab it: talent, a professional attitude and hunger, as well as everything that surrounds and boosts those attributes in an experienced team that believes in her potential. But only the next races will answer the final question: can Ana break down another barrier?
Follow every WorldSSP300 race on WorldSBK VideoPass, and witnessed first-hand how the championship's history is written!