Gagne: "There's only one way to go, and that's up"
Friday, 19 January 2018 09:17 GMT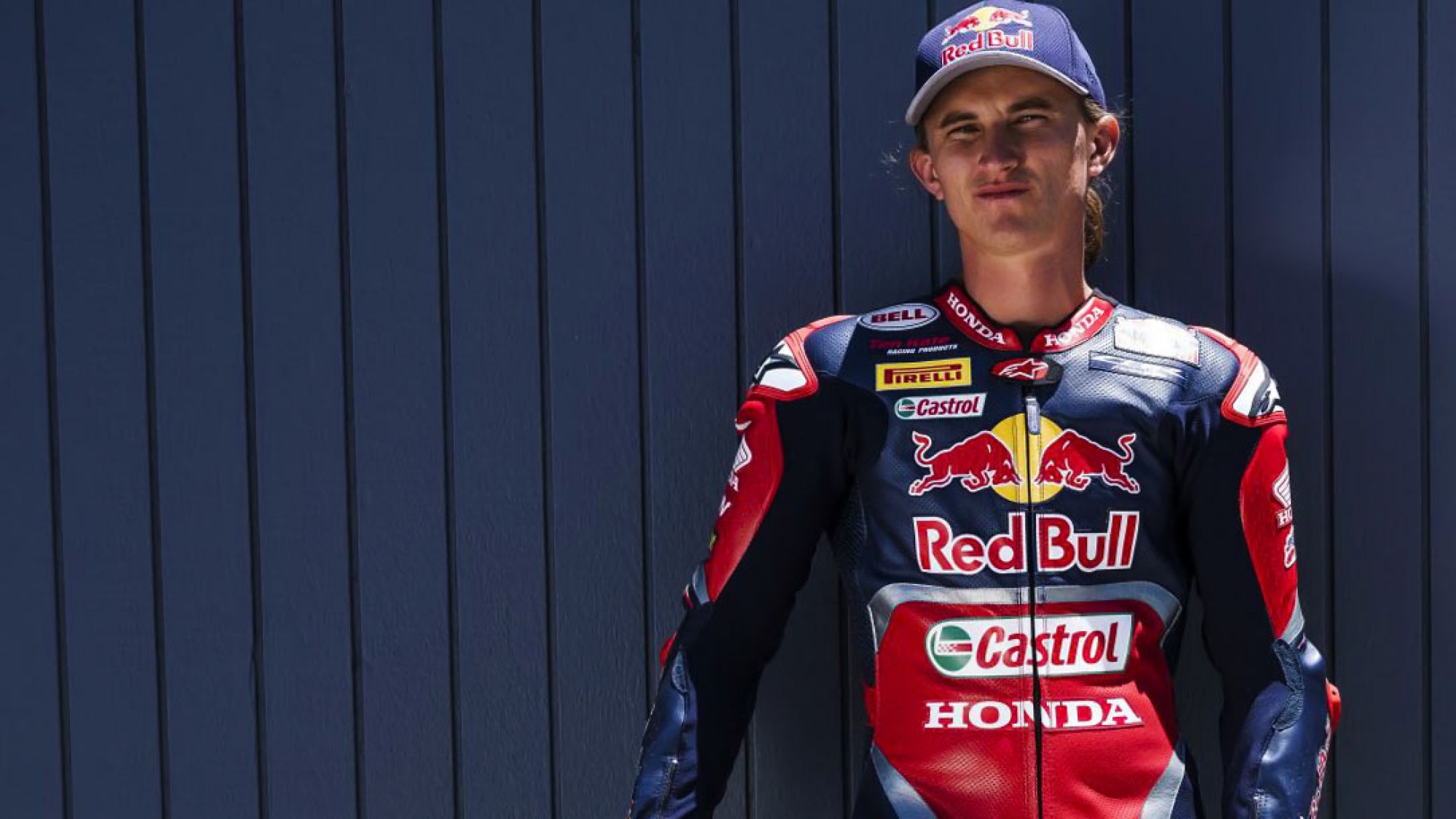 WorldSBK prepares to welcome American to the 2018 grid
Preparing to make his full time debut on the MOTUL FIM Superbike World Championship grid in 2018, Jake Gagne (Red Bull Honda World Superbike Team) is keen to get the 2018 season underway as he returns to the paddock as a 2018 permanent rider. After stepping in for three rounds in 2017 following the tragic loss of Nicky Hayden, Gagne impressed in the WorldSBK class, taking points scoring finishes in all but one of the six races he started. Now looking ahead to the 2018 season, which kicks off on 23rd-25th February at the iconic Phillip Island Grand Prix circuit, the 25 year old can't wait to continue to learn and improve on the Honda Fireblade CRB1000RR SP2. WorldSBK.com caught up with the Californian rider ahead of his first test of 2018.
Are you looking forward to returning to the WorldSBK paddock?
"Yeah, it really is a dream come true for me. I was lucky enough to get the opportunities with the team last year and that was such an amazing experience, where I learnt so much. I felt like I was able to step up my riding and learn a lot from both the team and the different experiences. It's really cool to make the jump from America to WorldSBK, which is no joke. There are amazing teams and really amazing riders, and to be part of the show is really cool. I'm looking forward to getting some time on the bike, some time with the team and going to these awesome tracks."
What was the main thing you learnt from last year that can help to bring forward for the full season?
"There's a huge combination of things: working with the bike, working with the team, with different tyres and a big change which is the electronics. There's a lot that goes into making the bike go fast, and they have the tools there to help. I have a great team, and I have a new crew chief this year so I'm looking forward to starting testing."
Does it feel different racing in Europe compared to racing in America?
"It is quite a bit different, everything from the tracks, the environment and the country, to the bikes and the tyres. There are a lot of differences, but once I get on the bike my helmets on its just me trying to do my thing and ride the best that I can. When I step off the bike, it's really surreal to be in WorldSBK pit lane, the amount of fans they get in Europe is really cool.
The paddock is such a normal atmosphere, with normal people. Going into Laguna I didn't know any of those guys, but straight away everyone was super friendly, all the riders and all the other teams, everyone was really cool and really welcoming. It's cool to have another American with PJ, so it's going to be awesome. It's a big family atmosphere, everybody is there to do work and to give it their all but once the racing is over and everyone is hanging out, it's a really cool atmosphere so I'm really excited."
Do you think having an English team-mate with Leon Camier as your team-mate will help you, as you won't have language barriers to face?
"I think it will definitely be good, I met Leon last year and he's a great guy. He's super friendly and super cool and I think hopefully we can work together and move the whole package forward, so I'm excited. I've got Mick Shanley who's English as my crew chief, so I guess being an American and not having to deal with any language barriers is helpful because it can tricky."
What are your expectations for this year?
"My expectations are to just keep improving, we were able to get two top 12 finishes in Qatar last year so I want to start getting in that top ten and working our way forward from there. There's a lot of great riders but there's only one way to go and I think that's up. I'm just going to be working hard, the team's going to be working hard, I'm really grateful I have a great crew behind me. Hopefully we are just breaking that top 10 and maybe that top 5, I want to keep moving forward, give it my all and have a great time and I'll be happy.
Which circuit are you most looking forward to riding?
"Obviously I've been to Laguna many times but I'm really looking forward to going back, I think it'll be really cool to be in front of that home crowd. Kind of like last year, but this year I will be coming back as a full time rider, I just think it's going to be amazing. Last year was the weekend of my life so I'm really looking forward to that. However I'm really looking forward to Phillip Island. It's a track I haven't been to, but I've seen it on TV and it's so fast and flowing, it just looks incredible so I'm looking forward to that one the most."
Follow Gagne's progress with the Red Bull Honda World Superbike Team all with exclusive access on the WorldSBK VideoPass.