Camier: "I think it's going to be the most competitive season yet"
Thursday, 15 March 2018 14:48 GMT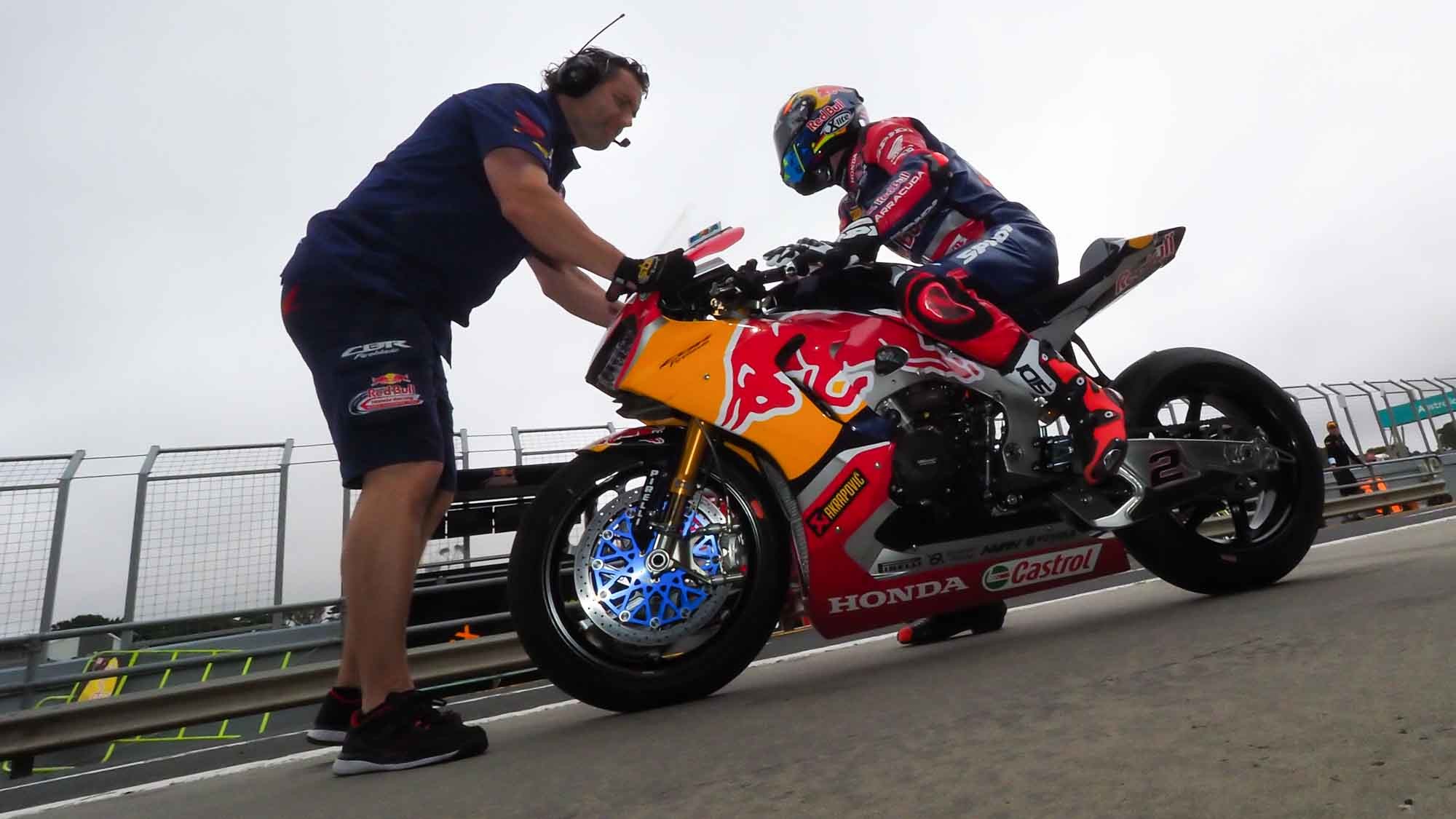 British rider reflects on the new challenge with the Red Bull Honda World Superbike Team
Changing teams can be a stressful experience for riders, as they spend time not only understanding the bike but also the new people they are working around. Leon Camier made the step over to Red Bull Honda World Superbike team and was greeted with a bigger squad as well as a team-mate. Surrounded by much anticipation on the CBR1000RR Fireblade SP2, his pre-season testing times were nothing short of impressive and many were keen to see how he would get on in the 2018 MOTUL FIM Superbike World Championship, as the British rider tried to play down the hype.
But the 31 year old put on an impressive performance Down Under for the opening round of the season, facing the flag to flag on Sunday he was able to secure two top seven positions which left him in 6th position in the world championship standings, and he believes the competition will be high in 2018. Explaining he still has a lot to learn, Camier is looking forward to continuing with his new team as WorldSBK.com spoke to him about the change.
"The first impressions with my new team were really good," begins Camier. "They are so professional, organized and create an efficient environment. Everyone is here to get results and it's good to be part of that for sure."
"We were able to make quite a bit of progress with the bike over the winter, as the team already have a good understanding of the bike which is encouraging. Especially in the aspects of the way the chassis is working, and actually the setting I first used is where Nicky left off with the bike, so that's encouraging. It's as much about me learning the bike as to what we need to go faster, but there seems to be a few things that are what we want to change to make the next step."
Awaiting new parts can be tough for riders, but Camier takes it all in his stride: "Hopefully we should have some other parts coming as we get into the next quarter of the season, there's definitely a few things to improve on – one of the main parts is our race pace. The bike doesn't seem to be too bad over one lap, but we're still looking for that last little bit to get that perfect performance out of it. It's all about understanding what I need to do to get that from it."
"You always push 100% no matter what, so it's not a struggle for motivation. For sure you always want things to arrive quicker so you hope your bike can be the best it can be, but the reality is that there are a lot of strong parts of the bike already and yeah there are some bits that can be improved, which is positive for the future."
Regarding the talk and speculation over the winter about his pace, he explains it was a little tough: "For sure everyone was excited because we were fast in testing, but it was important to remember we have used the qualifying tyres in testing, but then a few others did in all fairness. But I was more interested in working out race pace, I feel that there's room for improvement but it was good to get one race weekend under our belts, to start to understand more."
Another talking points of the season is naturally the new regulations, which is not something affecting Camier too much: "I think we lost 300rpm so it will make a bit of a difference, but not so much – then again I don't really notice because I've not ridden the bike as it was before. On track I'm not seeing a difference - Kawasaki are still the team to beat, they're still strong and we're right on their coat-tails. Yamaha have also upped the game, so I think it's going to be our most competitive season yet."
Having a team-mate on the other side of the garage is a change for the British rider after three full seasons of being the sole bike out on track, but it is something he welcomes for 2018:
"Jake's a really nice guy and we get on really well. We have the same interests, he's really into motocross and surfing and he's got that laid back Californian style. He's learning all the time and improving, he's not had the best of runs in testing but I think he'll get faster and faster as the season rolls on."
"Not having a team-mate last season didn't make too much of a difference, we figured out quite early on what we wanted from the bike and what was possible and not. Sometimes when I didn't get the chance to do laps throughout the weekend that was difficult, especially if I didn't know what tyre to run. But this year it will for sure be easier, there's more information coming in and there's two lots of technicians. I think me and Jake have slightly different riding styles, so it will be interesting to see what we can compare and bounce off, which we will be able to do more and more as he gets even more competitive."
Keep up with Camier's progress throughout the 2018 season, as he prepares to take on the Chang International Circuit with the Red Bull Honda squad, all with the WorldSBK VideoPass.