Ask an expert: Five reasons why James Whitham thinks Haslam's move will pay off
Wednesday, 25 July 2018 12:28 GMT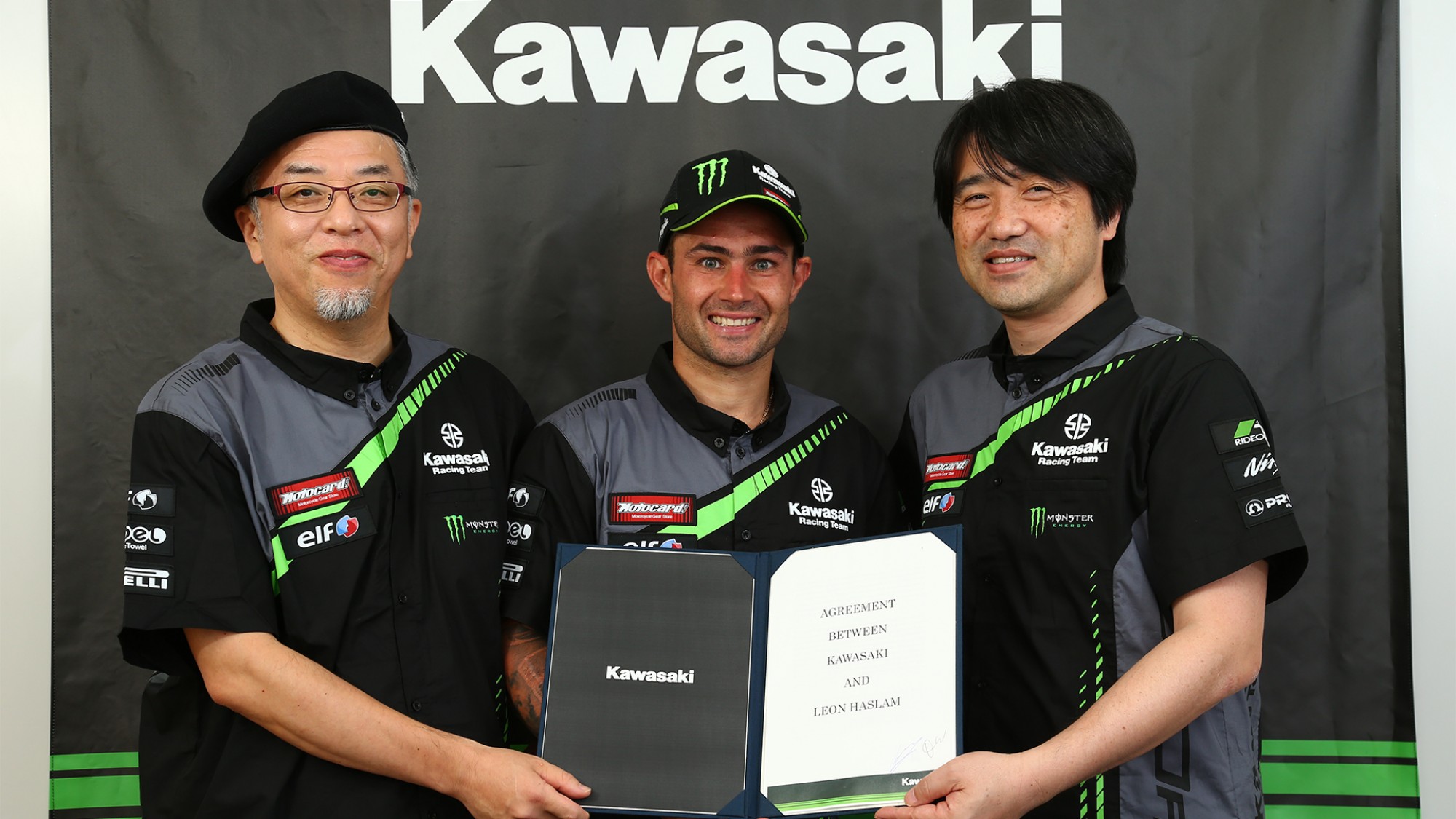 Ex-WorldSBK racer tells all about KRT's latest signing
Kawasaki Racing Team WorldSBK announced this week that Leon Haslam will be joining three-time world champion Jonathan Rea on the ZX-10RR in 2019, as they continue on their pursuit of another riders, teams and manufacturers world title. Making up an all British squad once again – following the departure of Tom Sykes – they will be a force to be reckoned with heading into next season.
But what do the experts think? Was it a good move, and will Haslam be able to challenge Rea? WorldSBK.com caught up with former WorldSBK race winner and Eurosport commentator James Whitham, who gives his thoughts as to why it's a good move.
Haslam and Rea have a good relationship – they get on
Whitham explains how important this team dynamic could be: "I think on a personal level - it's going to be a good team. They really get on well, they've been mates going back years so I think it's going to work, and it's just a brilliant opportunity for Leon."
But will tensions rise throughout the year? "When you're off your bike, you want someone you get along well with, so I think they will. I think they'll manage to stay friends throughout the season, but a lot depends with what happens on track. They know each other well enough, and they are both easy enough to get on with. Jonny is a laid back character and gets on with his work, as is Leon – but Leon does get really serious about his racing."
One thing the pair will have however, is respect for each other: "Respect is always important, I think most riders have that. You might not like the rider as a person, but you have the respect for them – you've got to respect them for racing at that level."
Haslam is a real grafter
One of the qualities the British rider is renowned for is the work and hours he puts in, which Whitham explains: "The thing about Leon is that he'll put as much effort in as it takes. One of the reason's Kawasaki are so keen on Leon is his performance and hard work he puts into the Suzuka 8 Hour Race. He's still quick, he's a real grafter and he will always work hard."
Giving an example of this, he continues: "Look at the amount of effort he puts in – he raced in BSB at Knockhill and then set off on Sunday night to Japan to go testing for Suzuka. He's not lazy, which is a strong reason he'll be a great asset to the team."
He will never ever give up
Continuing onto the same theme, it's clear Haslam's never back down attitude is well known within the paddocks: "Haslam is like a dog with a bone, he's a growler, he'll bite and chew and work until he gets it. People like that element about him in domestic championships, and they'll like it on the world stage. He has a lot of experience too, as has Jonny so it'll be a cracking team!"
It's a great chance for Leon
"It's a little bit of a shock", begins Whitham as he talks through the decision to sign Haslam. "Because when you drop from WorldSBK to BSB you expect your WorldSBK time to be over – especially at Leon's age (35). Usually you wouldn't expect to get another chance, especially on possibly the best machinery, so from Leon's point of view it's brilliant. It's the last chance - I would say - he has to win a world championship. But he knows that and we know he'll grab the opportunity with both hands, it was probably unexpected to him as well!"
But keeping realistic about his title chances, he adds: "He knows the Kawasaki, he's ridden with WorldSBK electronics a few times, and he seems to be able to adapt to any bike. But of course it's difficult to look past Rea for the title, and I'd say that about any rider."
But he has some big shoes to fill
Not forgetting Tom Sykes, who is parting ways with Kawasaki Racing Team WorldSBK at the end of this year after nine seasons, Whitham explains how Haslam has some big shoes to fill: "It's been a successful team throughout the years. Let's not forget Sykes has had a good run, there's a lot of people who would swap their results list for Sykes', including me! He isn't a slow rider, he's still a blindingly quick rider, when everything is right for him he's one of the fastest men in the world there's no question about that."
Keep up with the latest WorldSBK news, and enjoy some of Haslam's previous WorldSBK races, all with the WorldSBK VideoPass.