Rea: 'If we had to race tomorrow, we could'
Friday, 20 November 2015 10:19 GMT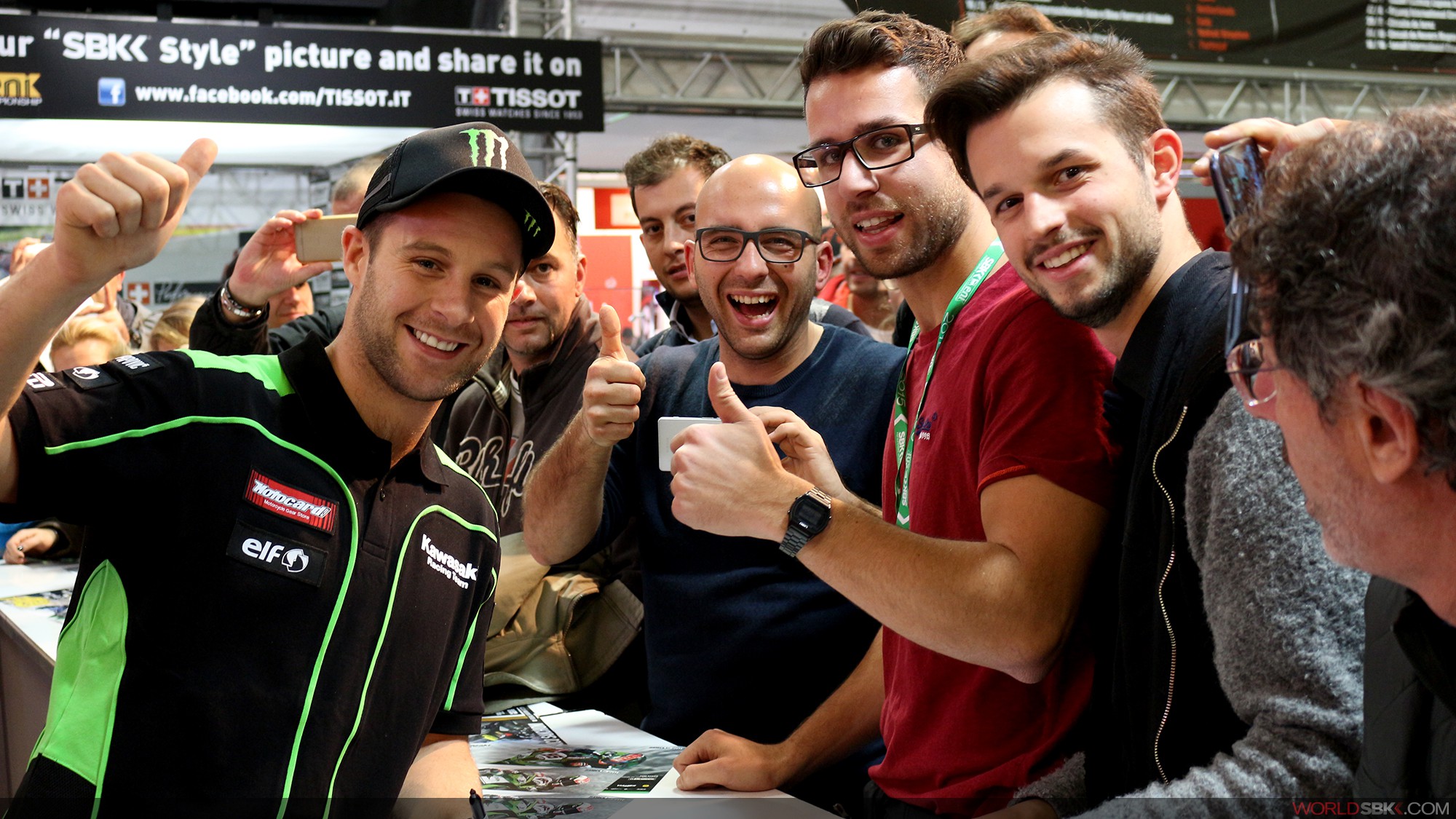 World Champion brimming with confidence over new bike.
He may have done only two tests on the 2016 version of the Kawasaki ZX-10R, but Jonathan Rea is sure that the bike could go straight into a race 'tomorrow'.
Speaking with WorldSBK.com at this week's EICMA motorcycle show in Milan, the WorldSBK Champion explained how his and Kawasaki Racing Team's pre-season is progressing. He began by reeling off the components he tested in Aragon last week:
"We reconfirmed some items we had tested at Jerez, like a swingarm. We tried a new shock from Showa, which was positive. I then tried some different brakes (Nissin as opposed to the usual Brembo). Then Pirelli brought a different SC1 tyre that has different strengths on the sidewalls; we tested them back-to-back to make sure our information was correct. We also changed some engine character to have a little bit more inertia in the engine, to try to help my feeling on the throttle, and modified the weight balance a bit; the plan was to try and move me back a bit, to be over the rear tyre. We will continue with the test plan in Jerez next week, getting some information about which brake system we will use. We also have front Showa forks to test, another rear shock and some positioning things."
Rea will be on-track at Jerez next week on all days bar Wednesday, aiming to complete long runs and race simulations for the first time on the new bike.
"So far it's just been a long test list," he continues. "In Jerez we can work on being precise with the setup and then finish 2015. Then the team will then gather all of this information to order new parts for the January tests and the first two flyaway races."
Despite missing the first two days of testing this pre-season as his second baby son was born, Rea is sure that this has not negatively affected his programme.
"Honestly speaking, if we had to race tomorrow we could put all of the items together," he says confidently. "Right now we haven't done that, but we know what works and what doesn't work. I'm really proud of Pere (Riba, Crew Chief) and the guys at KHI (Kawasaki Heavy Industries), who have made a really good test programme for me that has been really structured, so we have definitive answers for each and every item we have. Now we can start to make the package sharp."
He continued with a smile about the impressive 1'50.3 lap time he was unable to deliver in Aragon last week – quicker than the race fastest laps of 2015.
"We were testing a swingarm at the end of the day, with an old tyre," the Northern Irishman recalls. "Pere said, 'Hey, he should reconfirm the swingarm with a fresh tyre.' So we put a fresh tyre in and I went so fast [laughs]! It's the fastest I've been around Aragon, which was great fun. I feel like the potential of this bike is much higher."
There will be almost no respite for Rea following EICMA, as he travels to Jerez to continue the pre-season programme. This will be his last test of the year.