Michael van der Mark on…
Wednesday, 1 July 2015 10:23 GMT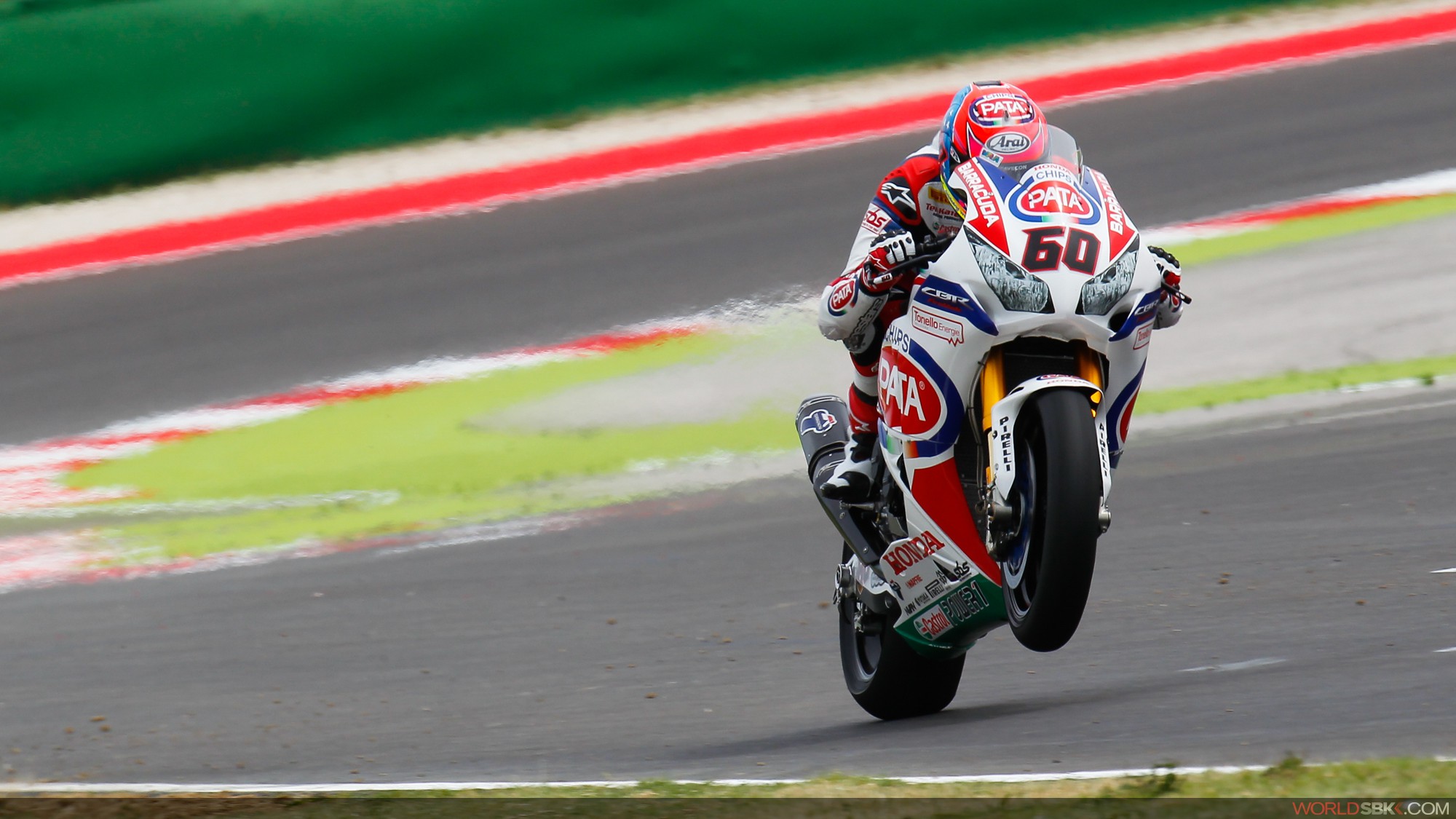 Joy, frustration, Guintoli, Laguna, Suzuka and MotoGP.
Michael van der Mark swept all before him in 2014, wrapping up the World Supersport title in impressive fashion. This year, the Dutchman has made a real impression on his World Superbike debut with the Pata Honda World Superbike Team. He led only his second race at Phillip Island and clinched two podium finishes at Assen, but it hasn't all been plain sailing.
From 16 races, there have been ten points finishes (all inside the top ten), four top five appearances and the aforementioned double podium in Holland. Just ahead of a jet skiing session with friends in his native Netherlands on Tuesday, van der Mark spared ten minutes for WorldSBK.com in a telephone interview.
Michael, once again you have impressed fans and the media this year. How have things been on your side of the fence?
It has been up and down. Every weekend is different. I have scored many points but we haven't finished enough races, to be honest. We started the season with no expectations but we were really fast in the first round in Australia - I even led only my second ever World Superbike race! So expectations became quite high, but we then found out in Thailand that we were lacking some power in the bike. I'm happy, but at the same time not so happy with how it is going.
How can the team dial out these technical problems?
We must work on it. Every time it is something different. It's really, really frustrating because it always happens when I am catching a group! We really don't understand it because it is something different every time. So that makes me quite frustrated, but I'm quite sure the team will be able to do something to fix it.
Assen was a clear demonstration of how the Dutch motorsport public has taken to you. How did you feel about such a warm reception?
I took my first World Supersport win there last season and already the crowd was going wild! So to get two World Superbike podiums there this year was amazing. There were a lot more visitors than last year. It was something special. We knew the bike always worked well at Assen, but everything really did work well that weekend.
Your team-mate is reigning World Champion Sylvain Guintoli. At present you sit 30 points behind, but you have out-qualified him on a 5-3 basis and are ahead on race fastest laps by 11-3. However, in the races (not counting Imola Race 2, when you both retired) he is 10-5 up. Why is that? Some inexperience from your side?
No, not inexperience. Mainly the technical problems. I have only crashed out twice and so has he. Sylvain and I have completely different riding styles, but we're putting in the same lap times, so between us we are getting everything out of the bike.
Some in the paddock say Guintoli will not remain with Pata Honda World Superbike Team for the 2016 season…
If he's not happy, he has to go. If he finds a better challenge, he has to do it. I would do exactly the same. My feeling is that, if Sylvain gets a good chance, he has to do it. That's my feeling. I really enjoy having him as a team-mate, but at the end of the day we all have to race for ourselves. Sylvain and I have such a different riding style, but we take the best things from each other. It is good to have somebody next to you with a different riding style.
Next up is Laguna Seca – that must be your first trip there?
I have never been to the USA! It will be my first time and I'm really looking forward to it. All of these years, I have seen them riding there. Two years ago, Johnny (Rea) was injured and I wanted to go, but the team didn't let me! It was a bit of a crazy way of thinking from me! Ronald (Ten Kate, team owner) said: 'Your time will come'…and he was right!
Immediately after Laguna Seca, you will travel to Japan for the Suzuka 8 Hours, which you have won for the past two years. Can jetlag be a problem?
I don's usually have big problems with jetlag. I will just try to get in the rhythm as soon as I am on the plane. Whenever I have been to Japan from The Netherlands, I have always been able to sleep; this time it will be quite difficult, but I will try and make the best of it. It is quite a big goal to win three in a row, not only for me but for the team. Suzuka is such a special race. I really enjoy riding that track and that bike. Once people have done the race, they find out how special it is, and it is something I have been looking forward to all year. The riders are really, really strong but, at the end of the day, this is endurance and it's held over the course of eight hours. As we've seen over the last two years, anything can happen over those eight hours; people might be really fast, but you have to finish the race.
Last week, it was reported that you would make your MotoGP debut at Assen, having agreed to replace the injured Karel Abraham at the AB Motoracing team. It didn't come to fruition. What happened?
I think there was a big misunderstanding. It was the team's decision. It's all about budget. HRC (Honda Racing Corporation), Honda Europe and my team agreed with me that I would ride at the weekend, but the team decided not to take any risks about crashing, so I couldn't do anything about it.
If circumstances allow for it, could it happen later in the season?
I'm available [laughs]!
You have said your plan is to use Year 1 for learning before winning the World Superbike title in Year 2. You have also expressed your dreams about MotoGP. Imagine you win the WorldSBK title in 2016…should we expect MotoGP in 2017?
I'm a young rider. I think every young rider has a dream to get into MotoGP. We will see what happens. If there is a good possibility, I will go. If not, I will stay in World Superbike because I enjoy it here.