Interview: Giugliano back to work
Wednesday, 25 November 2015 08:40 GMT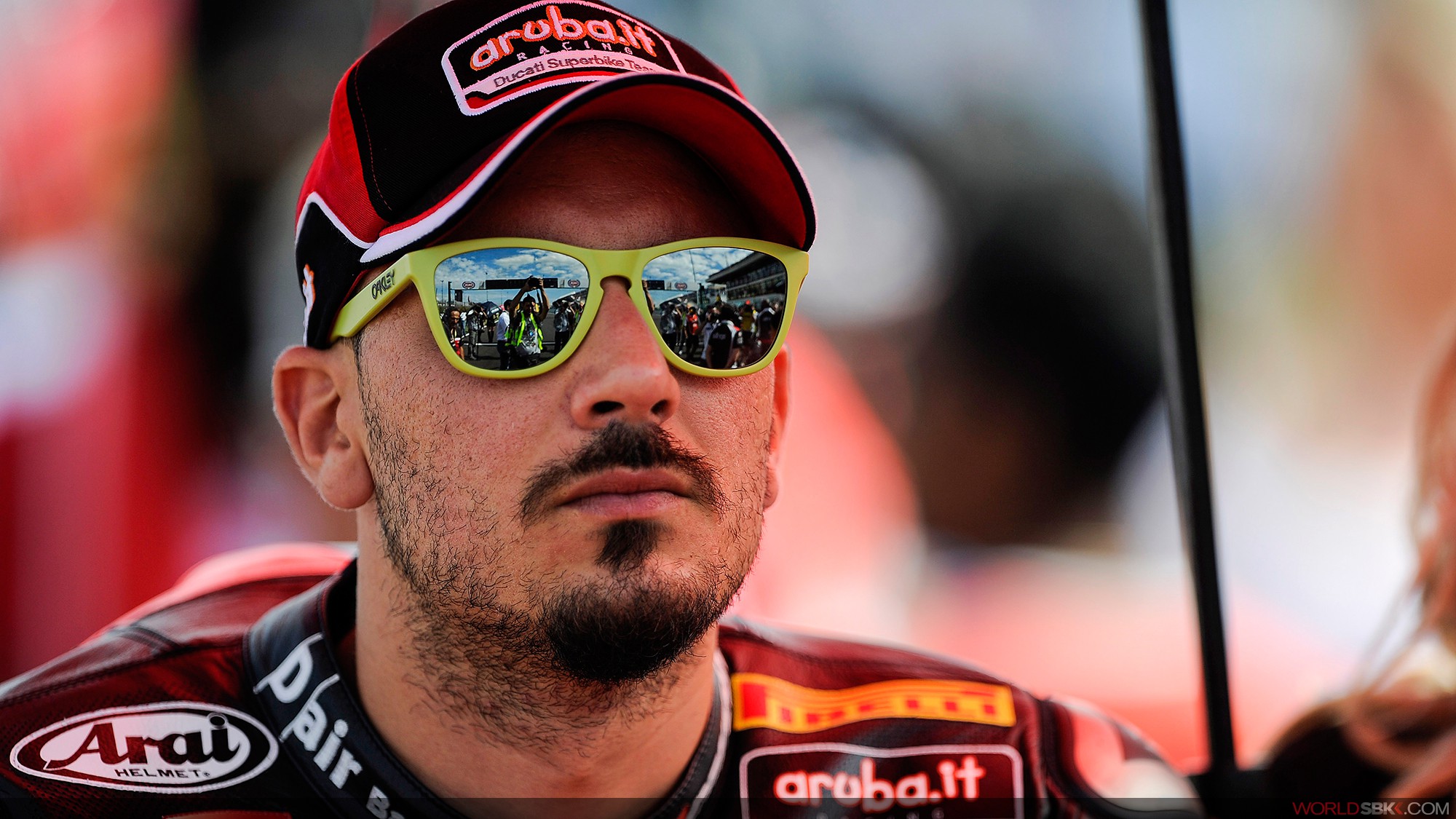 Italian rider all-set to test for first time since Laguna.
Wednesday in Jerez marks a potentially poignant day in Davide Giugliano's 2016 Motul FIM Superbike World Championship season.
This morning will be the first time that the Aruba.it Racing-Ducati SBK Team rider climbs aboard his WorldSBK-specification Panigale R since the high-speed crash that ruled him out of the final four rounds of the 2015 season. On Lap 2 of Race 2 at Laguna Seca on 19 July, the Roman highsided and suffered a fractured D3 vertebra.
Ahead of his Jerez in test, Giugliano sat down for a return-to-action interview.
How did you take care of your body after the injury?
The orthopedic brace for my back basically blocked my entire upper body, so naturally I lost muscle tone. I could only walk, but I did 12-13 kilometers per day, everyday, on average. Curiously, I walked the longest distances when I visited the team in Jerez. There, I went for 22km, walking all around the track, maybe also because I was nervous as I couldn't compete with my rivals [laughs].

What sort of restrictions did you have to cope with during your mandatory, 90-day rest period?
Well, I could take the brace off basically just to wash myself. My mobility was obviously reduced, but I was lucky to be able to slowly resume my activities without neurological damage. It took a lot of patience, but the most important thing is that I could get back to a normal life. It was a bad injury, and I was scared. To be able to talk away with 'just' a broken vertebra and some bruises was far from granted. I want to thank my technical sponsors, Arai and Dainese, for protecting me from something with potentially much worse consequences.

You have resumed training. What kind of programme are you following?
I started back from physiotherapy – and I had to do a lot of it to loosen the tension created by the back brace – and then I trained in the swimming pool to avoid overloading the articulations. Since the first week of November, I embarked on a more intense program, aimed primarily at stamina. Once I get that back, I will focus on strength as well.

On 14 November, you finally wore your leathers again to train with a supermoto bike. How did it feel to get back on a bike after such a long time?
I was really eager to ride again, but I also had to overcome a mental barrier. I haven't forgotten the physical pain I endured and the bitterness associated with being forced to sit out for such a long time. We don't need to act like superheroes. We're all human, each with his or her own fears – and I thought a lot about them in the past few months – but our passion rises above them. I ride with my heart. Being on the bike is crucial for me, it gives me strength. The first hard-braking point represented a sort of a bet, as I wasn't sure I could find the old sensations. But, as soon as I got the bike sideways, I felt an incredible burst of joy. Maybe even more than in the past.

In Jerez, you will have Aligi Deganello (Crew Chief) and Paolo Biasio (Race Engineer), two experienced and renowned technicians, by your side for the first time. What kind of approach will you adopt?
First of all I want to thank Ducati and Aruba again for lending me a helping hand once again, pairing me with two great professionals. My crew was extremely qualified already, but I think that Aligi and Paolo will raise the bar further. Just think of how many world titles they collected in their careers. I'm happy to be able to rely on their experience, and confident. First, we have to get to know each other, set a communication protocol and a working procedure, and we need to have fun while doing it, without rushing things.

Deganello worked with Marco Simoncelli, with whom you were close since racing with him on pocket bikes. What does it mean to you to have him by your side now?
It's both an emotion and a source of further motivation. I don't want to reopen an old wound that will never heal completely, but I remember talking often about Aligi with Marco. He won many world titles and I hope I can carry on with Marco's dream, achieving results that make him happy, wherever he is.

Why is it important to test, even if just for three days, before the winter break?
I need to rebuild my confidence with the bike. Superbikes' behavior cannot be replicated with the other kinds of bikes we train with. I have to start from scratch and set a better course. I need to do many laps, to understand how my body reacts. It usually takes eight weeks to get back in shape, and I only had two and a half. I'm not 100 percent, but it's not the first time I have to deal with this kind of problem. After the injury in Australia at the beginning of the season, I didn't have time to get back in top shape before racing again, so I struggled a bit.

What programmes do you have for the winter break?
Physical condition will be the top priority. I already established a regime that entails 2/3 sessions per day, five days a week. It's a tough course, but I want to be in my best shape for the first 2016 tests. I need both strength and stamina. Plus, I really have a hard time going on holiday (laughs). This was the toughest moment of my career. You don't realize how much you need to ride a bike until it's taken away from you. I'm 26 and I've been racing since I was 5, so I'm just used to it.

A positive to be taken from 2015?
It's been a rough season to say the least, but I think I can be satisfied with my average points per race. I scored three podiums – despite not being in top shape – and finished each race before Laguna Seca, always inside the top five except Race 1 at Donington, where I suffered some tyre issues. Obviously people focus on the crash, which cost me a lot, but I think I've been more consistent than in the past.
Interview conducted by the Aruba.it Ducati-Racing SBK Team