BMW Motorrad Italia heading into the future with Sylvain Barrier
Friday, 24 January 2014 11:13 GMT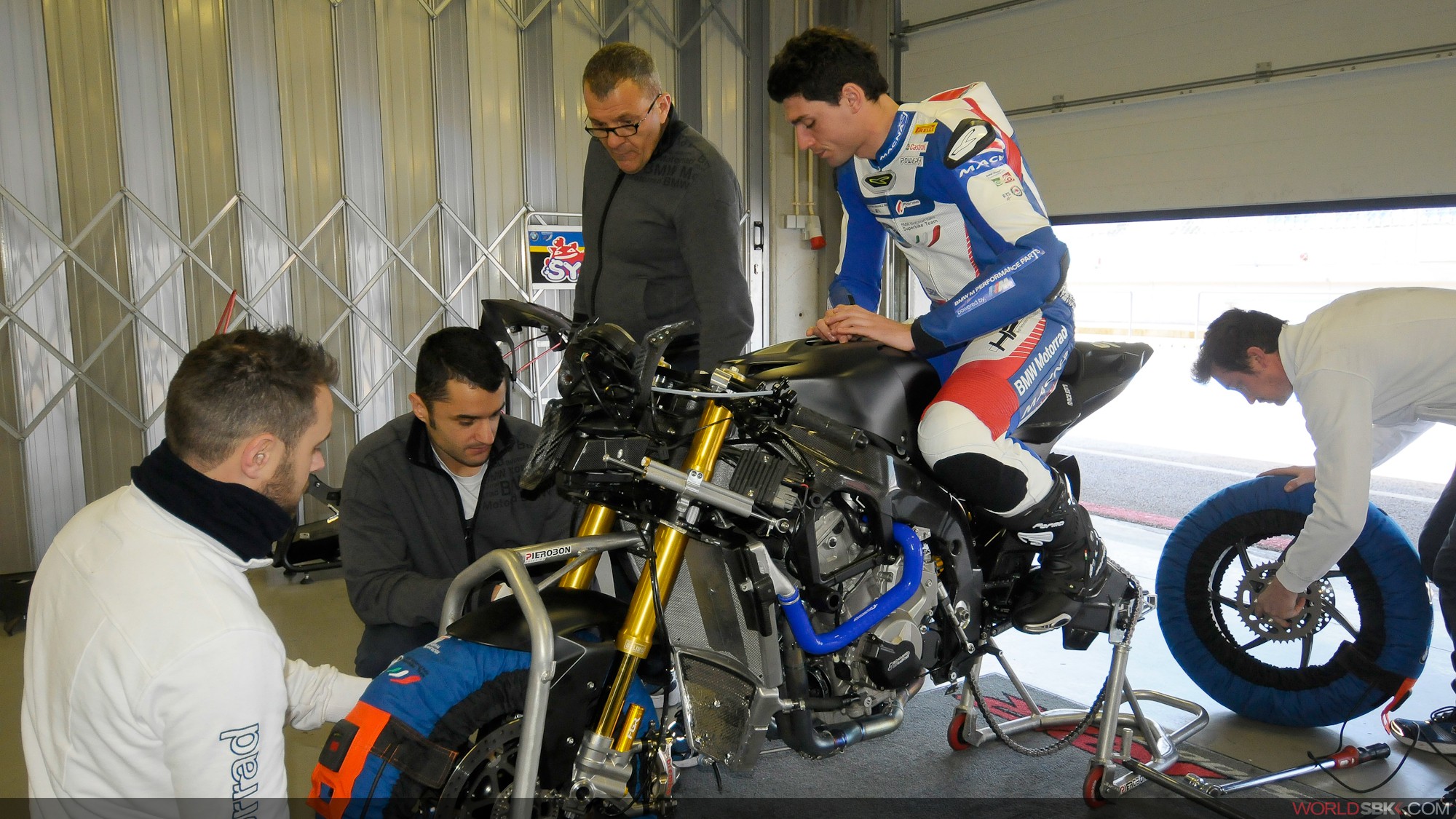 The Italian squad will take part in this year's eni FIM Superbike World Championship - EVO class – with the French rider
The BMW Motorrad Italia Superbike Team is embarking into a new challenge after the one-year experience as part of the works effort of BMW Motorrad in 2013. Two-time FIM Superstock 1000 Champion Sylvain Barrier is the rider chosen to race the EVO-spec version of the BMW S1000RR in the upcoming eni FIM Superbike World Championship season. We caught up with BMW Motorrad Italia Director Andrea Buzzoni, not long after the team's first test of the year at Portimao.
What is this new project all about? What are the goals for 2014?

"As BMW Italia we are continuing our involvement in allowing Sylvain Barrier to race in the EVO class in 2014. It will be his fourth year with us and together we achieved tremendous results. Our new project is based on two pillars: one is the rider, and the other one is the team, which puts together the best expertise BMW Italia was able to bring so far. I'm talking about our Sporting and Technical Director Dino Acocella, who started with us in STK but in the last two years he mostly focused on the SBK side of the garage. He is the perfect guy for this new EVO campaign. Our crew chief will be Rossano Innocenti, who has won six STK1000 titles in seven years, 3 with Ducati and 3 with BMW Italia.
I can say we go back to our BMW Italia roots, even though we will still keep in close contact with BMW Motorrad, as they will use our project to gather information for BMW sporting products. One of Berti Hauser's – 2014 new Motorsport director ad BMW Motorrad - guys will be with us for the whole season. The goal is to win the EVO title, but we know there'll be a lot of competition, as half of the grid will be racing on EVO bikes."
How the new EVO formula gels with your new venture?

"On the technical side I think we are in a good position for the EVO, as we have an excellent package to start from. The EVO class will help teams saving a lot of money on the engine and electronics R&D side, that usually strongly depends on the manufacturer involvement in the series. I don't think a private team can get to the level of the official ones, with the current WSBK rules, in terms of engine and electronic development, money invested and expertise."
"The EVO class makes it all about rider, bike and team. Performance wise, as we could see at Portimao during our first test, there is not a lot of room for improvement on the engine and electronics, that means that most of the difference will be made by the work done on the chassis. On corner exit the full-WSBK machines are on a whole different level, but corner speed wise the gap is not that big."
Sylvain has already shown great speed, but how do you think he will deal with race starts – probably his Achille's heel – and the two (longer) races on the same day?

"I have seen worse about race starts (laughs), I mean it surely isn't his strong point, but I would say he gets 50% of race starts right. We need to work on this. On the other hand I'm really confident about his race pace and consistency, because Sylvain has been training like a Superbike rider for at least a couple of years now. He is mentally focused and he trains really hard, thanks also to James (Toseland)."