Welcome to Russia, World Superbike!
Thursday, 23 August 2012 16:53 GMT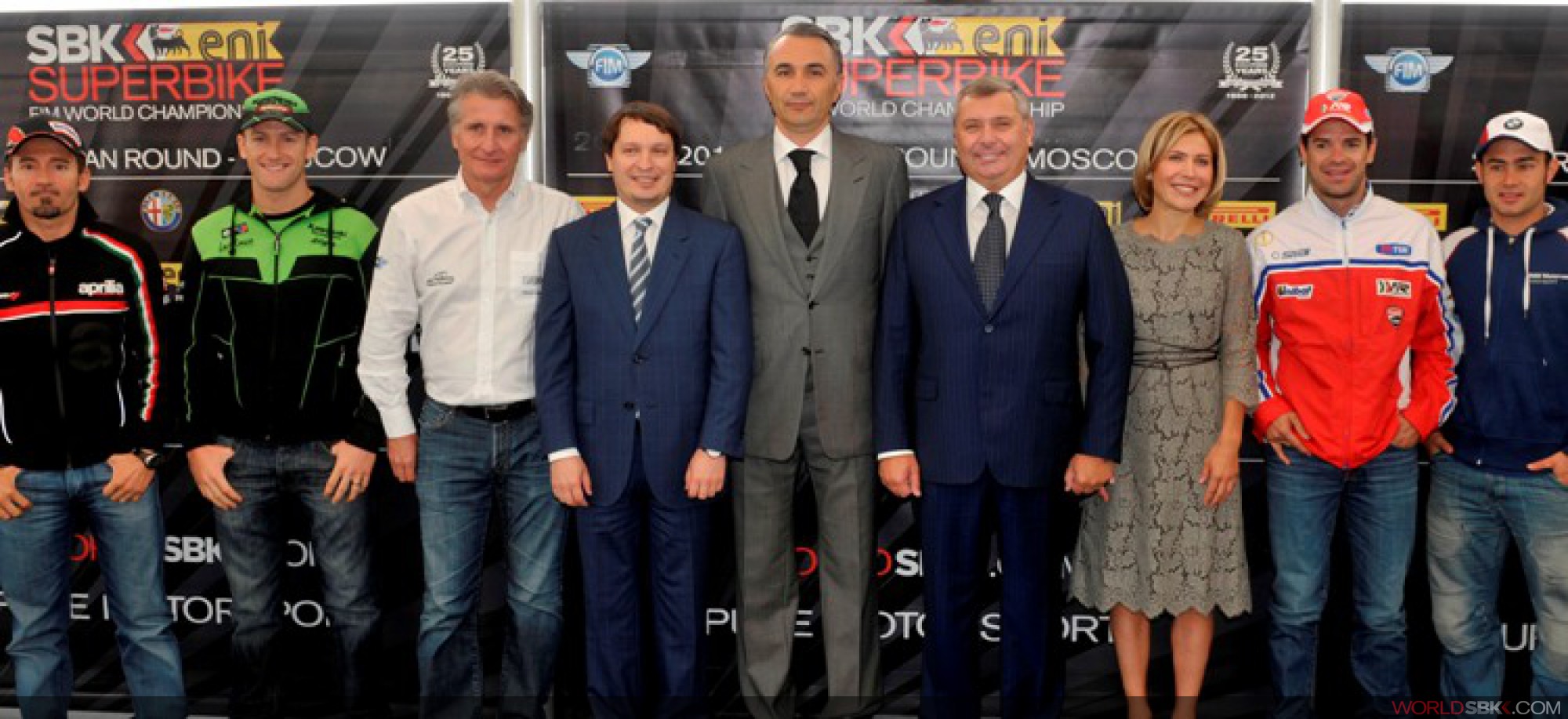 Welcome to Russia, World Superbike!

The launch of this Sunday's Russian Round of the eni FIM Superbike World Championship, the first time ever a global racing championship, either two wheels or four, is held on Russian soil at the Moscow Raceway, saw the participation of over 100 media who were able to meet and greet the protagonists of this weekend's racing as well as hear what the panel of speakers had to say about this truly landmark event.

The importance of World Superbike's first venture into Russia for the entire region was highlighted by the presence of Gallyamov Amir (Minister of Sport and Tourism for the Moscow Region), and by Alexey Vorobyev (Head of Moscow Sport Committee), while Alexandr Yakhnich (President of YMS Promotion Ltd) and Paolo Ciabatti (SBK Superbike World Championship Director) duly represented the organizers of the Russian Round and the Championship promoters respectively. Ekaterina Belcevich also attended as Head of the Moscow Raceway Project, the brand-new circuit that has been built at a cost of 130 million Euro on the outskirts of Moscow.

"Finally World Superbike has arrived in Russia!, declared Alexandr Yakhnich. "We are happy that the circuit has been completed on time and has been homologated by the FIM. It's been a hard challenge but it has all come about thanks to collaboration between Yakhnich Motorsport and Infront Motor Sports, together with the support of the Moscow government and the Moscow Raceway which has completed the construction of the circuit just in time. A special thanks also to Mr Dmitry Kozak, the deputy prime minister of the Russian Federation, who gave us every possible support. Now the racing starts and we are sure that Russian fans can enjoy this great championship."

Paolo Ciabatti added: "I would like to take this opportunity to thank Alexandr Yakhnich for his great efforts because without him and his team all this would not have been possible. It's a great achievement, we are the first really important motorsports event to come to Russia and it's an honour and privilege to be able to show that our sport is very thrilling and exciting and hopefully it will bring more attention from the Russian general public, also through Russian television and the presence of Russian riders."

Max Biaggi (Aprilia Racing Team), Carlos Checa (Althea Racing Ducati), Tom Sykes (Kawasaki Racing Team), Leon Haslam (BMW Motorrad Motorsport) and John Hopkins (FIXI Crescent Suzuki), together with two-time Supersport champion Kenan Sofuoglu and the talented young Russian Vladimir Leonov (Yakhnich Motorsport Yamaha) were the riders selected to represent the arrival of the two FIM-sanctioned world championships to Russia and they took centre stage to answer questions from journalists, before posing for the obligatory photo shoot, this time on the top of the hotel, overlooking Moscow's famous monuments and landmarks.